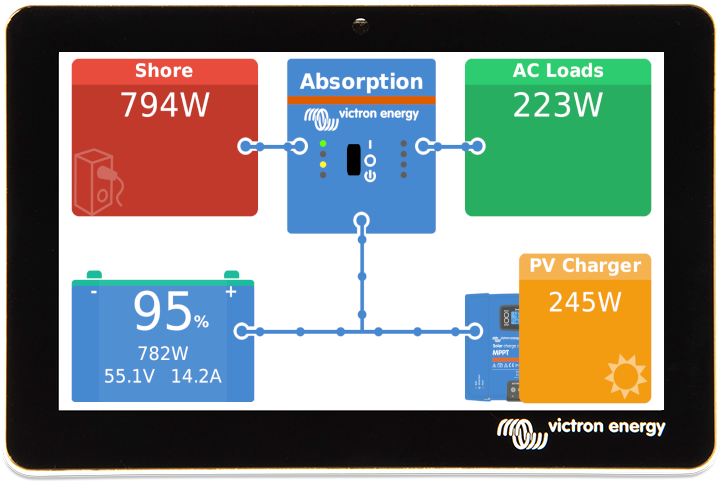 Good day!
Today we are releasing Venus OS v2.90, a major new release. For those not familiar with Venus OS: it is the software running on our Cerbo GX monitoring system, as well as its predecessors the Color Control GX, Venus GX. Also, it is in the GX versions of our MultiPlus-II and EasySolar-II inverter/chargers.
This new release has three main areas of improvements:
Victron products – Generator controls on VRM, Remote VE.Can settings
Protocol support – RV-C
Accessory support – Wakespeed alternators, more Energy Meters, Mopeka wireless water and LPG level sensors
And lastly, there is news that is in a category of its own: Venus OS Large. More on that later in the blog.
Let's go into the details:
Improvements to Victron products
This new version enables a new generator control pane in the VRM Portal. This feature builds on the existing controls that were recently introduced. You no longer need to get into Remote Console, wait for that to load, and so forth.
This screenshot shows the new control pane. It shows that the automatic generator start/stop feature is enabled, and that the generator is currently running due to a manually initiated timed run.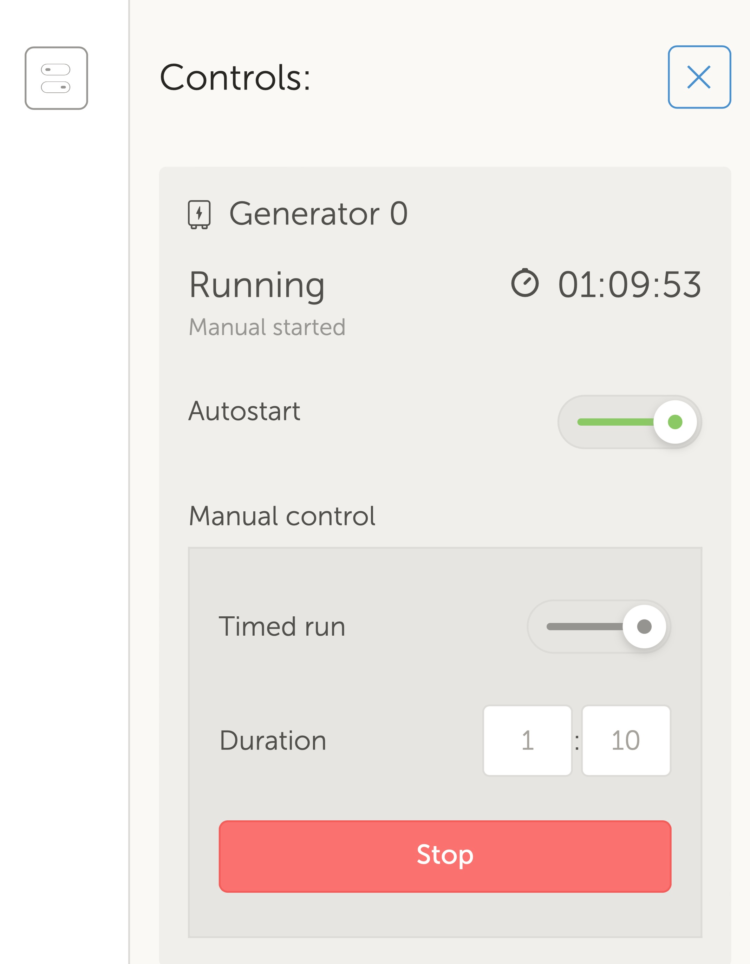 It is now possible to remote configure products, such as our Solar Chargers, also when connected on a VE.Can port. This completes our work: all commonly used Victron products can now be remotely configured, no matter how they are connected to the GX device. This includes the Multi RS as well as MPPT RS series.
Remote Configuration is accessed using our VictronConnect app. Here is a screenshot showing a few VE.Can solar chargers being listed in the App, remotely. Tapping a device will open it and allow settings adjustments. For more information, see the documentation.
We continue to add regionalisation improvements, including the option to configure the UI to show all temperatures in Fahrenheit. Of course, that feature was added to VRM a while ago: we recommend all Americans, Caymanians as well as Liberians to go to VRM and then into the Preferences -> Display preferences menu.
Next, a small change, but one that is good for everyone to know: after the upgrade, Multis and Quattros in a DVCC enabled BMS systems  now report their state as External-control-  instead of Bulk or Absorption. There is no bulk -> absorption -> float charge algorithm when controlled by BMS, and there never has been. This cosmetic adjustment more accurately displays what is actually happening with the battery charge profile when controlled by a BMS. This change will reduce questions like "Why does my system never go to float …is there something wrong?"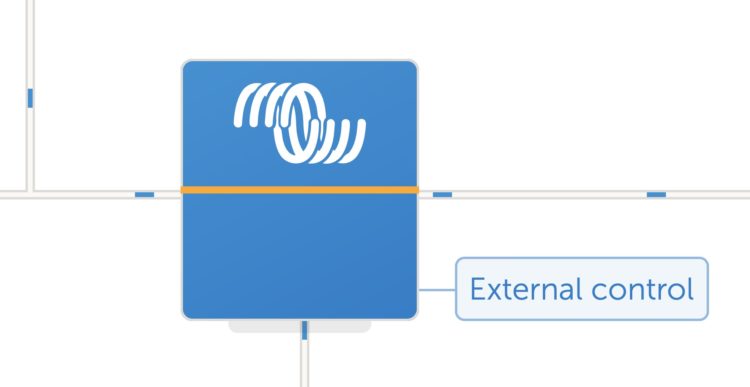 The new Victron EV Charging station continues to attract a lot of interest, and we've added additional menu options; improved connection stability; and added VRM controls, and support for new models.
There is a fix if you had an issue with a white screen in the HTML5 app of your Simrad MFD models NSX 3007, 3009 & 3012. We've also improved reliability of generator handling when using an MFD.
A new low SOC alarm has been added to the Inverter RS and Multi RS. This can be configured on the GX in the device menu (disabled, alarm only, alarms + warnings).
Protocol support: added RV-C and small NMEA2000-out addition
RV-C is to RVs what the NMEA2000 protocol is to yachts: a communication network that connects devices from different manufacturers. It's used mainly in the US RV industry. Per Venus OS v2.90 we've added support for RV-C, as a new configurable CAN-bus profile.
When this feature is enabled with the GX device connected to an RV-C network, an RV-C control panel can read Victron data – for example from a BMV, or an inverter/charger – display it to the user, and sometimes even offer device control. Compatible RV-C devices are displayed on the GX unit at the same time.
Besides making Victron information available to RV-C connected displays, the GX device can also read information from the RV-C network. More specifically it reads tank levels, very popular tank-senders are the 'Garnett SeeLevels'. It also supports the Lithionics battery brand, including DVCC.
Here is where to configure it: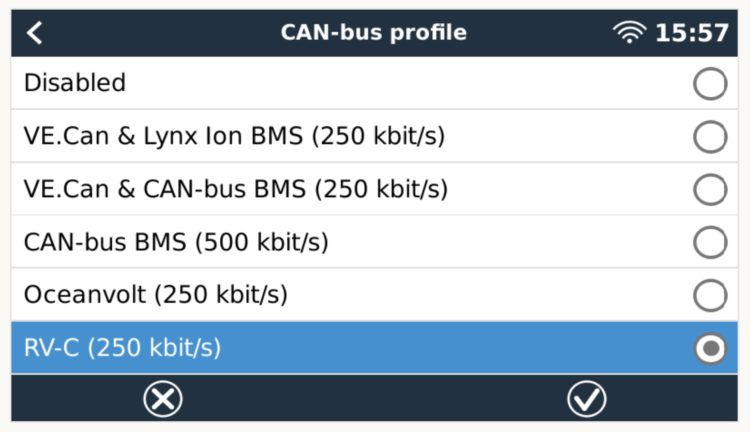 More information about our RV-C protocol has been added to the GX manuals, for example here in the Cerbo GX manual.
NMEA2000-out now has support for AC chargers, such as the Phoenix Smart IP43 charger.
Monitoring of Wakespeed alternator regulators
The GX device continues to evolve from just a power system monitor into something that is increasingly becoming central to entire systems.
Renewable energy users will often also have other important systems to support their lifestyles, such as water tanks, engines, grid, as well as mobile phones, computers and the internet.
While our focus remains on the core power electronics that have grown the Victron reputation for over 40 years, we continue to improve our support for other accessory integrations where it makes sense to view all of these in one place, and have their data available via VRM to monitor them remotely.
This release adds monitoring of the Wakespeed WS500 alternator regulators.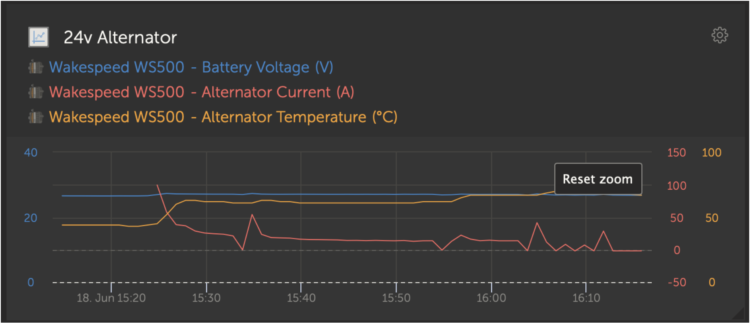 For details, please read the new Wakespeed chapter in the GX manual.
More Energy Meters as well as 3rd party lithium batteries
The range of supported energy meters has been extended, now including the new Carlo Gavazzi EM530, EM540, as well as some specific EM330 and EM340 meters:
Carlo Gavazzi EM530 and EM540 meter now have their sub-gamily X and PFC  supported. Part numbers:
EM530DINAV53XS1X
EM530DINAV53XS1PFC
EM540DINAV23XS1X
EM540DINAV23XS1PFC
Certain Carlo Gavazzi EM330 and EM340 meter types are now supported. Note that these meters count kWh like the ET340, which is unlike the EM24 and unlike most utility meters do. For more info on that, refer to our energy meter manuals. It can nevertheless be interesting due to shortages on the EM24. Meter model numbers (note the 27 suffix):
EM330DINAV53HS1X27
EM330DINAV53HS1PFB27
EM340DINAV23XS1X27
EM340DINAV23XS1PFB27
Cegasa eBick, eNerlit, FreedomWON eTower and Lithionics batteries
Official support is now available for the Cegasa eBick and eNerlit batteries. We now also force known optimal settings for FreedomWON eTower batteries.
Also Lithionics batteries is now supported with a direct connection, over RV-C. Which eliminates the need for an intermediate box that converts from Lithionics RV-C to Victron VE.Can.
More tank monitoring with Garnet Seelevel and Mopeka
The GX devices can now work with the wireless Mopeka Pro LPG and Mopeka Pro Water level sensors. These are very nice as a retrofit in a camper van for example. When using a Cerbo GX, note the requirement for installing an external USB dongle.
Another tank-level sender now compatible for camper vans and RVs is the Garnet Seelevel II 709.
Here are a few screenshots showing data from the Mopeka sensors:
Improvements to the Bluetooth menu
Based on feedback from the recent addition of Ruuvi connectivity and the (unfortunate) requirement to use an external Bluetooth dongle when having a Cerbo GX, we've improved the Bluetooth sensor menu and features. It now displays all the inserted adapters. And it supports installing more than one Bluetooth adaptor allowing increased coverage – for example one such adapter stick straight into the GX, and adding a second one on a USB extension cable can help cover the entire RV or yacht.
These additional options are accessible in the I/O sub-menu of the GX device.
Lastly, the GX device can now be set to continuously scan the Bluetooth network. This can slightly increase the range as well as stability in case of Ruuvi sensors being further away. Note that this will (in some – or even most cases) come at the cost of the WiFi signal strength / throughput, as shown in the menu when enabled: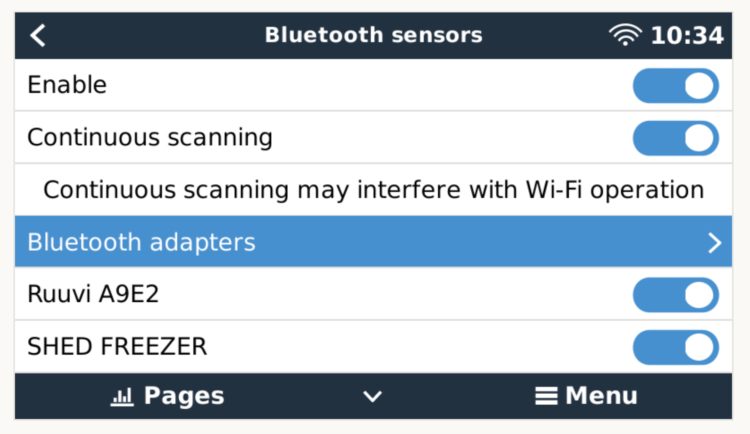 Venus OS Large
Lastly, there is something completely different. Venus OS Large adds two highly powerful and configurable features: Node-RED and Signal K.
Before I get into the details, first a note: we are not offering support on these features. While we are very excited about all the new opportunities these extensions offer, Victron remains focused on ease-of-use and reliability for our customers. We are strictly not providing direct support for either Node-RED or Signal K. All enquiries, questions and contributions on these features should be made in our extremely active and enthusiastic modifications community.
I hope everyone will understand and accept that it's simply not viable for us to help and support customers – either pre-sales or after-sales – with these features.
For some integrators, distributors, installers and DIY end-users it will be really valuable and great to have. But for others I can totally understand that they'll decide that this is a major distraction and pitfall – and thus we decide to not get into this.
Having that said, here are the details:
Node-RED, a flow-based programming tool
Node-RED offers PLC like programming without yourself having to be an experienced software developer. Node-RED is originally developed by IBM's Emerging Technology Services team, and is now part of the OpenJS Foundation. Which to us means it is a solid and widely used piece of software; and I'm excited to make it part of Venus OS.
Here is a simple example that controls a relay based on PV power:
A more advanced example is to control the charge and discharge profiles of an ESS system by factoring in the actual 15-minute energy tariffs. Here a screenshot (click to open full screen):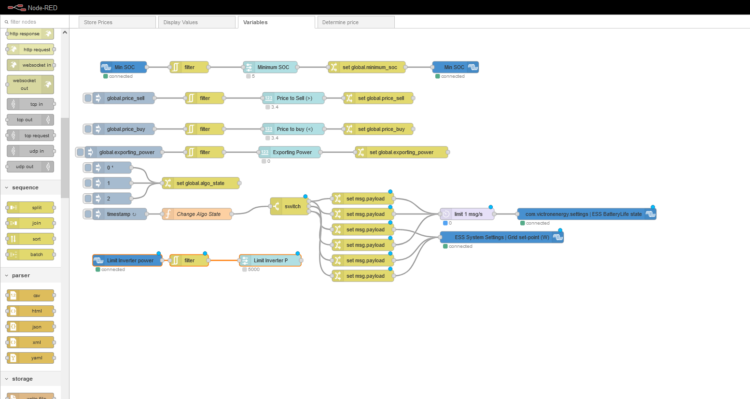 Besides programming automation, Node-RED also features customisable dashboards, like this one:
Signal K
Signal K is aimed for yachts, and multiplexes data from NMEA0183, NMEA 2000, Signal K and other sensor inputs. It's an open source, community-driven project which makes all that data available for Apps, such as WilhelmSK, a highly customizable boat instrument display.
For more information on Signal K, I recommend reading two blog posts. The first one being Sailing with Signal K, where Stefanie discusses the electronics and software on her sailing yacht Taku Moe. And secondly Signal K: Embracing connectivity with Victron Energy, which dates back to 2018, when John Rushworth was still writing blog posts on our website. The fact that, five years later, Signal K is still thriving and getting active development is a testament to its success.
This screenshot shows the Dashboard offered by Signal K / WilhelmSK:
Support and Venus OS Large documentation 
Please note:
To learn the details as well as see more examples: Venus OS Large manual.
Many more changes: change log
There are many more improvements, specific fixes and under-the-hood updates.  These include new registers in Modbus-TCP, a kernel update and Raspberry Pi4 fixes. To read the details, see the full change log by logging into Victron Professional and selecting 'Firmware' -> 'Venus OS' -> 'firmware changelog'.
Information about how to install the firmware is in the manual of your GX Device. Quick links to the relevant pages can be found here: Cerbo GX, Color Control GX and for the Venus GX.
Webinar presenting the new features: Nov. 23rd
For those that have made it this far, you might also be interested in joining a special live webinar coming up. Together with our lead VRM developer Alex – and Guy Stewart, Community Manager – I will present all recent highlights of both the VRM Portal as well as Venus OS/GX devices.
Click here to register and reserve your place via Victron Professional.
Until then, sincerely yours,
Matthijs Vader
Victron Energy BV