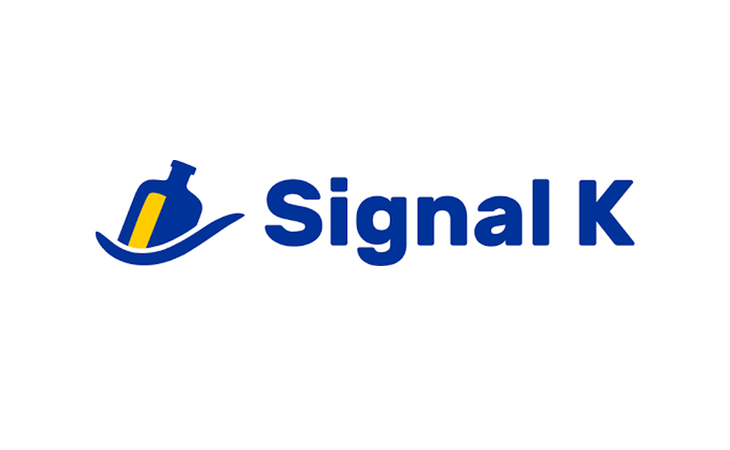 As a mariner you'll know communication is key to a safe, well run vessel. Communication though can be difficult at sea, particularly when it comes to the marine electronics version with its multiple, different data standards.

International Code of Signals (ICS), K for Kilo: 'I wish to communicate with you'.

What if there was the electronic equivalent of the K for Kilo code flag whose premise is that of the ICS – an international system of signals and codes for use by vessels to communicate important messages, regardless of the native language?

There is such a beast – and not unsurprisingly it's called Signal K.
Introduction
What exactly is Signal K?
It's a free, modern, Open Source, universal marine data exchange format. A more comprehensive description is the one on their website:
"Signal K is the next generation solution for marine data exchange. It not only allows for communication between instruments and sensors on board a single vessel, but also allows sharing of data between multiple boats, aids to navigation, bridges, marinas and other land-based resources. It is designed to be easily used by Web and Mobile applications and to connect modern boats to the Internet of Things".
Announcement
Digital Yacht were the first commercial manufacturer to embrace Signal K with their iKommunicate gateway and like them, we at Victron Energy are Open Source fans. Hence, Victron Energy MD, Matthijs Vader is pleased to announce his wholehearted company support for Signal K – the first by a business at Victron's level in the marine industry to do so. But why do this?
It's about vision and doing – I asked Matthijs what that means for him. In principal he would like to help Signal K to grow beyond its small beginnings and the current community stage, to a point where the sailor doesn't need to understand the inner workings of Signal K –  to one where they have a solution without having to concern themselves with how it works.
In fact I think an old English proverb captures the spirit of Victron Energy's announcement well:
'Mighty oaks from little acorns grow.'
Key Victron reasons to support Signal K
It aligns well with Victron connectivity and gels well with Victron Energy's Venus OS – used in the Color Control GX & Venus GX and in home brewed projects such as Izak Burger and Alan Major's Raspberry Pi running Venus.
It fits well with the Venus OS Beta program.
No other major manufacturer is supporting Signal K at this level.
Signal K is Open Source, so development, progress and usefulness in the field is fast.
Plenty of scope for home brewed projects – in fact I have already installed a Signal K server integrated with a Color Control GX on my own boat using a simple Raspeberry Pi, with I may add fantastic support from the Signal K community to achieve that.
Example installation using a Raspberry Pi
My own Signal K node server (demo link in blog footer) uses a Raspberry Pi and is integrated with a Victron Color Control GX.
Per the image above which shows the Pi being powered by USB and with a USB GPS & AIS attached. There are a number of apps and ways to show Signal K data – the one I'm using here is the popular and eminently configurable WilhelmSK. The app layout I've chosen shows a combination of my boat navigation instruments and Victron Energy monitors, which can be viewed locally on the LAN or via the Cloud.
An easy way to try Signal K
Need a quick and relatively easy way to get a feel for SK? Then one way is to try OpenPlotter on your Pi using their SD card image, which includes Signal K. OpenPlotter is a suite of open source nav software.
I've tried it myself and whilst it lags a little behind the main SK development, it is easier than the way a layman like me did my install – but more of that in another blog. For now I'll just leave you a link to OpenPlotter – http://www.sailoog.com/openplotter
Signal K history – a Universal Data Model
Around 2009 Robert Huitema was cruising the south pacific, experimenting and using an Arduino and Raspberry Pi with web browsers.
However, things didn't start in earnest until 2014 when Teppo Kurki began to solve the problems he encountered on his own yacht by bringing a number of different data standards and protocols from various sensors and instruments into one common format. Something neither Robert or Teppo could do with NMEA – as it wasn't suitable for the internet and was also bound by licensing issues.
Whilst Teppo's vision was somewhat different to Rob's they both realised they needed a common open communications protocol to make it possible for various open source efforts to interact well. As a result a core development team gravitated together and Signal K was born – culminating in a system able to display information on any device over Wi-Fi or the internet. In effect a universal data model freely available as Open Source software to anyone.
Or to put it more simply – Recognise you can do something better than earlier industry standards, do cool stuff, make nice things happen, make it free and have fun with pleasant surprises along the way!
Many software developers seem to be of the more shy, retiring type and so it is with Teppo. A software manager by day and a passionate developer by night. As Teppo told me – the Signal K vision may well have been his initial concept, yet he feels he simply stands on the shoulders of giants. Modest as well then it seems!
Coming up to date – Signal K has evolved from a core team of 5 developers and 1 installer/writer to a community of around 350 actively involved people – which means Signal K can now best be described as a relatively small yet vibrant community.
I'm no programmer so I won't attempt to explain the software or how the SK development cycle works, suffice to say the current core group can review and accept development ideas and changes from a large number of small contributions by the community – which makes it easier to leverage standards and solutions.
Conclusion
It's no wonder Victron MD Matthijs is sympathetic and supportive of the Signal K project and community – he's a bit of a night owl programmer himself! That aside it also seems clear (at least to me) that there is great potential in this type of open source, common data standard for boats. Time will tell.
Until then and my next blog about the more technical aspects, I'll leave you with some key links for your own research and evaluation.
John Rushworth
Links & Resources
Signal K Website – http://signalk.org
An independent view & a range of blogs from Panbo – https://www.panbo.com/?s=Signal+K
Signal K on GitHub – https://github.com/SignalK
Signal K on Google Groups – https://groups.google.com/forum/#!forum/signalk
Signal K demo node server – http://signalk.org/demo.html
Signal K on Facebook – https://www.facebook.com/signalk.org
Applications & Solutions with Signal K support – http://signalk.org/solutions.html