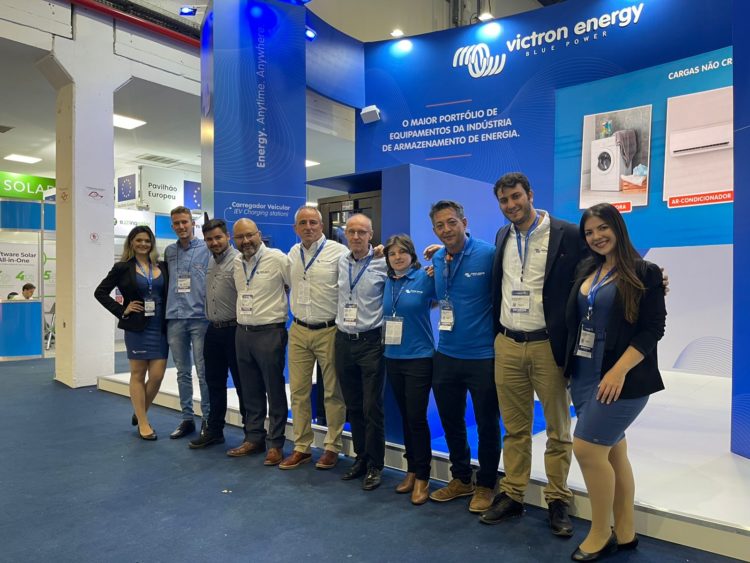 Intersolar South America, which took place in São Paulo last month, was a useful event in many ways. Of course it's a great showcase for all our latest products – but it's also an opportunity to 'take the pulse' of the industry; and to see where it's heading.
In Latin America, the combination of de-regulation of the electricity network; high energy prices (both because of the European conflict, and because – locally – government fuel subsidies are being withdrawn); together with a frustration around poor-quality short-term solutions to power needs are combining to create a groundswell of change.
The new normal is energy independence.
Our participation in the event was organised by Jorge Ortiz, Regional Sales Manager in South America, and his colleagues: David Lopez, David Gutierrez and Gerrit Jacobs. Jorge says the main barrier consumers face, now, in Latin America is that people don't yet realise that a solution to reliable energy is already available.
Of course, everyone is aware that off-grid energy has a storage system – but consumers are only just waking up to the power and flexibility of on-grid energy storage systems (ESS).
ESS is not simply solar power with grid-energy as back-up. Purpose designed energy saving systems are tailored to individual need and to local network conditions. Peak shaving and Load shifting, for example, drive down the price paid for energy at the same time as guaranteeing reliable energy for the consumer. (It improves conditions on the supply side, too!)
With five hours average sunshine per day, every day in Jorge's region, the efficiency of solar harvest is high. With battery storage comes 24 hour power – from your own power harvest (often called 'self-consumption'). Consequently the pay-back time for the initial investment will be shorter …leading to zero energy costs for the business or domestic consumer within just a few years.
One other legacy problem that is changing in Latin America was referred to earlier. With average income lower than in some other world regions, the temptation has always been to find cheaper solutions to energy needs. Cheaper products will be of lower quality, of course, and will soon fail – breaking the promise of 'free energy' after amortising the initial system cost.
When everybody has the same disappointing experience, the national conversation is that "that's just the way it is…" and nothing better has been invented. But at exhibitions – such as Intersolar South America – the conversation is changing, and those high-quality, reliable products are available for all to see.
The initial cost is higher – but the long life promise is kept.
South America Distributor meeting
The conversation-change starts with the product distributors and installers.
As each industry-leader learns about the powerful, cutting-edge products he/she is able to offer to clients, and how those products can be individually programmed to customer need – to reduce, or sometimes eliminate energy costs –  so the nation realises they have the freedom to choose better.
Alongside the exhibition Jorge and his colleagues held a meeting for distributors and installers from seven nations – an event which was highly acclaimed by all attendees and organisers. It was a chance to learn from each other.
Brazilian Installer Natalia Maesta says she chose to work with – and supply – only premium brands simply because 90% of installers weren't! Her company, Fonte Solar, was looking for 'ways to be different' and providing high-quality installations was her natural inclination anyway, and a way in which she could be unique.
Diego Alvarez whose company ADN Solar is a solar equipment distributor based in Buenos Aires, Argentina, found the meeting both constructive and refreshing – he particularly enjoyed the opportunity to talk to other distributors about shared frustrations and difficulties within the industry, and to exchange ideas about how to overcome them.
Leonardo Labagata's company Interbrasil is a specialist 'spares' stockist for a number of industries – mainly around arboriculture and agriculture. For him the availability of all-in-one products such as the EasySolar leads to fast, worry-free installations.
Another favourite feature is that Victron Energy products are fully compatible with third-party battery brands – allowing easy integration with local product availability. Also, future system expansion is easy with our networking systems …which is crucial when, like other regions in the world, thoughts are turning to the future of Solar Electric Vehicle charging.
We've got a product for that too 🙂
Let's take a fly-through of the show!