We're looking forward to meeting you face-to-face at Intersolar Europe!
It's the world's largest exhibition of Solar Energy, and takes place on May 11th, 12th or 13th at
Best known for our Inverter/Chargers and Solar Charge Controllers – we're always adding exciting new devices to our range of products for private energy installations – for Industry, Leisure, Home, Off-Grid, and Mobile working.
This year is no exception – We've got some great new products to show you when you come to our stand – number B4.160. 
For example, you'll be able to take a really close look at our brand new Electric Vehicle Charging Station. Incorporating an LCD Touch Screen, it's a 32A charger capable of providing 22kW of power from a 3-Phase supply, or 7.3kW from a standard single-phase supply.
Fully programmable and customisable.
User defined light rings provide at-a-glance state of charge.
WiFi Communication on board.
Can be programmed to use surplus Solar Energy.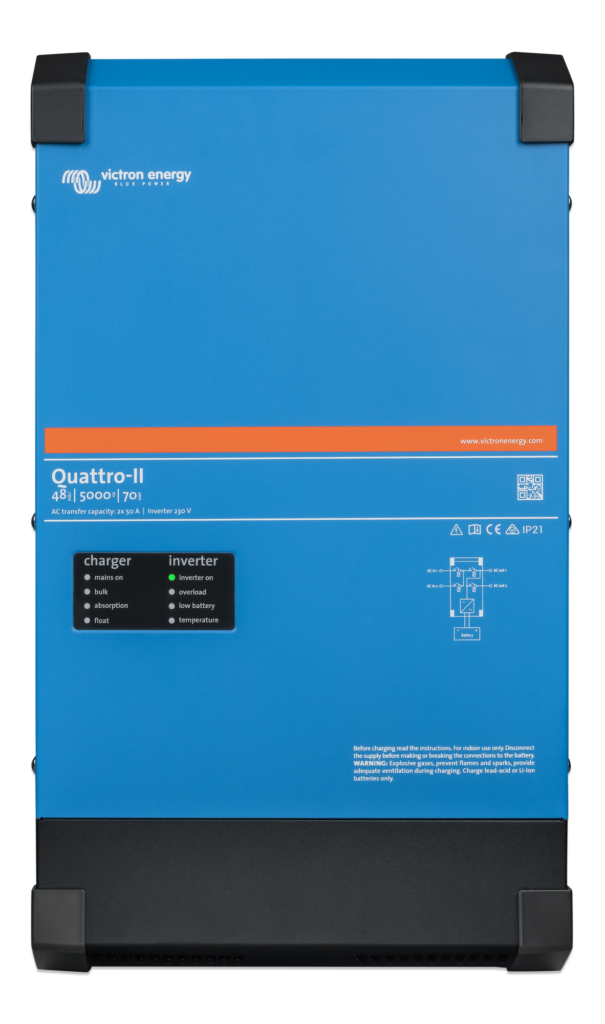 The latest addition to our extensive range of Inverter/Chargers is the Quattro-II 48/5000. As part of an ESS (Energy Storage System) it maximises the consumption of 'home' produced energy.
2 AC inputs – power will automatically be taken from a connected grid or generator, whichever has live AC available.

2 AC outputs – Second AC output is only active when there is an AC input, so non-essential loads are dropped in case of loss of grid or generator power.

Plus all the useful features of our Inverter/Charger range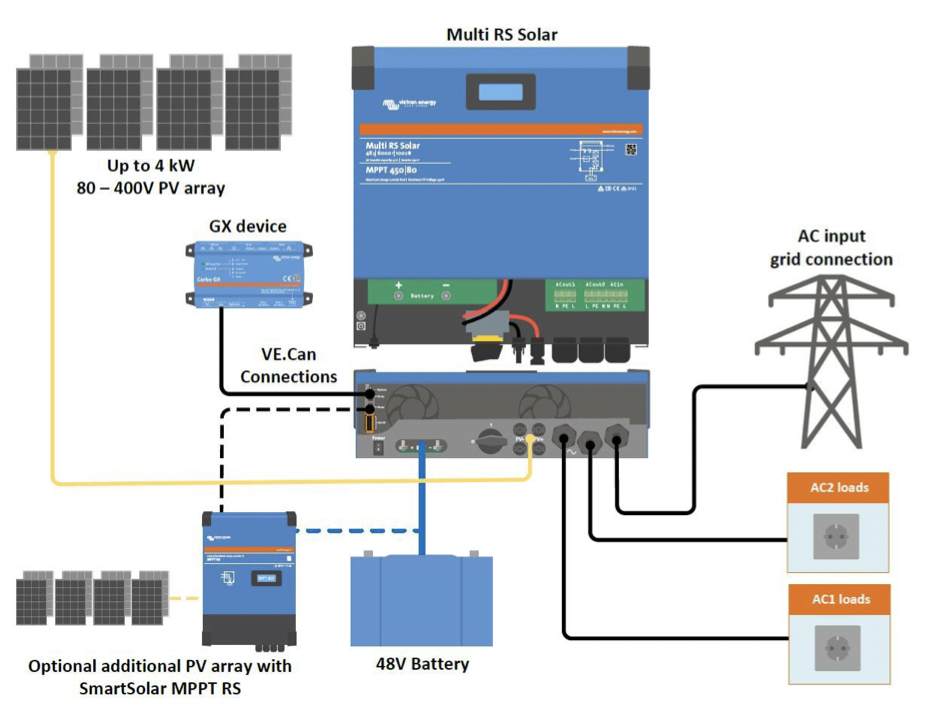 The Multi RS Solar 48/6000 is an Inverter Charger with a 450V Solar Charger on board. It also has a bi-directional DC-DC charger which charges the battery with excess solar power, or converts power from the battery when required. The 4kWp Solar Charger can be daisy chained to more Solar Chargers, with the possibility of synchronised charging; the Multi RS can also be connected to PV Inverters.
80 – 450VDC input
Display. Data can also be read from phone or Bluetooth device.
Extendable PV capacity – both AC and DC coupled.
Can be connected to a GX device via VE Can.
Can be connected to a GlobalLink 520 vie VE Direct
The new SmartShunt IP65 is an all-in-one battery monitor which you access using your phone – via Bluetooth. The unit allows clutter-free installation, having less cabling – and its IP65 rating allows it to be installed in tough environments such as an engine room which might be prone to dust and water spray. Remote data access via your phone means it can be installed out-of-sight and out of the way. The SmartShunt is available in three models: 500A / 1000A / 2000A
Extensive Live and Historic Data parameters available straight to your phone
Can also be read by a GX device for screen data display
Can monitor second battery, midpoint monitoring, or temperature input
500A / 1000A /2000A models available
Much more to see
You'll be able to see many more new products on our stand. Here are the additional products we will be able to demonstrate on your visit:
Your visit is a chance to get answers to all your questions about any of these new devices, or any of our hundreds of power products for Leisure, Industry, Marine, Home, and Mobile work setups.
Parallel Conference
Intersolar Attendees interested in Off-Grid applications might like to register for the parallel conference entitled Off-Grid Innovation – Digital, Control & Monitoring Solutions, Batteries during which our own Bob Hopman will be talking on the subject of: Innovating Integration of Efficient Power Electronics, Monitoring & Control. The conference takes place on Wednesday 11th from 11:00 – 12:30 in Room 12.
See you at Intersolar 2022!