A meat wholesaler has been facing huge challenges to keep his warehouse-stored frozen meat in prime condition on the African Islands of Comoros.
He buys meat in Europe for consumption in Comoros – where average temperatures of around 30°C and an unreliable power grid present significant challenges to his business.
When a grid power outage coincides with a generator breakdown at his storage facility his stock – which might be as much as container-load of chicken wings – must be sold quickly, and will only attract half the expected price.
Added to which the cost of running and maintaining 2 x 100kW generators in such a remote location is very high.
Solar Energy
On the other hand, with an average of 7 hours of sunshine per day in Comoros Solar energy is extremely reliable …and free.
Dubai based solar energy specialist Natheer Technical Services – who have over twenty years experience in the industry – were called in to put an end to all these headaches by designing and building a three-phase Solar energy system which would provide all the energy needed to provide 100% uptime for the meat storage facility, and also accommodate future growth.
The solution they designed is a hybrid system offering 2x 45kVA off-grid three phase energy; and also 2x 27kW three phase PV solar inverters which are grid-tied. Energy for overnight use is provided by a Lithium battery bank of 480 kWh.
The harvest, storage and supply of energy is performed by the following devices:
6 x Quattro 48/15000 Inverter Chargers
14 x SmartSolar MPPT 250/100 Solar Chargers
2 x Cerbo GX– and long range wifi module controls the overall system and allows  remote system management and live data analysis to be made available anywhere in the world by using Victron Energy's free-to-use management platform VRM (Victron Remote Management).
2 x Orion Tr DC-DC Converter 48/24 Isolated
2 x Fronius Eco 27.0-3S
370 x Solar Panels 380W
64 x Lithium Batteries providing 480kWh
18 x Fuse holders with 18 x ANL Fuses and 48 x MEGA fuses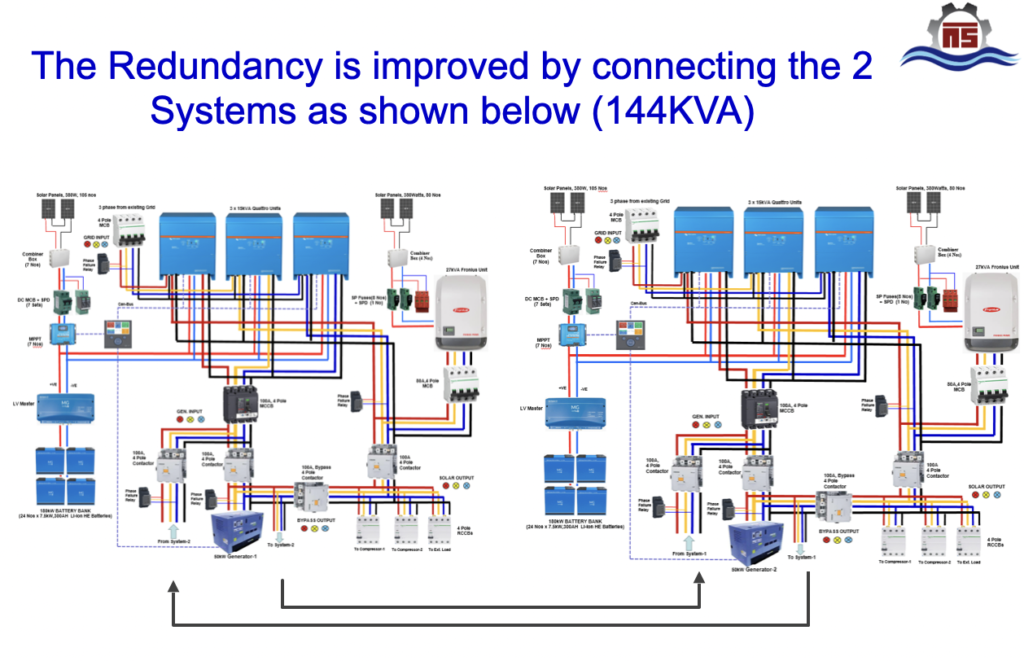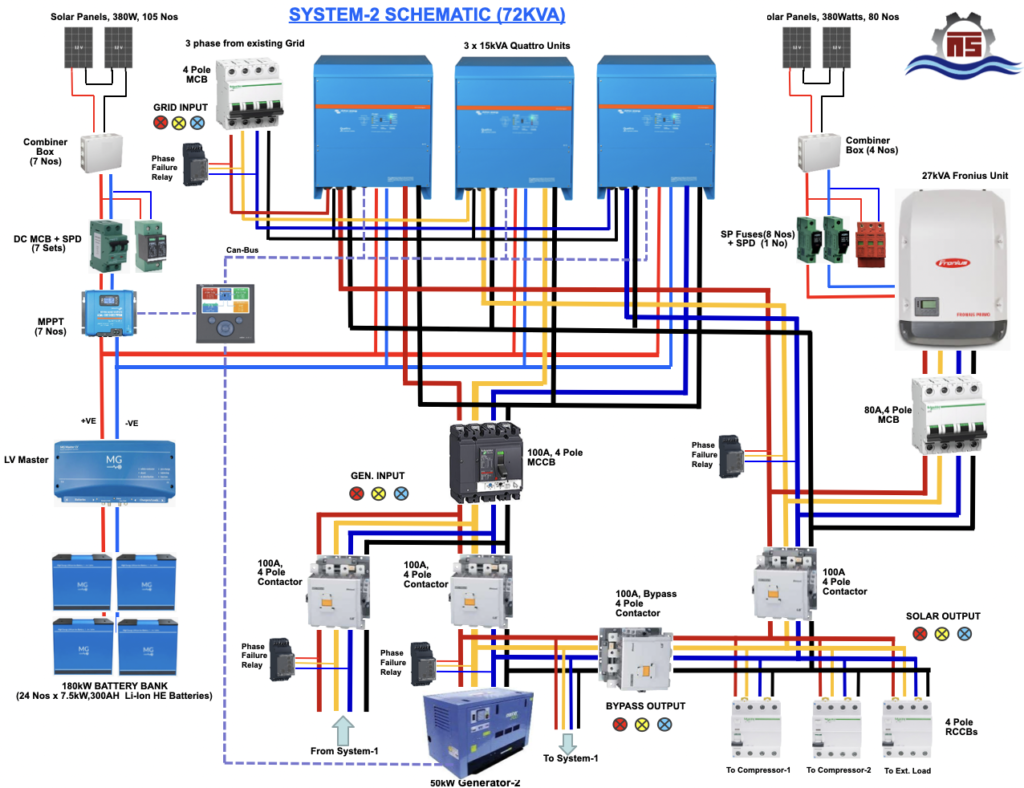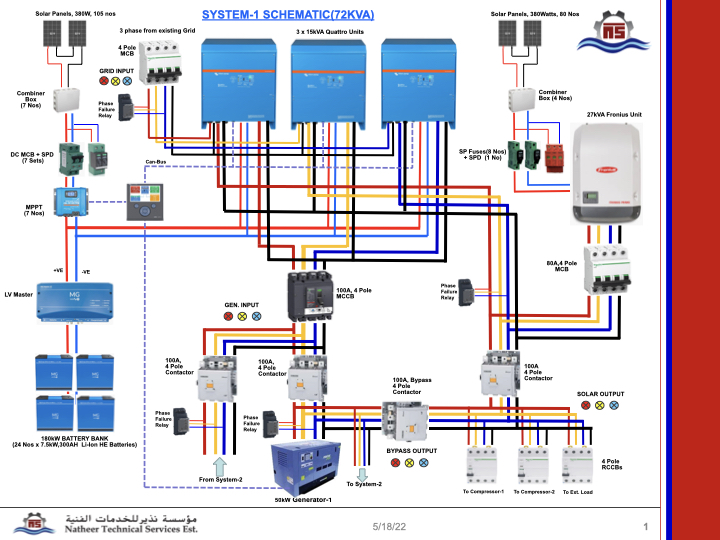 A Generator – which is programmed to start automatically in case of any emergency – is connected to the system. The generator also provides cover for any unforeseen additional loads.
In designing the system Natheer Technical Services compiled a profile of the energy used by their client and initially provided 180kWh of battery storage. After 6 months of in-practise testing the client chose to add a further 180kWh of energy storage, client confidence is demonstrated by the fact the system now has 480kWh.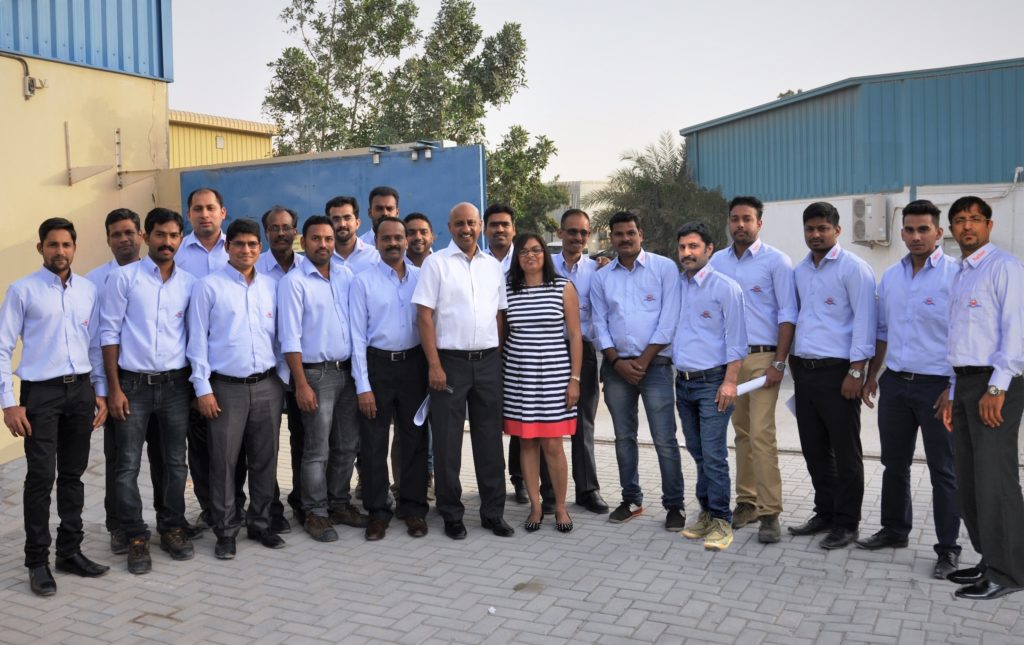 Building power systems 'in-house' at their own facility allows Natheer Technical Services to construct and test high quality installations with easy access to component parts, and then install the system anywhere – even in remote locations – with full assurance that the power plant will operate perfectly with little disruption for the client, and in the shortest possible time.
Natheer Technical Services are active in the Marine, Off grid and Automotive industries. They say: We have carved our own niche in the market by providing power backup solutions using superior quality products at competitive prices. We can customize systems according to the requirement, using our own team to design, assemble and commission the installations.