Commercial photographer Radu Tudoroiu and his girlfriend Ana Stoica – who is a textile specialist – tell us about their van life.
"We've had our fair share of campfire stories. It's part of life when you decide tarmac and hotels aren't really your thing for the most part. Whether you're detained in a war zone, burn your clutch under the scorching Saharan sun or just run out of battery on an deserted beach on New Year's Day, they're all adventures to be shared.
"Our four-year journey on board a 4×4 Mercedes Sprinter has taken us along some of Europe and Africa's most stunning and desolate roads. Out of season beaches, no-signal winding mountain roads, the type of places you read about online or click on in your instagram feed: these are the destinations that we find enticing. And all of them, with little to no exceptions … are off grid.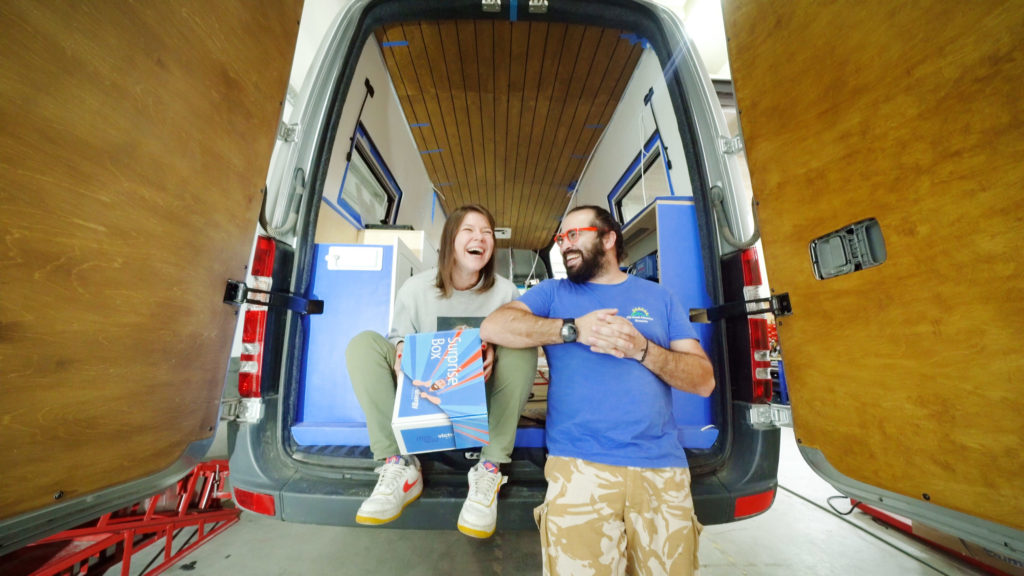 "We average 3 months a year on the road since buying the van and plan to spend six months on board our van called Gloria The Sprinter this year. After an initial DIY build, the 4×4 off grid van has recently been professionally re-fitted by the dynamic team over at Sfinx Camper & Conversion – working in partnership with Bucharest-based Victron Energy system designers and installers Darcom Energy. 
"This means the van now has everything you need: hot shower, filtered drinking water with 160L tanks, Queen sized bed, tons of storage space and a slideout for e-bikes and gear. And many more, but let's stick to the highlights.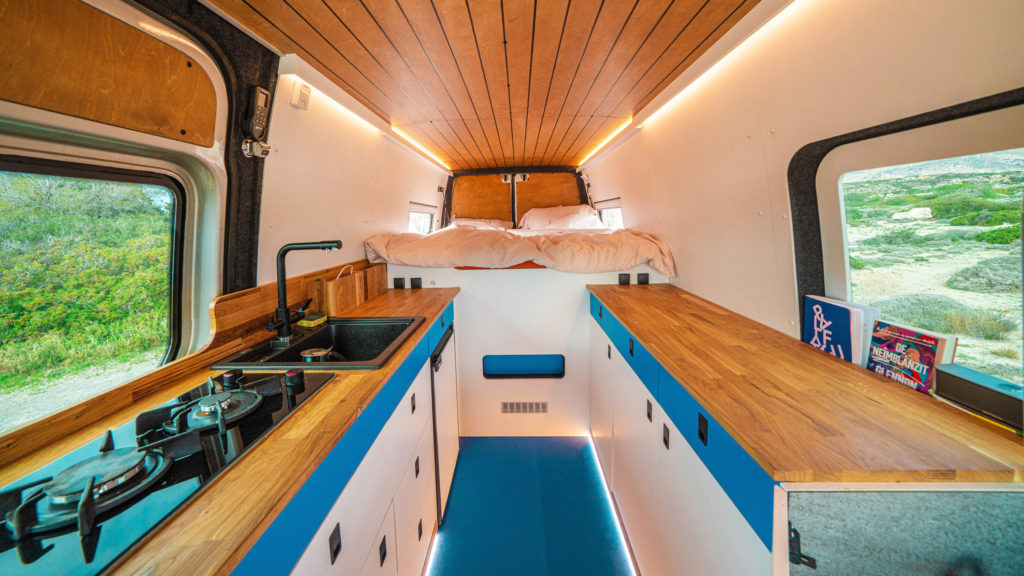 "Time spent roaming is not limited to only the summer months. Therefore, the van has quite a complex electrical heating system with floor heating for cold mornings, de-icing system for the grey water tank and pipes and heating pads for the lithium batteries – all with their own thermostats to keep everything from freezing up. None of this would be possible if  it weren't for the 2 x 160Ah batteries. 
"In winter time, the onboard heating has no problem keeping the van toasty, even at -25 Celsius, so that parking up by the slopes for a weekend of offgrid snowboarding is … well, a breeze.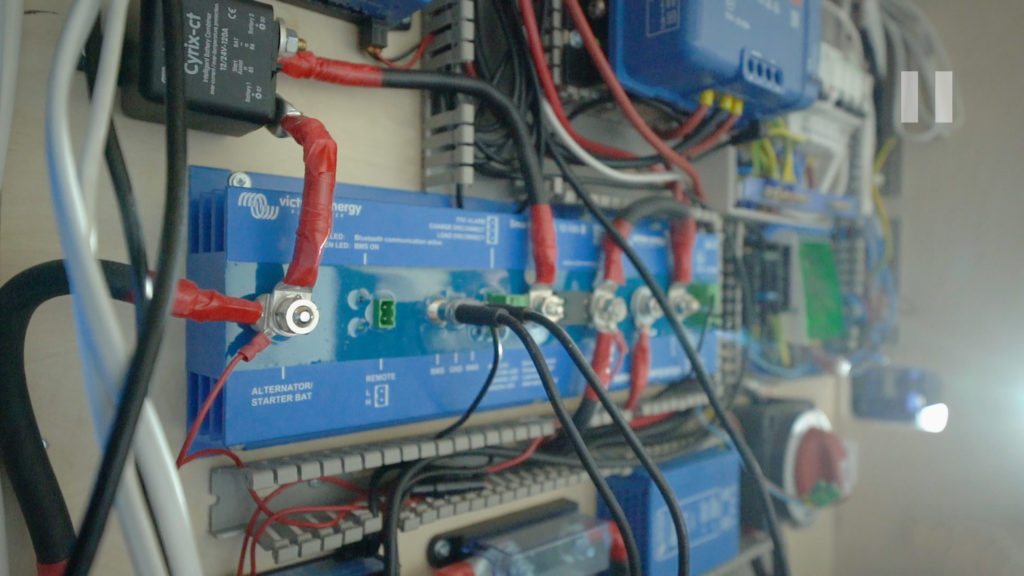 "My knowledge of the ins and outs of the electrical setup stems from my work: overlanding and working remotely since 2004, it is essential that power packs allow my cameras to work all day … so I'm aware of how much energy I'll need for each job. Especially since I've always had to keep a watchful eye on the regular two-battery-one-inverter setup in my off-road cars, where one has to be mindful of every drawn amp. Having the Victron power plant has been a game changer for both work and fun.
"My on board electrical boiler, for example, has a capacity of 14 liters. In order to raise the water temperature to 55°C, I use 30% of the battery capacity – or roughly 100 amps
Sprinter Installed energy: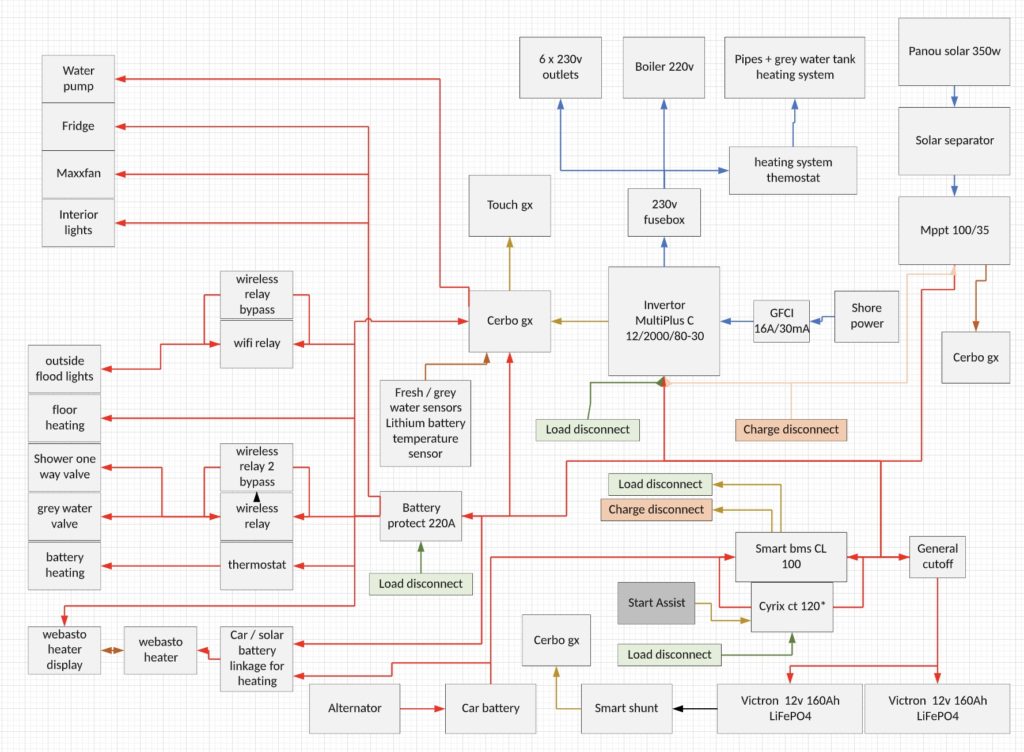 "Our system has been designed around our outdoor hobbies, some of which are quite energy hungry, as is the case with the two full-suspension e-bikes with a 100km range which draw roughly 1.3kW between them for a full charge. They allow us to park their van out-of-town and go exploring off-road trails or ride down any town centre without the hassle of parking, traffic jams or city taxes. Vanlife + e-bike tourism is the perfect combination for our travels. Gloria The Sprinter is a little over 7 meters long and 3 meters tall, so squeezing through small downtown streets without mixing some paint with other cars is not as easy as one might think. Do-able, but not always easy if you're in Crete or in Toscana.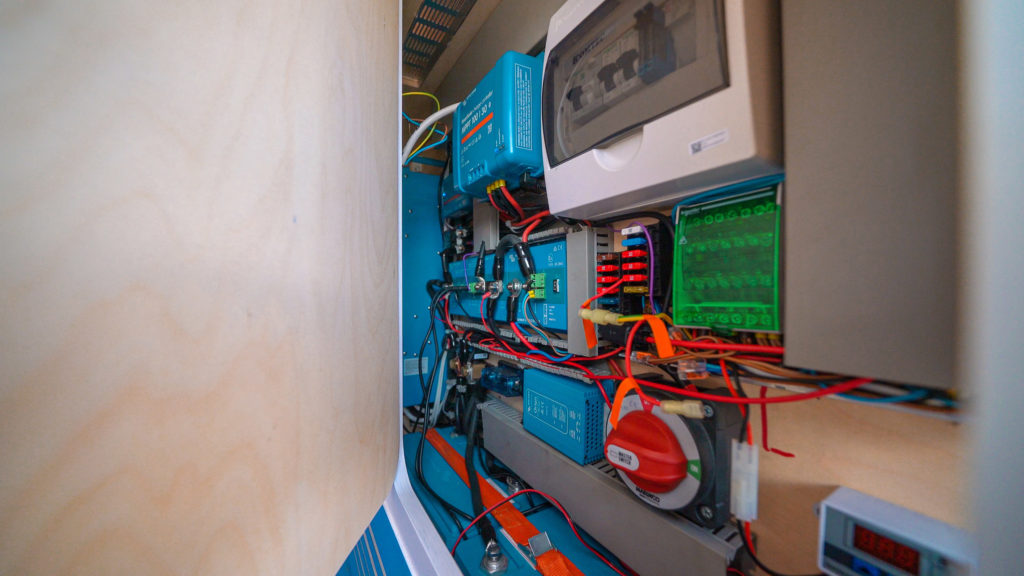 "However, Gloria was never designed for the city. Apart from the two e-bikes, the van accommodates our 5 meter Prijon expedition kayak on the roof rack (with paddles and vests), snowboards and kite surfing gear in the garage under the bed. All at the same time, with room to spare, due to the great interior design thought up by Sfinx Campers. 
"To maximize on recharge power our van is fitted with a 260A alternator, which charges the batteries without breaking into a sweat, while driving, with a maximum of 100 amps, through the SmartBMS CL-100. Should all other options fail, the MultiPlus 2000 can be plugged into any 230v home outlet and will charge the van in a couple of hours. So really, redundancy is key when we're talking about 6 months on the road.
"With businesses in advertising, teaching and textile care, our dream is to create a solar-powered off-grid campground in the Transylvania region of Romania. Our vision there is for a 70kW off-grid solar system powering a five-star manicured site which is appropriate for adventurers, travellers and lovers of the great outdoors, gliding along the freeways, eager to explore the wonderfully unspoiled landscapes Romania has to offer. But that's still in the dreaming and drawing  phase and will take some time before it all comes together. 
"I'm a big fan of Victron products – along with the 8,300-and-climbing users of his Campervan Romania Facebook group. At the beginning of September the community will have their very first CamperVan Festival, where I hope to bring together members, partners and vanlife enthusiasts for a weekend of workshops, music and relaxation in the heart of Transylvania.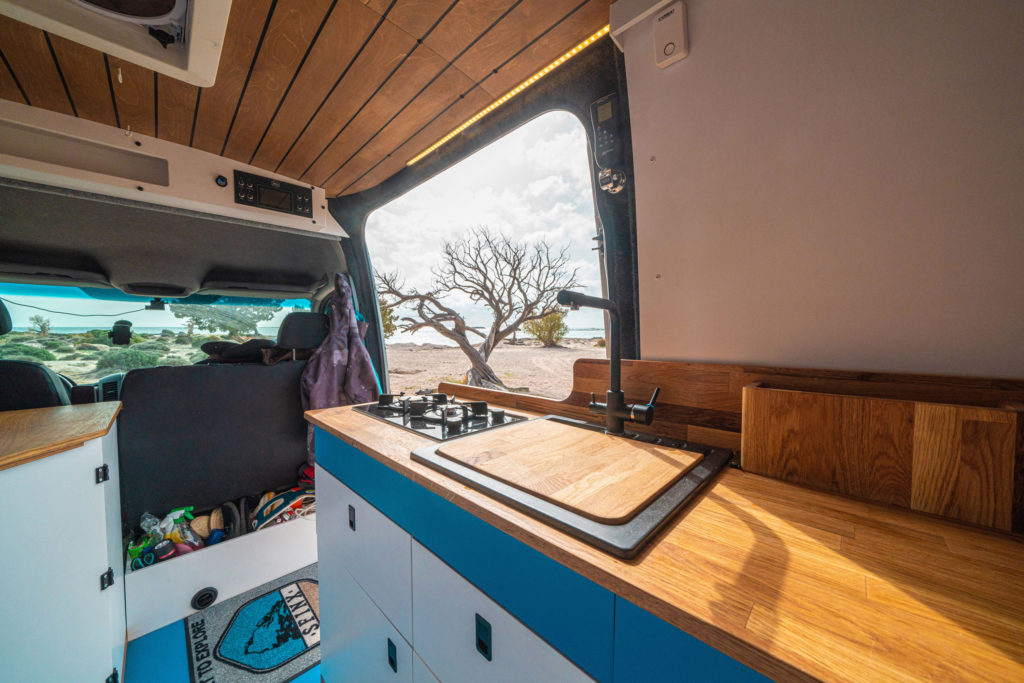 "As is the case with all dreamers, our future intends to be even bigger. The 4×4 Sprinter is an amazingly capable offgrid machine which ticks all the boxes. But what about an upgrade to a 6×6 12 ton truck loaded up with everything Victron has to offer? Wouldn't that be a good upgrade?"
You can also follow Radu on any of his other social media channels: