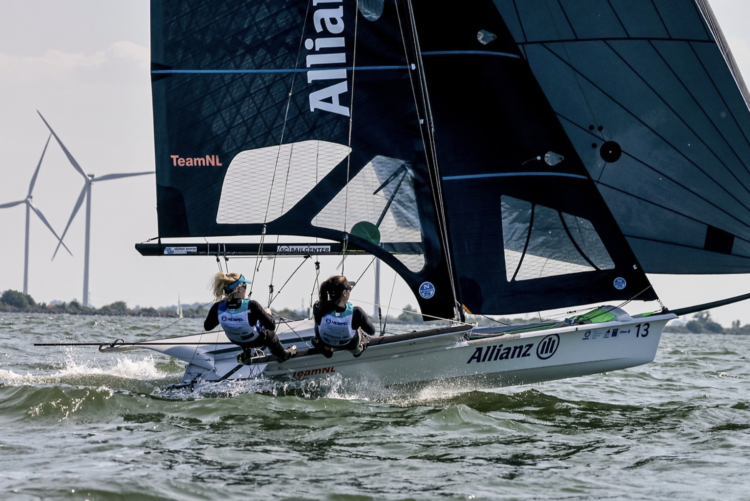 When they launched their boat to take part in the Hempel World Cup series – the latest event of which has just taken place in the Netherlands – sailing duo Odile van Aanholt, and Annette Duetz suddenly became aware that all eyes were watching them!
This was their first competition since announcing their 49erFX Team Allianz Dutch bid to participate in the Paris 2024 Summer Olympics. Of course, it was a good chance to show everyone what they're capable of, but what if it all went wrong? There was huge pressure on them to impress the crowd!
And as it happened the first race didn't go well at all.
With five boats crowding around the first marker buoy, very little time, and some not-so-clear race signage about which direction the course went from there, Odile and Annette shot off maintaining first place – but in the wrong direction! Sailing off-course and never getting back on it they picked up 27 points right at the start the the event. (By the way – picking up lots of points isn't a good thing!)
Perhaps it was just the sting they needed? In their very next race they finished in first place out of an armada of 26 boats.
Weather conditions over the six-day event were mixed – sometimes there was very little wind, sometimes it was blowing at the ideal competition strength of Force-four. The sea was sometimes smooth and sometimes choppy. And the waves in that location arrive quite close together, too, so you get quite a bumpy ride at speed.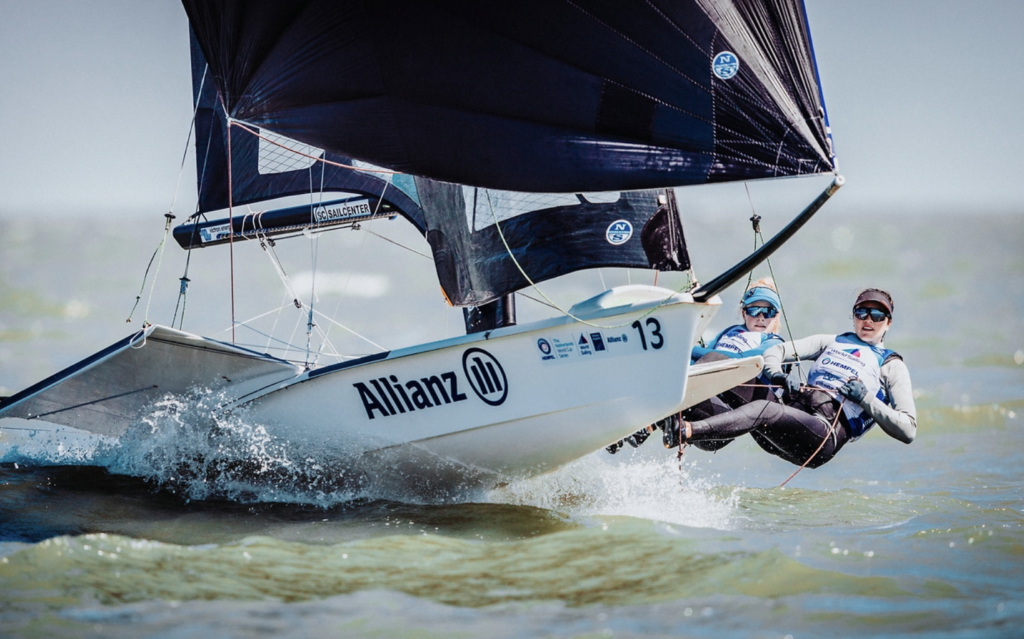 Annette says that one of the advantages of her new partnership with Odile is that they can take on a whole range of conditions: Odile likes to play with light airs, and I like it when it gets a bit rough – so between us we have skills for all weathers.
The duo have taken the opportunity to practise their starts. Annette says: When you are at one end of the start line, near a committee boat, it's easy to imagine where the start line is on the water – but when you're in the middle of the fleet line-up, it's much harder. So we've been working on getting close to the line wherever we are in the middle of the fleet line-up.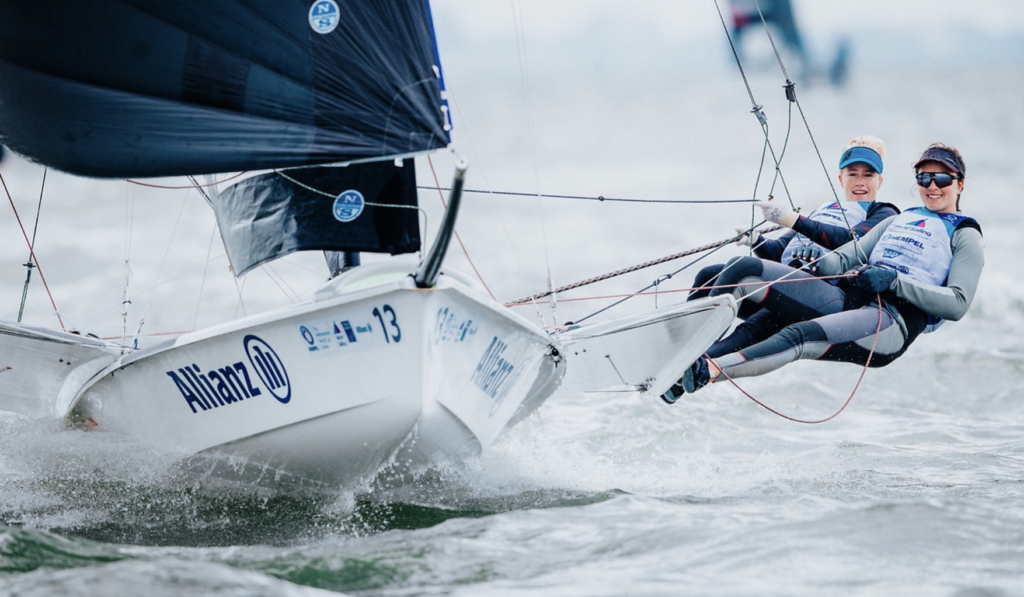 The outcome of the competition wasn't clear until the very last race, and it was a nail-biting battle for the pair as they fought to regain their dominance, until finally – right there in the twelfth and final race Odile and Annette held off their nearest rivals – Belgium's Isaura Maenhaut and Geurts Anouk – to finish just two points ahead and win Gold for the whole event!
Knowing that the whole world was eying up this new Olympic-bid team, that's just what they hoped would happen!
If they qualify for the Olympics it will be Annette's third appearance to represent her country – her participation at Tokyo (with skipper Annemiek Bekkering) brought home the Bronze medal. It will be Odile's first Olympic challege. Team coach for their bid is Kaj Böcker who has been the 49erFX coach for some years  – so they're in safe hands.
All three could scarcely be more pleased with this latest result – though it's also true that the dozen Victron Energy staff who were at the event on the final day deserve some credit for cheering them on to that brilliant result!
Olivia Price and Evie Haseldine from Australia who had put in a threatening performance throughout the show finished just five points behind Denmark, in third.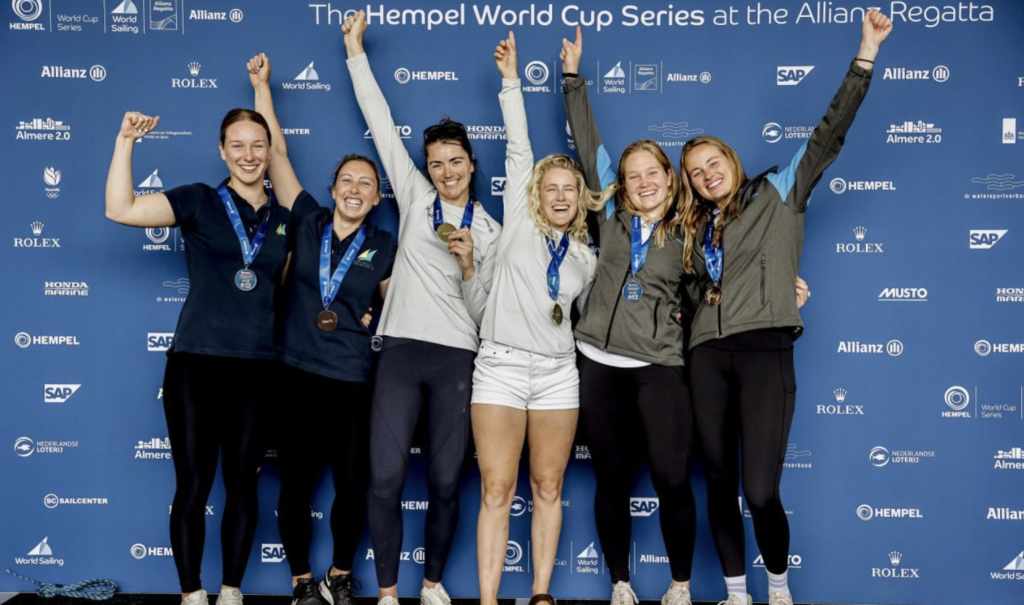 Victron Energy sponsor the Dutch National 49erFX team. We're all so proud of the winning spirit which keeps producing such creditable results for them.
The next event to look out for takes place in Denmark between July 6th and 10th.
All images used in this story belong to :
© Sailing Energy / Hempel World Cup Series Allianz Regatta