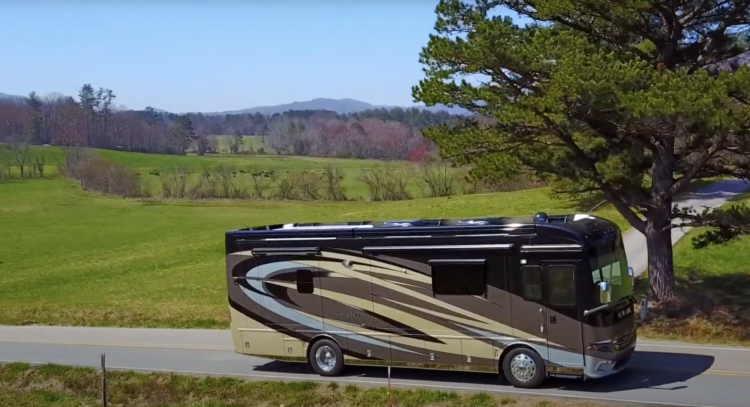 Mike Mas – famous for pioneering drone videography decades before most of us had ever heard of it – has fitted out his RV with a triple-battery system which is turning heads in the industry.
He uses a state-of-the-art Canyon Star Toy Hauler for work and play, on board which he has integrated an enhanced electrical system tailored to his mainly off-grid RV use. One of the remarkable features of his installation – when you open the RV compartments – is how professional and factory-installed all his enhancements appear to be. His modifications are the result of many hours of planning and forethought.
Almost endless domestic power
The main 'House' battery now has a paralleled storage capacity of over 30 kWh, and in his excellent video with explainers (see below) Mike talks us through the advantages of employing a 48V (51V in practise) battery system. Efficiency, he explains, is greatly enhanced when inverting power from 48VDC to 120VAC because big loads, such as air conditioning, will draw just a quarter of the Amperage compared to a 12V battery system. This lower amperage greatly reduces energy lost along hot cables. The higher voltage will result in lower cable losses to, and installation cable runs between battery and inverter can be longer, if necessary.
Mike's Victron Energy installation includes the following principal devices:
Mike is able to monitor his system via Victron's free-to-use global management platform VRM – which has geofencing.
But Mike's redesign goes much further than this. Among other improvements he has relocated the battery installation to an enclosed compartment, and installed his 5kW Quattro Inverter close-by so that the batteries can benefit from the incidental heat produced by the Inverter when it's in use. As a result the batteries are kept warm – making them more efficient – and the cable runs are so short that cable-losses are virtually nil.
PowerAssist – changes everything
Mike explains one of his favourite features of the Quattro is PowerAssist (a feature available on all Victron Energy's Inverter Chargers). You're probably familiar with the annoying problem of tripping the power supply when your van is hooked up to the mains at a camp site with current limitation and you turn on a device which places too much load on the circuit? Or you have 'too many' devices turned on. Not any more! The Inverter/Charger PowerAssist feature will automatically add battery power to the incoming AC to meet the demand. When demand once again falls below the available AC current PowerAssist is automatically turned off, and battery charging will be resumed using the surplus AC.
Mike explains PowerAssist here :
Second battery installation handles mechanical operations
Mike has installed another 12V 4kWh lithium battery system to handle all of the RV mechanical devices – such as hydraulic sliders and lifters which use electricity during operation. He points out that because Lithium batteries are not prone to the dramatic voltage drop experienced by lead acid batteries whenever a large load is applied, the vehicle's mechanical devices operate at full design speed – noticeably faster than when powered by lead acid. He even uses this installation to supply 'emergency' top up energy to neighbouring campers who have come unstuck or even to supply a partial recharge to his EV.
This installation includes an Orion DC to DC Converter explained in this clip:
Protection from Frost
Mike has also installed an automatic heating system so that his vehicle does not need to be winterised. Camper van, RV, and boat owners – particularly in the northern hemisphere – are used to the autumn (fall) rigmerôle of draining domestic water tanks and so forth to protect pipelines from rupturing in the winter freeze. Mike's automated low-wattage domestic heating cuts in when temperatures fall to around 5°C and shut off again when the temperature has climbed to around 10°C.
Mike provides us with a full explanation of why he has chosen Victron Energy components in his installation, and how he uses them in his installation here:
Viewed at full-length, Mike's video comprehensively describes all the equipment on his RV and why he has chosen to install them. After a lifetime of innovation, it goes without saying that what Mike Mas has to tell us is well worth listening to! View the full length video here: