The rollout of reliable, low-cost electricity supply to some of the most inaccessible and fragile environments on earth is a blue print for all our future's.
Peruvian solar installer Novum Solar got in touch with news of three very different success stories within the Amazon rainforest: a commission to provide silent maintenance-free power to 15 Military bases; three phase energy for a fruit processing factory; and the third is an installation to provide 24 hour energy for the perishable-goods chiller in a communal market …together with power for village homes.
Military Base
The military bases are responsible for border patrol deep in the Amazon. They provide a visible presence in remote areas – and also support communities in times of crisis – such as earthquake, floods or landslides.
Some of the bases can only be reached after a river journey taking days or even weeks – depending on the season.
In these locations diesel-powered generator sets are relied upon – in spite of their huge logistical problems: constant fuel supply; maintenance; and the difficulty of bringing engineers and spare parts to site. But all of that has changed for fifteen military bases (so far) after a visionary decision by the Peruvian Army to opt for silent, environmentally benign, and reliable energy from the sun.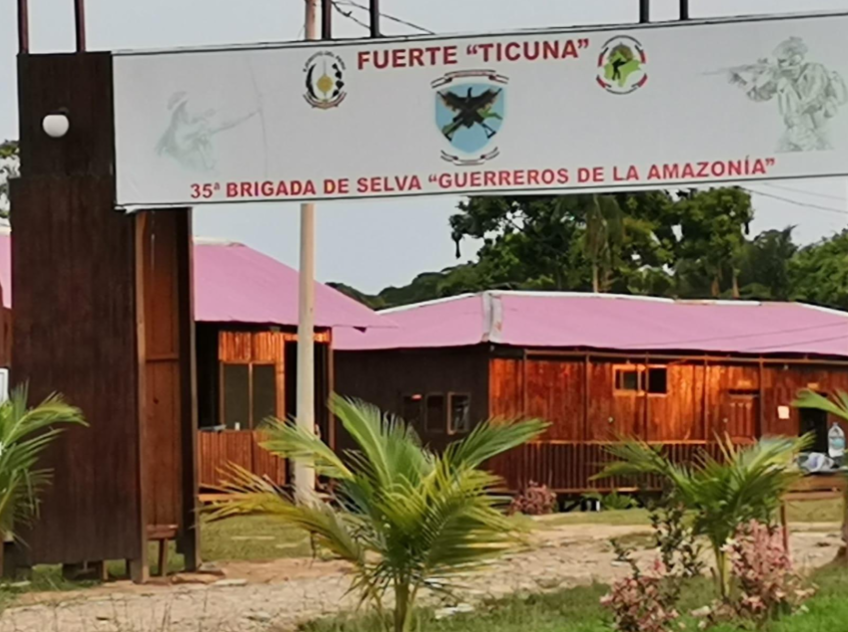 Novum Solar – who are based in Lima, and have been working on these kinds of solar installation for five years – provided the sites with a 5kVA power supply from a Quattro 48/5000/70 Inverter/Charger.
The generators, although redundant, have been retained to provide back up in case of emergency. Some of the military locations have access to grid power, although their location makes the grid very unreliable.
The Quattro has two AC inputs which can take their source from both a generator and a grid-connection, for example – automatically switching to whichever source is active. The Quattro also has two AC outlets – one of which will always provide energy, the other will automatically shut down its supply if there is no AC power coming in. This feature allows users to connect and run high-current consuming devices to the second outlet worry-free, knowing that big or non essential power consumers – such as air conditioners – will be shut down in the event of AC grid black-out or generator failure, and that only essential devices connected to the system will continue to run direct from solar, or battery storage.
The military bases have a 15kWp PV array energy from which power is harvested by SmartSolar MPPT 250/100 Charge Controller which stores solar energy in Lithium Batteries. Whole system performance is harmonised, and can be monitored remotely thanks to the Cerbo GX – the communication and control device which sits at the heart of the installation, and which can be accessed remotely via the free-to-use Victron Remote Management VRM platform.
In practise, these barrack installations now have energy security and can meet 100% of their demand from systems capable of producing a remarkable 147MWh hours of power per year, between them.
Novum Solar's three-phase off-grid installation at a fruit plant processes the Aguaje – a palm fruit which grows in the Peruvian jungle and is in demand in health outlets all around the world thanks to its reputed 'super-food' reputation.
Fruit processing
For the processing plant – which is located in Chapis, Manseriche, in the department of Loreto-Peru – the high cost of diesel had always been a threat to profitability, and mechanical breakdown was always accompanied by loss of production.
The new solar three phase off-grid system has 3 Quattro 48/8000 units at its heart. There are 48 solar panels controlled by four SmartSolar MPPT 250/100 devices, monitored by a Cerbo GX together with a GX Touch 50 which provides at-a-glance system monitoring and management via its touch-screen user interface. 70kWh of power storage is provided by 20 x Pylontech US3000 Lithium Batteries. Pylontech, and many other third party lithium battery manufacturers, can be controlled – and are fully supported by – Victron Energy based installations.
It is estimated that this installation alone will save over 5 tons of CO2 emissions.
Community Market
And finally, a community-benefit installation in the oil-rich town of Bretaña. The oil company Petrotal agreed to fund a solar power installation for the community market as a social contribution for the largely indigenous population.
The difficulty of access in Bretaña was an impediment to the supply of grid energy – it's 200km from the nearest large town. Reliant, once again, on diesel generators the population found that they were unable to meet the power demand of their cooling plant – far less that of their domestic dwellings.
Today they enjoy silent and reliable power 24 hours a day from an energy system which employs 74 solar panels which can produce 30kWp. Five SmartSolar MPPT 250/100 devices harvested the energy for storage in 12 x Pylontech US 3000 lithium batteries. Two Quattro 48/8000 Inverter/Chargers can provide 16kVA of continuous power, and the system can, once again, be locally or remotely controlled thanks to the Cerbo GX and GX Touch.
In spite of its remote location the system was installed in fifteen days – and now meets all the community's power demands, whilst avoiding over 12 tons of carbon emissions.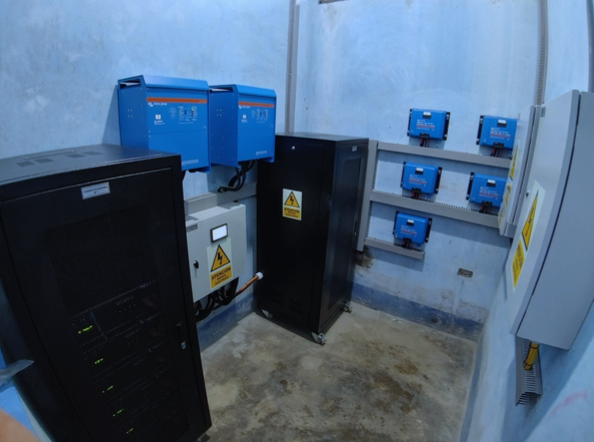 It is easy to see how Solar Energy will one day be the agreeable choice we all make.
Novum Solar
Novum Solar are passionate about emissions-free energy-supply. In addition to their design-and-build projects they are importers and distributers of solar power devices to other organisations in Peru; and they are solar energy educators – regularly attending training to keep abreast of the latest innovations in the industry, and passing on their knowledge to others.