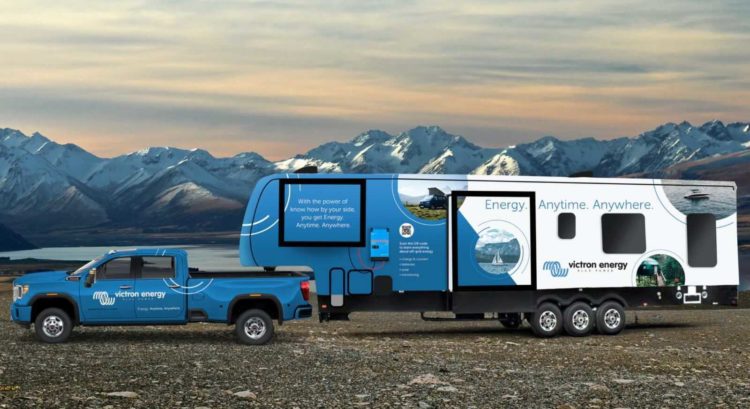 The Training Trailer is on the last leg of the North America tour. Now in Florida, it will be welcoming its last visitors during the final month of tour dates. Will you be among them?
What is the Training Trailer?
The Training Trailer is a hands-on, single-day, rapid learning event offering in-depth knowledge on designing and installing private power systems. During the day you will rotate between seven power installation-examples including:
Off-Grid installation
Small Recreational Vehicle set-up
Large Recreational Vehicle system
System Monitoring
Marine Glass Bridge Integration
Battery Management systems and DC to DC converters
Victron Remote Management Portal – an in-depth exploration of this invaluable platform
Who is it for?
Everyone.
Formal training is offered to Victron product Installers, Dealers and Distributors – there are 35 places, and attendees participate in small groups to achieve one-to-one training. If you would like to take this last opportunity to attend one of the final 11 dates in Florida between Feb 9th and Feb 25th – you can register right here.
On informal 'Open' Trailer Days, DIY installers, power-hungry hobbyists, and anyone whose lifestyle takes them off-grid with all the comforts of home is welcome!  At the time of writing two Open days are available – February 17th in Miami and on February 25th in Jacksonville. Click on either of those destinations if you'd like to attend.
Always new faces…
Victron's Sales Manager for South America and the Caribbean – David Lopez – will be available to conduct training in both Spanish and Portuguese languages. He will be attending Riviera Beach, Florida on February 21st; Jacksonville, Florida on February 23rd/24th.
Nigel Vincent – Sales Manager from the UK – will also be in attendance, so if your organisation or products serve the European market, Nigel can give you the view from there.
Attendee: 'I learned we have a lot to learn!…'
John Copeland attended the Training Tour in Clear Lake, Houston, Texas with five of his colleagues. He is the Operations and Strategic Project Manager for ESI Fire & Security. He and his team are installing solar-based autonomous power in their fleet of 125 security surveillance trailers (275 trailers by year end).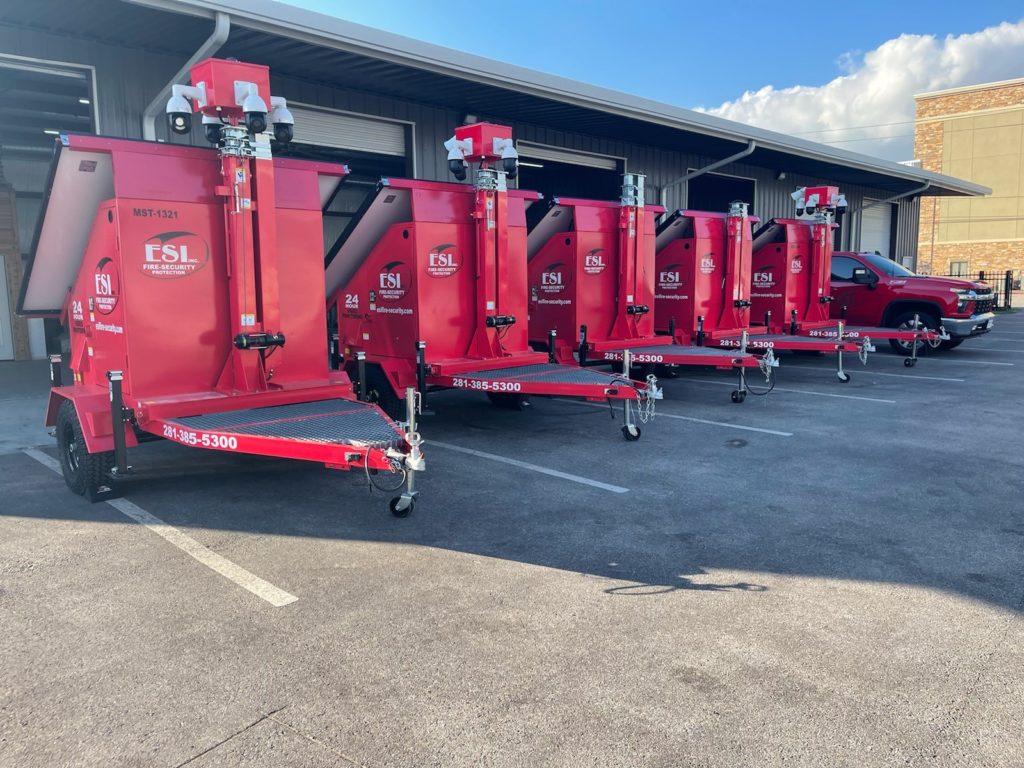 Meeting all the super-enthusiastic knowledgable guys – and from the Netherlands – was great, and real useful! Says John.
Speaking about his plans to convert his trailers over to a Victron-based power supply, he said: Having conducted side-by-side real-life testing of Victron and 'other manufacturer' equipment, it was a clear case. After a spell of poor weather we'd drive out to each trailer to see how it was doing. With Victron we just haven't had a failure yet. But remote monitoring changes everything – using Victron Remote Management (VRM) we don't even have to visit site to see how it's doing.
Each security trailer is equipped with live surveillance cameras capable of distinguishing suspicious activity. When an intruder is detected the trailer sends an automatic alert to ESI's Control Centre – and live voiced warnings are issued to the intruder. If those warnings go unheeded police presence is requested.
The security trailers are invaluable at Chemical plants and at lay-down (storage) areas at temporary Construction sites, for example.
When Texas gas and electricity infrastructure installer CentrePoint Energy build new lines they establish storage areas of up to 12 acres where they lay down the plant and construction material they'll use for the next 4 miles ahead. The entire area can be guarded by two, three or four security trailers.
The trailers are equipped with:
Since making the decision to provide their trailers with Victron Energy they've completed 30 installations …another 120 – 150 worry-free installations are planned this year.
Let's hear from the Tour Coaches
The Training Trailer Tour has been an incredible journey for everyone involved – hard work, but fun. Our North America Sales Managers have worked hard to offer top-flight tuition and coaching which exceeds the expectation of visitors. Everyone gains …what are the Coaches taking away from the experience?
Simon Ytterbom: It's really interesting and useful to get feedback from installers and end-users as most of our daily interactions are with our distribution channel.
Rich Shea: It's rewarding to see attendees "light bulb" moment when they understand the scope of possibilities with our products – from the smallest Smart Battery Sense up to the largest 3-phase Quattro systems. 
Alan Santos-Buch: I often hear visitors say: "To be able to see and touch the products and have a clear understanding how they connect and work together is something no one else does, and I'm very thankful for the hands-on training.  So speaking for myself – it's a great feeling to be able to share all this accumulated knowledge in a group dynamic and to get such enthusiastic responses and engaged participation from the attendees.
Lance Vickery: Wow, I learnt so much more, my head is still spinning.  When is the next training?  I will be there.
Justin Larrabee: I've enjoyed the personal interaction with the attendees. There are always interesting conversations regarding different applications for Victron Energy products. It's been nice to see people leaving with more knowledge and the confidence to reach their goal of providing the necessary energy wherever the application may be.
Victron Ambassador Caza Gomis: This tour has been such a great opportunity to not only teach DIYers and Professionals about all the possibilities Victron has to offer, but also learn about the particular needs and challenges that Victron users face. We got to meet so many interesting people in the midst of their own creative projects, and we all learned from each other! One of the main goals of these training sessions was to make renewable energy systems more accessible, regardless of skill level. We set out on a mission each day to share knowledge and answer all of the questions our visitors brought with them. Based on the feedback we've received, I'd say this was a very successful training tour!
Grab your last chance…
Places are still available on board the Victron Trailer as it rolls through Florida – so take this last chance to attend and be amazed at how much you learn …and how much that learning allows you to achieve.