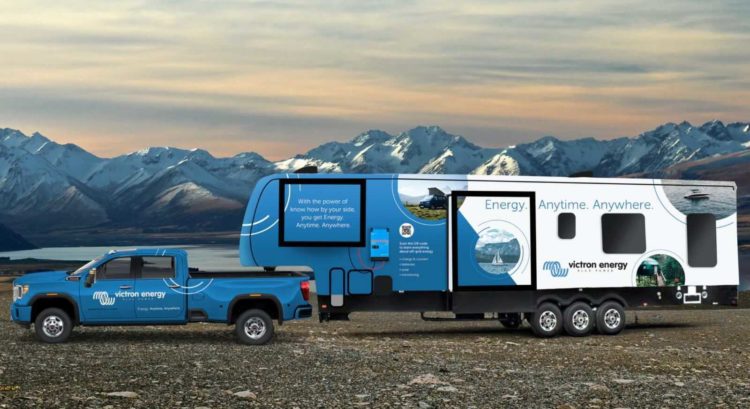 We wanted to hear from visitors to the Victron Energy Training Trailer about their experience.
The Training Trailer is fitted out with seven power systems, typical of those you'll find on RVs – large and small; Marine; Off Grid; and some which demonstrate battery management and monitoring.
Experts on hand, it's touring the North American continent attracting professional installers of Victron Energy products, and offering Open Days where enthusiastic DIYers can ask about anything they'd like to know. There's a booking link below.
This week, let's hear from Dag and Niki Sundman who had a whole load of questions for us about the installation they are building on their 65 foot Catamaran, and who visited the Trailer on one of its enthusiast 'Open Days' when it stopped in Annapolis, during August.
They're planning a four-year cruise of the Pacific Islands, and upgrading the boats domestic electrics to suit remote, silent anchorages, rather than the regular pontoon berthing the craft is currently equipped for …and its reliance on a pair of generators.
We were so impressed with the customer support and advice we got from people who understand what we are trying to achieve; says Dag. Swedish nationals, they spoke first to Niels Kaarill – then to Simon Ytterbom who invited them to visit the Victron Energy Training Trailer where they could ask questions and get hands-on with the example installations on board the trailer.
The first decision they made was to base their new power supply around solar energy, renewing the four PV panels – which in any case were incorrectly wired resulting in only two of them harvesting energy. It was when they were choosing a Solar Charge Controller that they decided in favour of Victron Energy products.
Dag and Niki both bold Masters degrees in Mechatronics from the Royal Institute of Technology in Stockholm – so they already knew very well what they were trying to achieve. No strangers to implementing new-design from scratch (their work lives included design and build of high-volume automation systems to take newspaper sheet from printer to truck, folding and stacking them en route.
The focus for their voyage is self sufficiency and safety: out went the Propane cooker to be replaced with electrical appliances such as an induction hob and microwave. The PV panels and a pair of high output alternators will ensure that demand can be met, and the ship's two generators will still be taking longer holidays.
Dag highlights his experience of the Cerbo GX.  Reducing domestic consumption is every bit as important as providing sufficient energy. You have all these electric devices and you don't really know how much energy they actually consume until you see it on the screen [of a GX Touch 50, for example]. Having that information is so powerful! Without information you are completely in the dark, unable to make informed decisions; he says.
His new installation includes:
It was during their visit to the Training Trailer they decided they were going to strip out the AGM batteries to install Lithium. As soon as I saw how small they are, and how much energy they hold, I knew we had to have them! Dag says. But actually the big advantage of Lithium is the high charge acceptance rate – you can charge them at full speed for longer. 
Being able to maximise energy storage when the alternator is spinning – or when the sun is at its brightest – is very satisfying. A lot of lead acid battery users will be familiar with the frustration of knowing that there is power available, but it cannot be fully utilised because their battery is being charged at C20; or lengthy 'Absorb' and 'Float' cycles.
Why not take a look at the Victron Energy Training Trailer schedule, and book a visit yourself? We welcome Victron professionals to structured training days; and we welcome enthusiasts like Dag and Niki to our Open Days.
Dag and Niki's Pacific cruise begins next May leaving Panama for the Galapagos Islands on board their yacht Sowilo – the name of which, Dag explains, is a Rune from the early Norse alphabet, and has two meanings: one conveys the idea of Navigation, the second spiritual sense concerns the idea of finding one's way in life.
Their voyage will take them where the wind blows rather than following a premeditated route. We wish them fair winds, and fun!