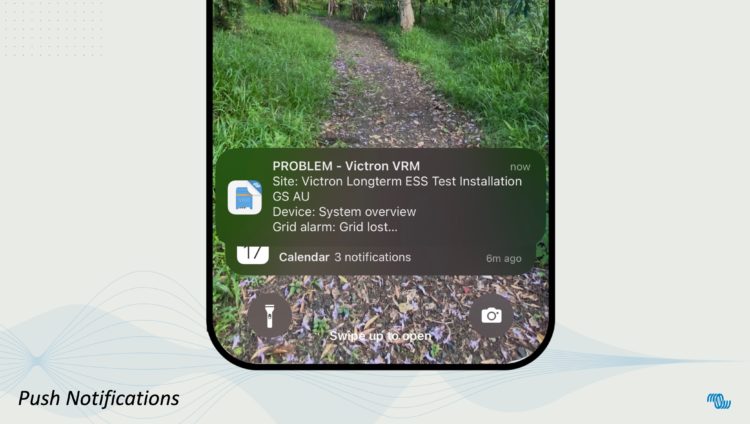 One of the highlights of the latest VRM update is the enablement of Push Notifications.
You can watch the webinar which announced all the latest VRM news using the link at the end of this roundup.
Push Notifications
When an alarm is triggered on an installation you monitor on VRM, an alert notification will be pushed straight to your Phone, Tablet, or Apple Laptop. You can choose what kind information you'd like to receive.
Push notifications can be sent via the VRM app on your mobile device – or you can choose to receive them via your browser over the web. And, of course, you can still choose to receive event notifications by email.
So there are now three ways you can get notification of system alarms and events.
More New features – roundup
Instant Readout – realtime device data displayed without the need to connect to it. This recently added feature is now also available on VRM device list shown in VictronConnect.
GlobalLink 520. This new product sends your System Data every 15 minutes to VRM. No system configuration is required – it works out-of-the-box anywhere in the world where LTE-M cellular networks are supported. Five years pre-paid data is included.
App Widgets: at-a-glance System, Environment, EV charging, and Tank level data reported straight to your device in real-time.
Fleet overview Totals. New enhancements to the Fleet Overview feature. For professionals with hundreds of Victron Energy systems under their control there are some new features, and preview of other yet to come.
Dashboard Controls – control your Inverter/Charger, Generator or  ESS variables straight from the dashboard.
Event Logs. 'Significant event' and 'user intervention' time and date logging.
Custom Advanced Widgets: You can now define your own custom y-axis graphic display for up to five data parameters in a single chart.
Webinar links
The webinar has now been edited and published. You'll be fully briefed about all the new features of VRM within twenty minutes – or you can stay to listen to the team answer many interesting questions and feature requests. You can find the link to the webinar at the bottom of this page.
If you'd like to jump to the section which explains Push Notifications you can start the webinar here.
If you already know you'd like to enable Push Notifications on your VRM account and want to jump to the 'How to enable Push' demo, you can join the webinar here.
And here's the webinar for you to enjoy in full: