Imagine a water-maker capable of supplying thousands of litres of drinking water per day, powered by the sun, and so reliable it will operate remotely for years with just the minimum maintenance, using local labour.
Dutch entrepreneurs Sid Vollebregt (right) and Reinoud Feenstra (left) are making waves around the world with their Multi award-winning innovative Elemental Water Makers which can do just that.
Desalination takes place when sea water is compressed and driven through a membrane. In order for sea water to be pushed through the membrane it needs to be pressurised to 50 bar (the equivalent of a column of water half a kilometre tall.) The membrane has a screen so fine it strips brine of its salt – and everything else which isn't actually water.
Elemental Water Makers remarkable energy efficiency comes from a complete re-design of the high-pressure side of the system.
Ordinarily half the brine pumped into a desalinator will emerge as purified water. The other half will be ejected as waste. A key innovation of the Elemental Water Maker is that it taps into the highly-pressurised unused (waste) brine, and re-injects it back into the intake via a 'Turbo Charger' where its energy is used to raise the pressure of the new intake seawater.
In fact, instead of drawing the full half of fresh water available, Elemental take only one-third, which results in more energised water available for re-injection, and less-saline waste – which extends the life of the membrane. Also, no chemical treatment is required for the conversion of brine to drinking water.
Incredibly, this new-design reduces the energy used for desalination by 80%.
This energy saving  can be used in another way – Gravity feed: if the sea water is pumped to a reservoir sited uphill, gravity will provide the pressure required to drive it through the desalination membrane – but remember the 500 metre column? …Elemental's pump efficiency allows that head of water to be reduced from 500 metres to just 90 metres.
Often installed in the remotest places, the largest of these robust Desalinators are capable of producing enough water for 40,000 people, every day, fossil-free, using solar power energy plants which can be monitored 24/7 from Elemental's HQ in The Hague, Netherlands.
Solar Power
Containerised desalination plants are available in a range of sizes to produce between 4,000 and 100,000 litres of fresh water every day. Everything needed for the production of fresh water – including the solar array, is included in the well designed container space.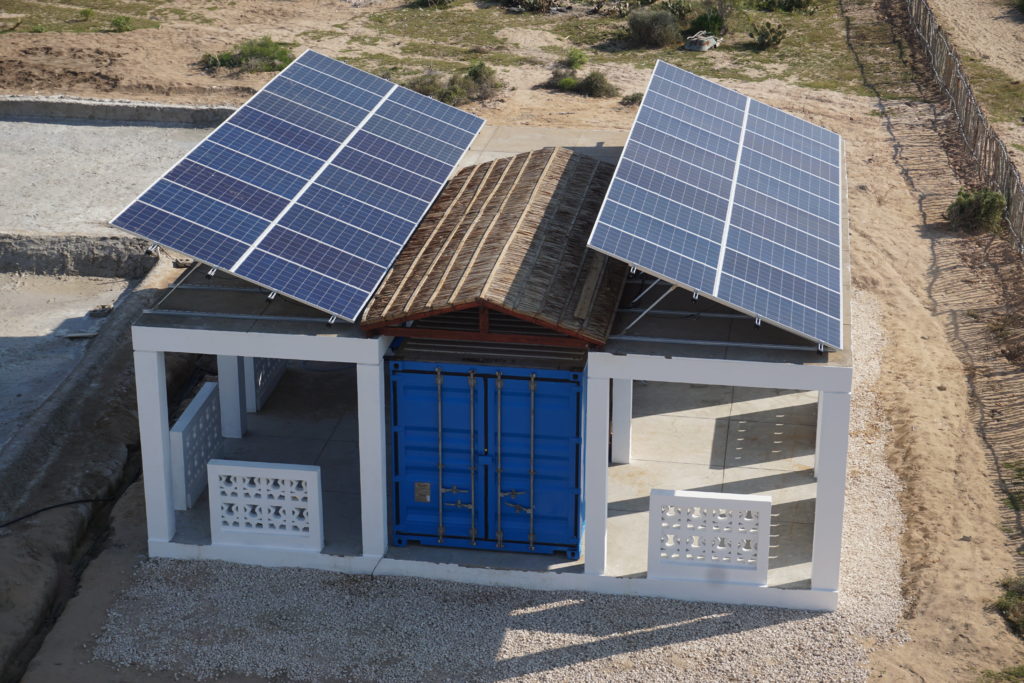 In the Netherlands, Elemental's demonstration unit which provides clean water from the North Sea has the following solar power installation:
Systems can be managed and monitored remotely via Victron Energy's worldwide free-to-use management platform VRM. The Cerbo GX communication device harmonises the power system and is able to report all system data to the portal, from where authorised users can manage and monitor the Power production; Energy use, Battery state of charge, Tank levels; Environmental conditions – together with analysing historical data …and much more.
Long life and low maintenance of Elemental's precision equipment is assured by the use of high quality components – the 8 year life-expectancy pump is built from Titanium parts; the pressure tank is built from carbon fibre. All solids in the sea water are removed by a 5 micron pre-filter. The filter is flushable – which saves filters whilst extending the life of the whole system to 15 years.
The fine desalination membrane is flushed every four hours – and at the beginning of every day – using as little as 10 litres of fresh water for every 4000 litres produced.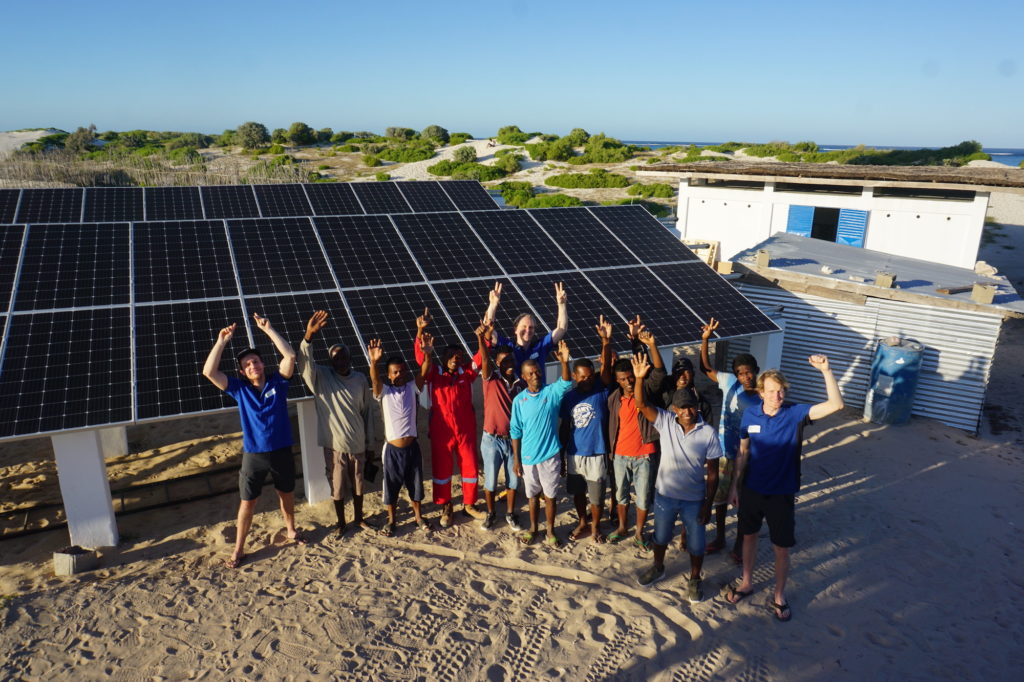 Elemental have a strong customer base from exotic Resorts, residential communities and private residences; but an equal part of their business is in helping NGO's provide funded solutions in drought and famine areas. Elemental is supporting the Elemental Water Foundation as part of its corporate social responsibility to realise clean water projects in Madagascar.
Minerals
We mentioned that having passed through the desalinator membrane the drinking water produced is so clean it has been stripped of everything …that includes its minerals: In some remote communities where the local diet is deficient in minerals, it's the minerals in water which prevent bone damage. For that reason Elemental Water Makers include a cylinder containing calcite. The purified water passing through this cylinder absorbs as much mineral as it needs – it doesn't even have to be dosed. The mineral treatment cylinder is replenished with Calcite twice per year.
No further treatment is required if the water is for immediate consumption.
Pay as you go
Water distribution and metering is fully automated: Pre-paid fobs administer measured amounts of water without the need for paperwork. This automation is also useful for NGO's – many of who fund drought zone installations. Monitoring allows the water-providers to demonstrate need, and measure the community impact.
At the time of writing a large containerised water desalination plant is on its way to Somalia where it will provide water for 40,000 people.
Disaster response
Elemental have developed a suitcase-sized fast deployment water maker for disaster relief. Two models are available capable of producing 30 and 50 litres of water per hour. power is supplied from a 12 V battery and consumption is just 110W and 240W respectively. Where no power source is available, the desalinators can be paired with a PowerBox provided with Lithium battery, solar panels and solar charge controller. The portable suitcase-sized desalinator weighs approx 40- 50kg, and the similarly sized PowerBox 25kg.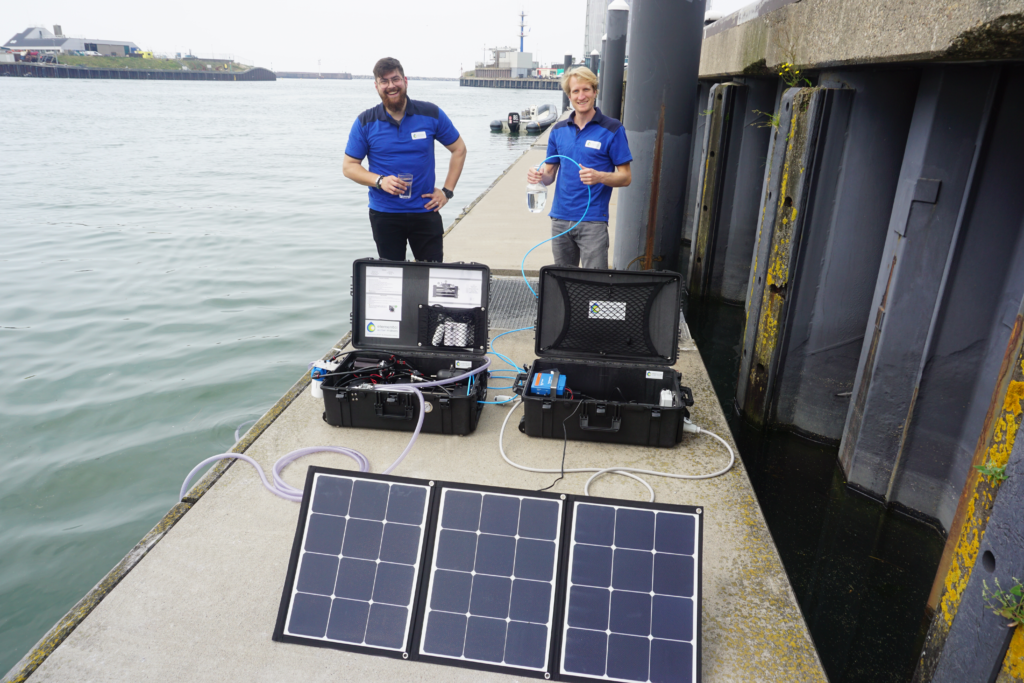 Ongoing Success
Winner of the Energy Globe Award in 2020 – together with many other national and international credits – during the ten years that Elemental water have been producing their plants, 100,000 people in 27 countries have benefitted from fresh reliable drinking water – an award beyond value.
Elemental Water Makers invite you to get in touch if you are working on a seawater desalination project.