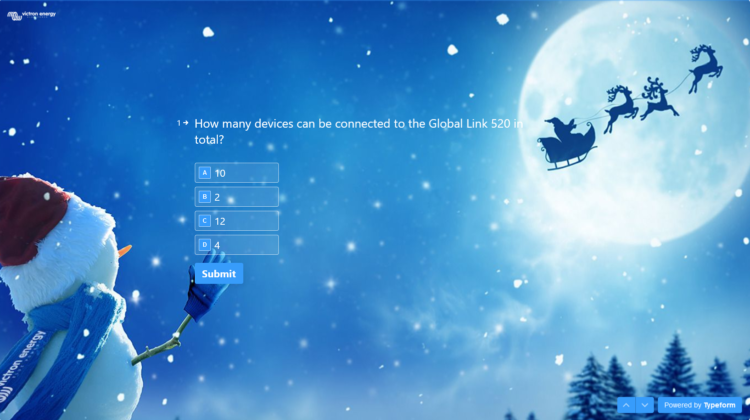 It's that time of year once again when your answers to fun questions can win BIG prizes!
The competition is aimed at Installers with technical experience, but is open to everyone.
How does it work?
We'll ask you one question per day for the first 25 days of December – including Christmas Day.
Starting December 1st visit Victron Professional where you'll find the competition question link at the top of the page.
If you don't yet have a Victron Professional account you're welcome to register for one using that same link.
The questions are quick and fun – and they're all multiple choice so there shouldn't be too much head scratching.
First prize will go to the person who answers the most questions correctly at the end of the 25 day period.
To be in with the best chance of winning the top prize make sure you enter the competition as often as possible!
Don't give up if you miss a day!
Don't worry too much if you miss a day – experience tells us that you'll still be in with a good chance even if you miss the odd day …so keep going!
Who wins?
In the event that two entrants achieve the same number of correct answers we will select one name at random. That person will get to choose first from all the prizes; the second person will choose from the remaining prizes, and so on.
What are the prizes?
Cut to the chase – what are this year's super prizes?
Well, the person who correctly answers the most questions gets to choose first from:
How to Enter
Visit  Victron Professional starting on December 1st through to December 25th and answer the question posted for that day. There's no hurry, take your time – answers will not be timed as they were in earlier competitions.
In order to win a prize you'll need to enter the competition on as many days as possible, and answer correctly – but don't worry too much if you miss the odd day!
Good Luck!  Go for it! We look forward to seeing you on 'Professional'!