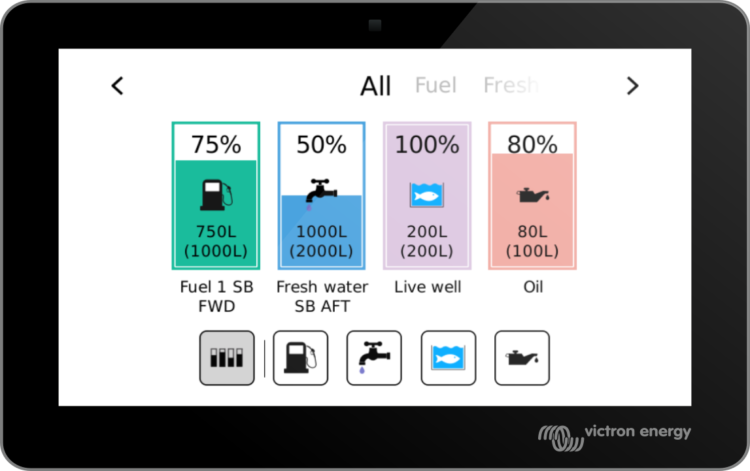 Good day!
Venus OS development continues and this new version 2.71 brings some more anticipated features. In this blog post I'll go through the highlights. A link to the full changelog can be found at the end of this post, as well as instructions on how to update. For those not familiar with Venus OS: Venus OS is the software running on our Cerbo GX monitoring system, as well as its predecessors the Color Control GX, Venus GX and more. Also, it is in the GX versions of our MultiPlus-II  and EasySolar-II inverter/chargers.
Note that this blogpost includes all changes made in version v2.70. That version was never released publicly, therefore today is the first time its changes are available in an official release.
#1 – Tanks
Various improvements have been made related to tank level monitoring. And the most significant is the new tank overview screen. This is the overview page that some might have already seen in the GX Tank 140 manual, and other pre-announcements, and it is now available.
Once enabled on the GX device in Settings -> Display & language -> Show tanks overview, it is accessible via the carousel, by swiping the overview screen on a GX touch 50.
The tank overview works for all tank levels: when measured using the recently introduced GX Tank 140 accessory. But also for tank levels measured using the resistive tank level inputs on the Cerbo GX, as well as when measured using other compatible tank senders.

Other improvements for tank management include configurable tank high and low alarms:
#2 – Various user-interface improvements
Some minor changes have been made the menus to make them more intuitive. These include some text labels, error coding, firmware version reporting, hiding some ESS options when they are not relevant, and AC-PV power monitoring. See the change log for the specific details.
A bug was fixed that could cause issues using the Marine MFD App on a Garmin MFD. So if you have a Garmin MFD with issues, please update your GX and try this function again.
#3 – Inverter RS, REC Battery, Fronius AC PV
Some new improvements with regard to how the GX device interfaces with other services.
Improved support for the Inverter RS Smart Solar including AC-out power, energy values, AC frequency display and some history data for solar. Modbus-TCP registers have also been added for Inverter RS.
We now recognise REC BMS, and show only the supported alarms. Hiding all alarm types for which the REC does not send any status. For now this is only available for REC BMS, though we hope to see it with other batteries also.
Further improved support for Fronius PV monitoring for large systems with multiple Fronius AC PV inverters.
Also improved is the addition of a phase configuration setting for the EM24 Ethernet meter.
New: Factory reset a GX Device
While not part of this new Venus OS version, this feature is now available: you can now factory reset a GX Device. It's done by putting a special set of files on the sdcard or usb stick, inserting the card in the device, and then powering / power-cycling it. Details in the manual.
How to update, and conclusion
Besides the items above, there are many more changes. All rather minor and related to certain specific situations or systems. To read them, find the full change log by logging into Victron Professional and selecting 'Firmware'.
Information about how to install the firmware is in the manual of your GX Device. Quick links to the relevant pages: Cerbo GX, Color Control GX and for the Venus GX.
That's it for now, all the best!
Matthijs Vader