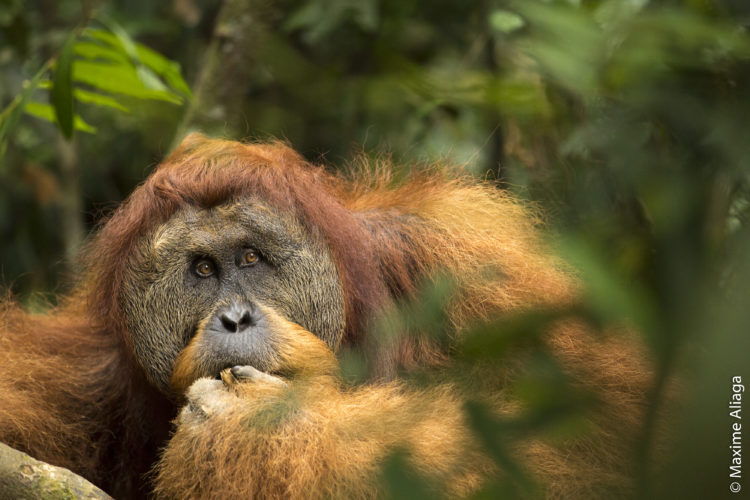 An imaginative and groundbreaking scheme for the protection of critically endagered Sumatran and Tapanuli Orangutans is under construction in Indonesia.
Orangutan Haven combines nature conservation with opportunities for further research, learning and education of the wider public about the effects of Palm Oil plantation on the future of these intelligent apes, and other species.
Forty-eight hectares of wetland valley are being re-developed to provide nine moated islands on which eight Orangutans currently in quarantine can live out their lives – expected to be at least another fifty years – in peace. The Orangutans in quarantine have all been harmed by human action – some are blind after being shot with air rifles; others illegally kept in cages as 'pets' have been unable to develop normally, and cannot be released back into the wild.
Orangutan Haven is a major environmentally sensitive development which will quickly become financially self-supporting through visitor ticket sales, whilst at the same time bringing economic benefit to the region in North Sumatra, Indonesia. A sustainable Visitor Centre, and a Forest School will provide multi media educational resources for schools, and for the education of the wider public.
Further building work includes the orangutan houses, keeper's depot, veterinary clinic, restaurant and bridges, together with landscaping, and the installation of service infrastructure such as water supply systems, settlement ponds, and a solar based electricity provision.
A 6.5kW (max) micro-hydropower plant was installed in 2017 by a consortium led by a Swiss Non-Governmental Organisation and Swiss Entec AG.
Taking advantage of a 4m drop, the hydroelectric plant currently produces 3.5kW from a 250l/s flow – and is expected to provide about 10% of the site's power need.  The additional solar facility – which was installed by Alva Energi – has a 6.2kWp solar array together with battery storage of 30kWh built by the German Lithium battery manufacturer Balance Of Storage Systems – BOS.
Then energy system comprises:
Solar panels array totalling 6.2kWp
BOS HS Business 10 is a 10kWh storage system incorporating a 5kVA inverter. Three of these pre-assembled units have been installed, configured for 3-Phase operation.
3 x MultiPlus 48/5000/70
SmartSolar MPPT 250/60
Power is used on site to provide energy for the veterinary clinic's lighting, refrigeration, water purification and filtration; it will facilitate ticket sales and refreshment vending in visitor areas; provide comfort in staff accommodation; power the multi media audiovisual equipment in the planned Forest School and exhibition hall; plus all the usual needs for site maintenance such as recharging power tools; and on-site security equipment.
Veeresh Anehosur from BOS-AG says: We have years of energy industry experience and expertise of lithium technology and are happy to see our modular turnkey solution working faultlessly in tough environmental conditions. Offering onsite support during COVID-19 travel restrictions is tricky; however backed by our Training Programme and Remote Installation Support, Alva Energy have done a great job installing the preassembled system quickly, and without onsite support from Germany. Orangutan Haven primarily needed a modular system whose capacity could be expanded as their energy demands grow. A 30kWh/15kVA system has been installed as part of phase 1, and further capacity will be added shortly.
Orangutan Haven is already accepting animals from quarantine and will be welcoming its first human visitors early next year. The facility is within easy reach of the major city of Medan, close to a tourist route to the Karo Highlands and Lake Toba. As visitor numbers grow, and more facilities are offered – such as the planned Eco Buggy's – the solar based system can easily be extended.
Director of Operations at Alva Energi, Dr Ali Aryo, says: Orangutan Haven's choice of renewable energy resources should be applauded – and copied elsewhere. We've designed the off-grid PV system with a long-term solution in mind. We expect to see this PV system scaled up, and integrated with other green energy resources such as micro-hydro system. A commitment by all parties involved to optimize the system and system-infrastructure at all stages was one of the main keys of the success of this project.
Orangutan Haven seeks to help individual animals – but also to change attitudes about the plight faced by Orangutan, and all species, in the pursuit of profit.
During construction of the sites infrastructure, many experimental conservation methods are being trialled – notably planting schemes to stabilise banks; and eco friendly dams and culverts to prevent erosion of the wetlands.
An imaginitive approach has been chosen for providing the site with buildings – architectural ideas from around the world are received for consideration from design students taking part in competitions established by the Haven. Orangutan Haven benefits from well-considered innovative solutions; and the students benefit from an opportunity to exhibit their skills in response to a real-world design brief.
Nine Islands have been created each surrounded by moat at least 5m wide and 1.5m deep. The moats are kept flooded by a system of dams built from materials lying close-at-hand. As the site becomes populated with Orangutans, rope bridges will be erected between the islands allowing the apes to socialise.
A bridge which provides access to the sanctuary has been provided with lighting so that its use can be extended – night and day – to a meeting room, or workshop.
You can be a part of the important work being done by Dr Ian Singleton OBE and his team at Orangutan Haven by supporting the project with a donation.
Alva Energi have commissioned a video highlighting their participation in the scheme:
The Sumatran Orangutan Conservation Programme (SOCP) has been achieved through the cooperation of the following organistions:
The Indonesia-based NGO the Foundation for Sustainable Ecosystems Yayasan Ekosistem Lestari (YEL)
Swiss-based NGO The PanEco Foundation
The Indonesian Government's Directorate General of Natural Resource and Ecosystem Conservation
The image used in the headline of this article, and following this acknowledgement, is the work of Maxime Aliaga.