SmartShunt has been launched and is available in three models: 500; 1000; and 2000 Amps.
The SmartShunt is a powerful battery monitor with Bluetooth on board. It can be installed out of sight, behind the scenes – whilst live data from the device is relayed to your mobile phone or laptop via the VictronConnect App, which is free to use.
All the usual features are there – such as battery state-of-charge, voltage, current load, time-to-go – and all user-programmable settings …together with extensive historical information which allows you to analyse your system's performance.
SmartShunt can be hard-wired to any 'GX' device
The SmartShunt can also be connected to any device in the GX family including the Colour Control GX  and the new Cerbo GX using an optional VE.Direct cable. This provides the GX device with battery data for system control – and there's no need to find room for a BMV display.
The SmartShunt can do more than comprehensively monitor your main battery bank – additionally you can choose to either:
monitor the voltage of a second battery – the starter battery for example
or you can connect a temperature sensor (optional accessory) for temperature compensated charging
or you can monitor the midpoint voltage of your battery bank (cable included) to keep an eye on battery health.
Note that a difference between the SmartShunt and the BMV712 is that the SmartShunt has no visual or audible alarm; neither does it have a programmable relay.
All other comparisons with the BMV hold true: the SmartShunt operates in the 6.5VDC to 70VDC range; draws less than a milliamp; and monitors a battery capacity of up to 9999Ah.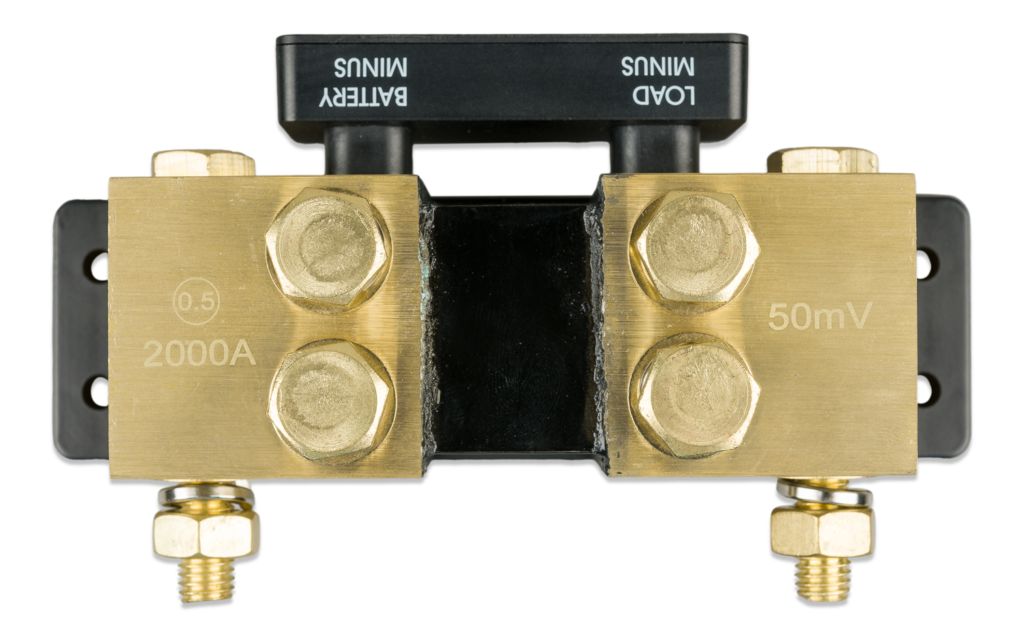 Included in the box are two fused-cables for +ive connection; and for second battery – or midpoint – monitoring.
Prices start at  €133 / £114 / $148 for the 500A model.
Dimensions: H x W x D:
500A: 46 x 120 x 54 mm
1000A: 68 x 120 x 54 mm
2000A: 68 x 120 x 76 mm