Victron's Technical Writer Margreet Leeftink teamed up with Sales Manager for Australia Craig Murray a few days ago to give a presentation aimed at demystifying DC-based energy storage and generation in a Mobile Home.
They attended a Vanlife event on Australia's Pacific Coast – where they demonstrated a compact installation and found the audience eager to hear practical advice on choosing, installing and managing mobile power systems. Margreet also gave away copies of her information-packed book Wiring Unlimited.
If you haven't had a chance to sit down with Margreet Leeftink's book yet, you're in for a treat. You can download a free digital copy here; or print versions of her book are available in five languages on E-Order, or from your Victron dealer.
The 100-plus attendees at the meet-up, held at Waves Camping at Crescent Head, New South Wales, got the opportunity to talk through problems they were experiencing in their own set-ups;  increase their understanding of correct system design; and get some valuable advice about planned improvements. Margreet and Craig then went from van to van troubleshooting ….multimeter-in-hand.
What's in the book?
Wiring Unlimited is a book about installing power systems – of any size – which contain: Batteries, Inverters, Chargers, (or Inverter/Chargers); Solar Panels, Generators …and more.
Generously provided with illustrations, tables, graphs and examples – in the clearest terms possible the book presents us with all the formulae we need to understand what is going on in our installation. Beginning with a simple analogy of how electricity behaves, she takes us through:
choosing wiring guages and the correct fuses; making professional terminations; routing cabling; and designing system layout.
the functions of each piece of equipment in a power installation are described, and how they behave under various conditions. It explains how to test and troubleshoot, ensuring correct operation.
Data-communications cabling and its vulnerability to radio interference is explored.
Three-phase grid supply is explained, and the distinctions between distribution networks topographies are drawn.
Ground, Earth and safety devices such as the RCD are discussed …as are systems incorporating Electricity Generators, and for boat owners – the important topic of Galvanic Corrosion.
Wiring Unlimited is a seminal work for DIY and professional systems installers alike. What we learn can't be unlearned – lifting all our installations from 'Workmanlike' to 'Advanced'.
The Vanlife meeting was also a chance for Margreet and Craig to experience life on the road; hear directly from people living-the-life; and to keep up to date with the latest trends and demands. Most popular of all was a discussion of Lithium Batteries. Lithium offers great advantages to Van-lifers …they're much lighter to transport than lead-acid; they take less room; they can withstand many more charge cycles …and additionally 80% of stored power can be routinely used per cycle whereas draining a lead acid battery below 50% state of charge will accelerate its decline.
The biggest rig they found was 48/3000 MultiPlus fitted in a Mercedes Sprinter – which enjoyed the benefits of air-conditioning. But most van-lifers had chosen systems which although simpler often experienced charging problems – problems which the Cyrix battery combiner goes a long way to sorting out. The great thing about the Cyrix is that it's automatic – not only does it 'remember' to combine the 'house' and 'starter' batteries when there is a charging current available (from the alternator, for example) but it remembers to isolate them again when there isn't. That avoids a whole list of disasters, right there.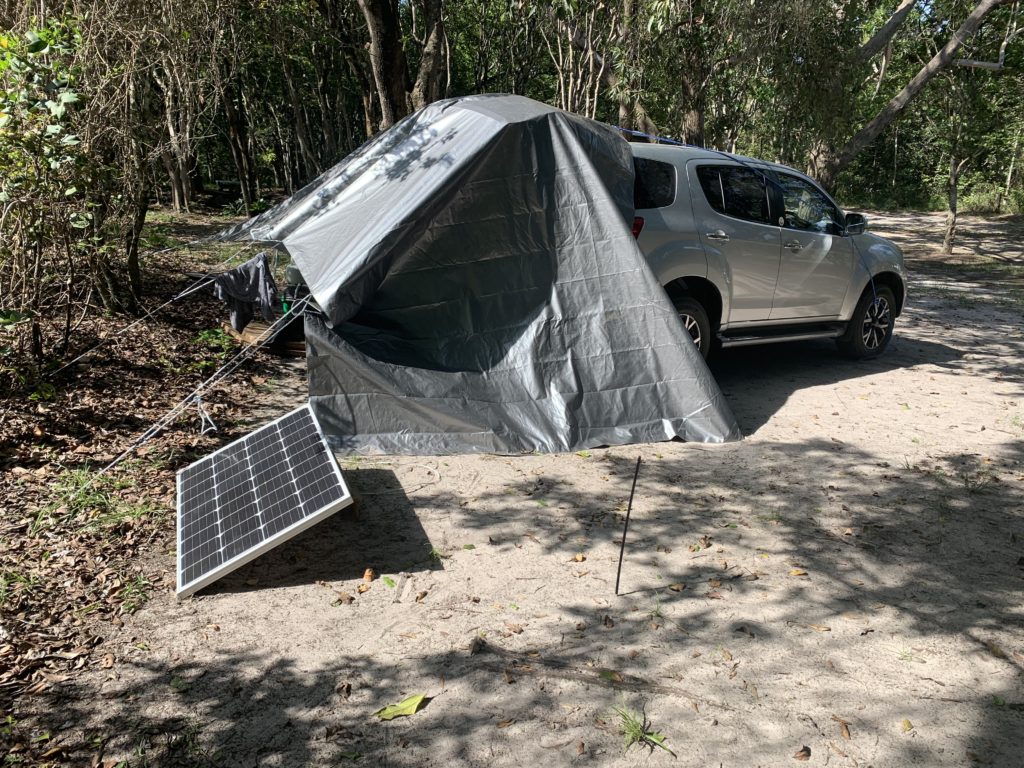 Craig's own set-up in his Isuzu 4×4 has a simple Tarpaulin for weekend trips, and includes a 115W Photovoltaic panel charging a Lithium SuperPack 60Ah controlled by an MPPT, BMV battery monitor and a Smart Battery Sense. He used it that weekend for running a 40L Engel fridge over 4 days and is happy to report that he always had cold beer.
The campsite is situated in a little piece of paradise between Goolawah National Park and Limeburners Creek Nature Reserve. Forest gives way to sand dunes, and beyond the sand dunes the ocean rolls into a deserted bay. Even though the location is remote the site offers water by bore hole, hot showers, and – best of all – no phone signal.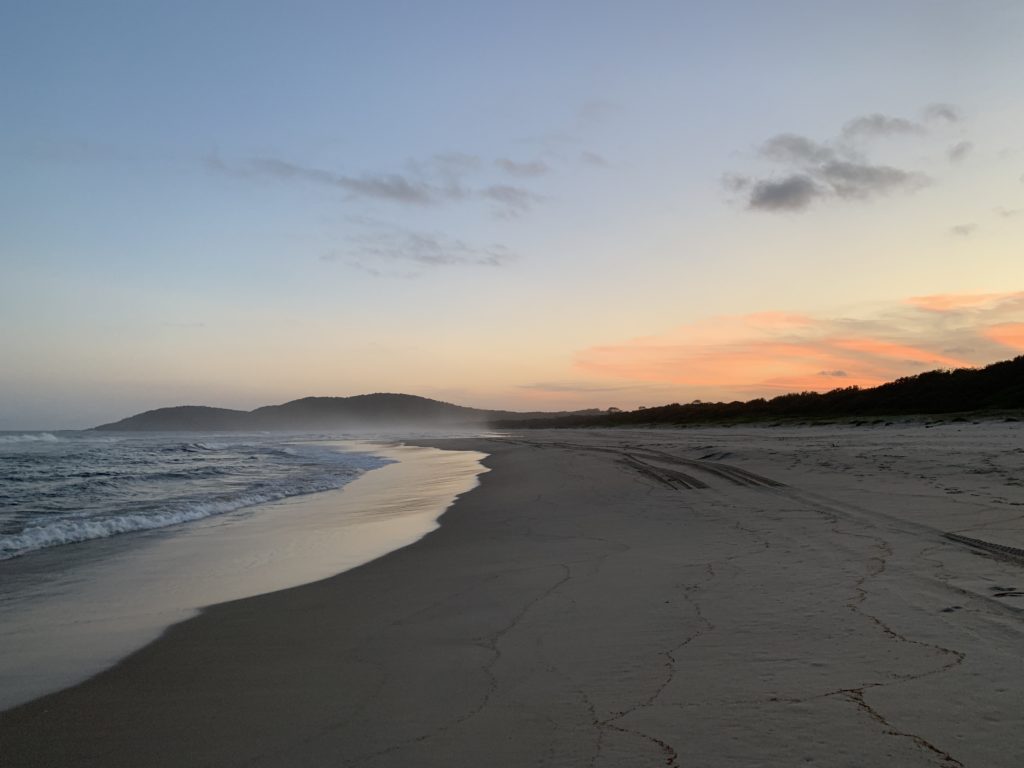 We've been hearing about the devastating forest fires in that part of the world. Margreet drove six hours to attend the event and says that although the fires had burned to within twenty kilometres of the camp site – the site itself was untouched. And where the fires had been 'the buds of new growth have already begun to appear' she says.
Vanlife is a popular lifestyle choice in Australia with many young and young-at-heart Australians preferring the freedom of the road to being 'stuck at home'. Vehicles represented at the meet-up ranged from weekenders with cars and tents; ex-delivery vans with DIY accommodation fit-out, Camper Vans, Motorhomes-with-everything …and still going strong a 1970's VW Combi.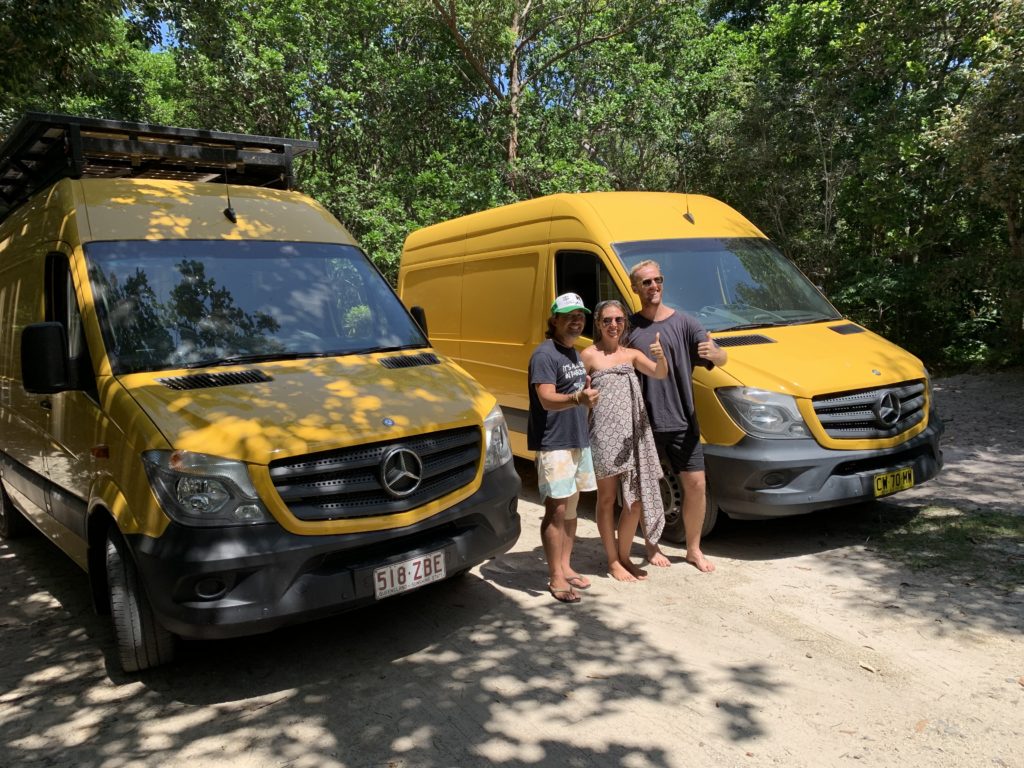 Activities at Waves Campground  included awareness centred exercises and fire-side story telling – in acknowledgement of the indigenous land-ownership …an insight into how we all can benefit from having a yarn! There was music, of course, together with therapeutic breathing exercises, Yoga.
Sounds like a great weekend was had by all.