Ever wanted to show your clients, friends, colleagues how much solar energy your installation is generating or indeed any other data that you can see on your VRM site? Well now you can – using VRM World.
VRM World

Once your VRM site is up and running you may now choose to publicly share that information via VRM World.
In order to do this see the VRM World manual on Victron Live in the first instance.
If you are not familiar with VRM (Victron Remote Management) see: https://www.victronenergy.com/live/vrm_portal:start
VRM World example
Below is a screenshot of how a site looks on VRM World before you click to visit.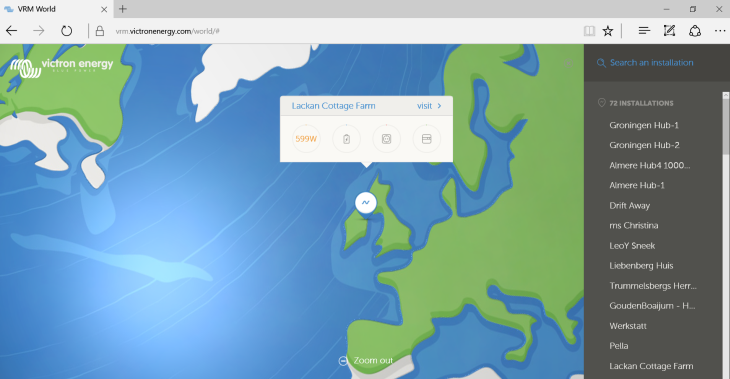 Notes
Some sites will have chosen to password protect their shares and that is up to a VRM site owner. An example of this is Drift Away which is a solar and electric powered Arviro 10 boat featured on the main Victron website.
There are many more VRM sites around the world than are shown on VRM World as only those that choose to share will be shown.
Access to your site configuration, precise location and any private details are excluded.
We hope you enjoy VRM World and as ever we welcome your feedback in Disqus below.
John Rushworth