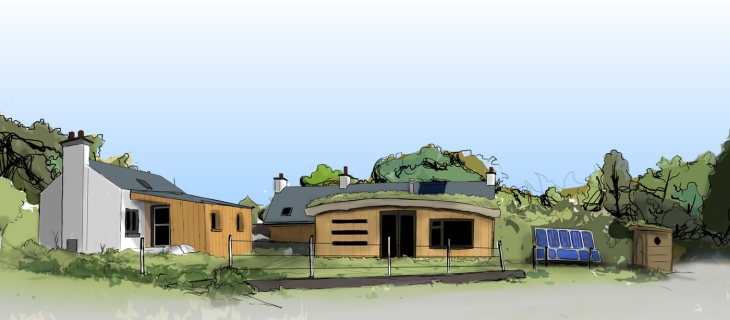 It seems only fitting that as the 2015 United Nations Climate Change Conference takes place in Paris, that we look at how a typical family, using Victron Energy equipment, is making a difference to this world.
Recently I was in touch with Victron Energy customer Steve Golemboski-Byrne. Steve and his family live at Lackan Cottage Farm, which is a smallholding in the beautiful patchwork quilt countryside of County Down, near the east coast of Northern Ireland. It is three years since the family moved there with the expressed aim of demonstrating low impact and off-grid technologies, to visitors from all over the world.
Technologies for living off-grid
The technologies used range from the use of natural building materials and techniques, to composting toilets, greywater treatment, food growing, solar heating and biomass. At the heart of the project though is the all essential renewable energy installation. Although totally off-grid the family's aim is still to demonstrate that a family can live comfortably in a less than sunny climate without making huge sacrifices, by using renewable energy.
Whilst the use of low energy devices and LED lighting reduce that electricity demand, there is still the desire to run many of the normally grid connected, yet power hungry, appliances. These include a washing machine, fridge, freezer, induction hob, tumble drier etc. This may surprise many people that in such a climate as the UK, that it is possible to live effectively in this way. Here then is how Steve and family have achieved that.
Renewable energy systems
A 4.5kWp (in total) polycrystalline PV array is installed. This comprises mainly of previously used solar panels from a church that upgraded their solar installation. The array is sub divided into 4 arrays, each of which feeds into a solar charge controller. These Victron BlueSolar MPPT controllers range from a 150/70, a 100/50 and 100/30 to a 100/15, with the solar sub arrays varying from 1.5kWp to 500Wp. These arrays are angled to maximise output in the winter months. The Victron solar charge controllers feed a 1,000Ah Exide Marathon tubular plate battery (12x 2v cells) which is connected to a Victron Energy Color Control GX (CCGX).
Image copyright Rob Durston 2015
Additional power is provided by a Bornay Inclin 3000 wind turbine, which feeds an Aurora 3600 grid tie inverter, the output of which is AC coupled to the output of one of a pair of Victron Energy Multiplus 24/3000/70 units which are connected in parallel. Although the turbine has a fail-safe dump in case of 'grid' failure, excess power dumping is managed on the Multis using the programmable relay assistants to control the AC2 Out relay to switch storage heaters on and off, based on voltage triggers. Having one on each Multiplus allows a staged load to be applied. Additionally a wired AC Current Sensor attached to the AC output of the Aurora wind inverter is connected to one of the Multis to provide the CCGX unit with data.

Why Victron?
Speaking to Steve I was curious as to why he chose Victron Energy equipment. Here is what he had to say:
"In the first instance we were very fortunate to have the advice of Philip Gordon of Leisure Batteries Ireland, who are a Victron Energy distributor. This, along with them supplying the Victron equipment, proved to be invaluable in the success of our energy system. Added to that support was the flexibility of the Multis themselves, which makes them such powerful tools."
"We have experimented with various ways to manage the wind turbine inverter – initially through the 'PV Inverter Support Assistant' to shift frequency, and then using the relay based method which allows us to use the two dump loads. We make data from our Victron VRM site publicly available to encourage others to consider the viability of such a setup, and also used the Webservice API to display live information directly on our website. Plans for the future include the restoration of a second cottage to off-grid holiday accommodation, where we'll be using VRM data to inform visitors about their consumption, and we look forward to continued software developments and functionality."
Web service API
Here's a screenshot below to show how the web service API is used to display live data taken from the VRM (Victron Remote Management) portal by embedding that information in the Lackan Farm Cottage website.

Conclusion
We'd like to thank the Golemboski-Byrne family for the information and images used in this blog. Naturally we are also delighted they chose Victron Energy equipment too. In fact we'd love to hear from other customers also, about how they are using Victron products to empower their own off-grid living and installations.
As the Paris talks on climate change draw to a close this Friday, it is my sense that pioneering projects like Lackan Cottage Farm can only be a good thing for this world. We wish them every success.
John Rushworth.
Further information
Leisure Batteries Ireland (equipment supply & advice) – http://leisurebatteriesireland.ie/
Lackan Cottage Farm – http://lackancottage.co.uk/
Facebook – https://www.facebook.com/lackancottagefarm
Twitter – https://twitter.com/lackancottage