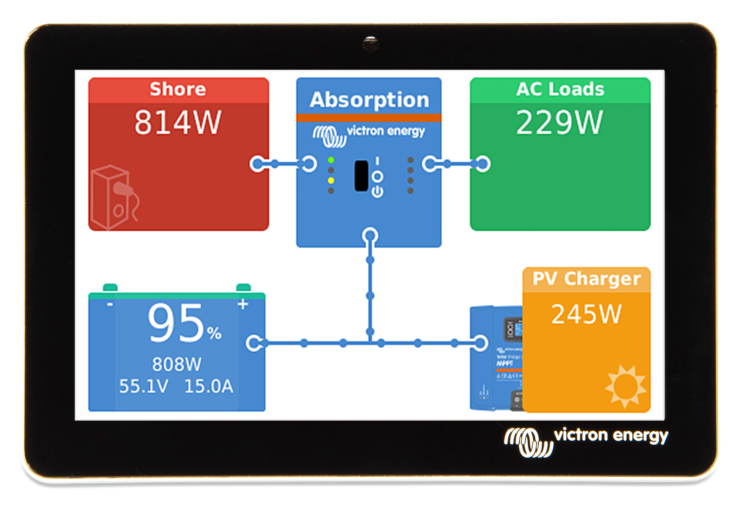 Good day!
Today we released v2.73, a version containing a small handful of minor improvements.
For those not familiar with Venus OS: Venus OS is the software running on our Cerbo GX monitoring system, as well as its predecessors the Color Control GX, Venus GX and more. Also, it is in the GX versions of our MultiPlus-II  and EasySolar-II inverter/chargers.
Changes
1) Fix issue causing Cerbo GXs with a serial number below HQ2026 to be incompatible with newer GX Touches. In such cases the GX Touch display would flash at powerup and then remain off. Not anymore. Thank you Matthias from SERVICE TEAM Döbeln in Germany for reporting and his effort in helping to fix this.
I'm glad that this was found & fixed, as it was prone to make a bad situation even worse: considering an older installation with a Cerbo GX and a GX Touch. Then for some unlucky reason, the GX Touch fails and is replaced by a new one.. which also wouldn't work. Not good; but solved now.
2) VRM: transmit power (watts) per tracker, right now needed for the VRM Dashboard, rather than current (amps).
3) Fix issue in the Venus GX auto-repartition script. That script was introduced in v2.70, and its purpose is to prepare the Venus GX for the installation of v2.80 and later versions. The script didn't work on all Venus GXs, but is now fixed. Conclusion: on any Venus GX that doesn't install v2.80, make sure to first install v2.73.
4) Fix I/O settings not visible on a CCGX even though GX Tank 140 is installed. In case you're not familiar with our GX Tank 140: it's a 4-input analog to digital converter, taking both 0-10V tank senders as 4-20mA tank senders. The connection to the GX device is a USB cable. More information on the GX Tank 140 on its product page. Together with its introduction, we also improved the software features we offer around tank monitoring.  A good introduction to that can be found in this earlier Venus OS release blogpost.
5) Fix GX device not being visible on a second phone when already connected to one. Now, as with other Victron products, Bluetooth is visible on the 2nd phone, but with an explanation that to connect, the other phone needs to actually disconnect first. This is now on par with how other Victron products work with Bluetooth.
There are a few more changes, which are only relevant for Raspberry Pi and other developer/tinkerer/enthusiast/hobbyist applications. For those, please see the full change log in Victron Professional.
Conclusion
That is it already. Information about how to install the update is in the manual of your GX Device. Quick links to the relevant pages: Cerbo GX, Color Control GX and for the Venus GX.
Best regards, Matthijs Vader / Victron.