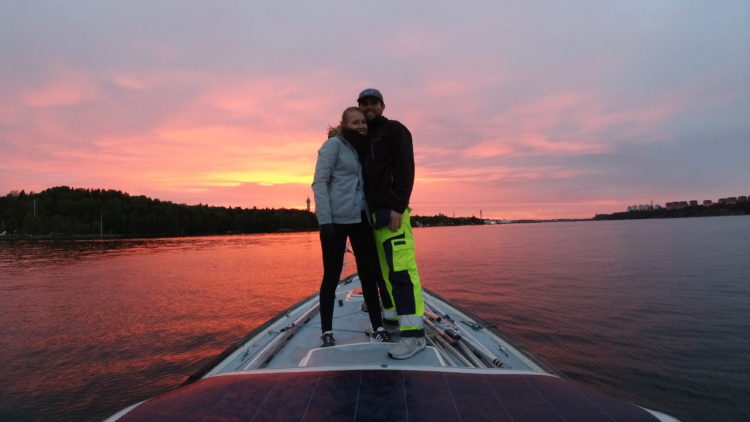 The first thing Tiger Brisius and his partner Julia did in preparation for their planned circumnavigation of the world was to remove the diesel engine from their thirty-two foot Olle Enderlein yacht and replace it with an electric motor.
The motor is a GreenStar Marine E20 rated at over 10kW max – which GreenStar say is equivalent to a 20HP marine engine. The great thing about having an electric motor on board a sailing yacht, of course, is that when you're voyaging under sail the motor becomes your electricity generator.
GreenStar Marine are taking great interest in this project, supplying one of their prototype units and modifying the control for a 48V supply. The resulting higher RPM is really useful, says Tiger, as the torque offered by electric motors cannot be fully utilised on board  Idun [their yacht] because the propellor aperture constrains the size of propellor which can actually be fitted.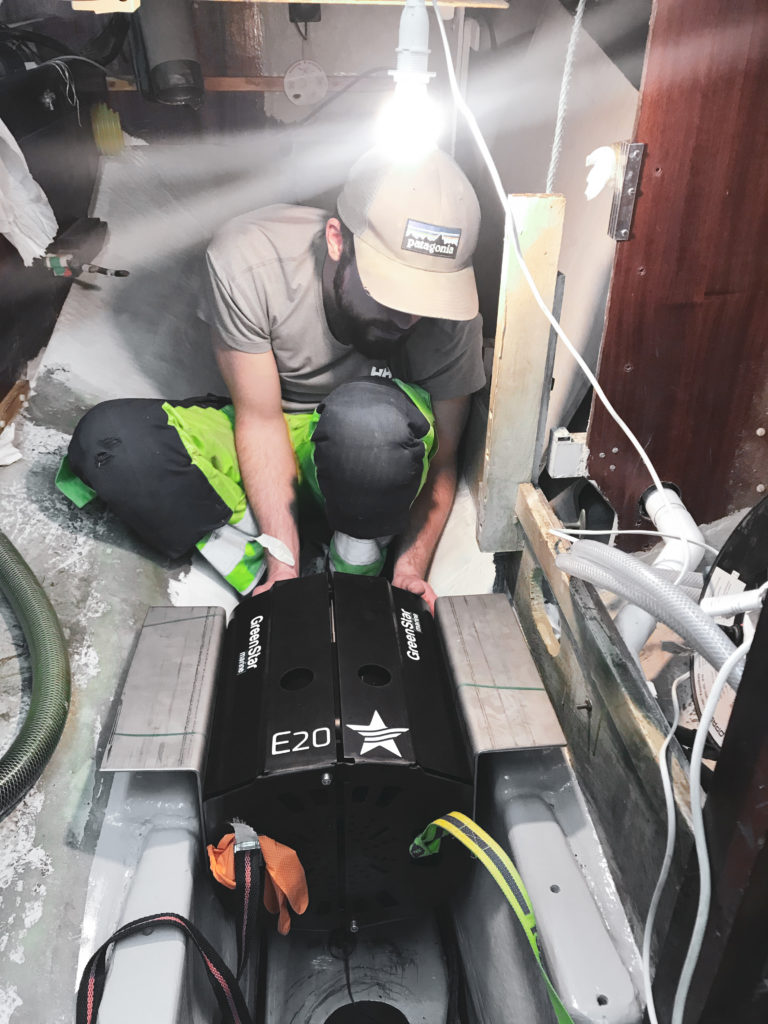 Tiger and Julia are undertaking the work of installing the motor themselves. Ocean voyaging demands self reliance – so it is essential to understand every aspect of your vessel's gear.

GreenStar are designing a new control system which will be optimised for their vessel but the fact that the installation isn't quite complete yet hasn't kept them off the water. Because there are no controls by the tiller I have to call down to Julia 'Forward! …Astern! …Forward again! ' and each time I call, she reverses the terminals! says Tiger.

The yacht – known as an OE 32 – is built for safety on the high seas and has been well-proven on blue water.

The unit can handle up to 10kW input power continuously and peaks even higher – though with the modest propellor fitted to Idun they won't need that much drive. When sailing at a little over 7 knots (the maximum hull speed for their classic Scandinavian long keeled yacht) they're expecting their propulsion unit, working as a hydro-generator, to return an enviable 1000W/1400W from their three blade 15 x 9 propellor. GreenStar's own trials, with a larger propellor have achieved 1800W from the same unit.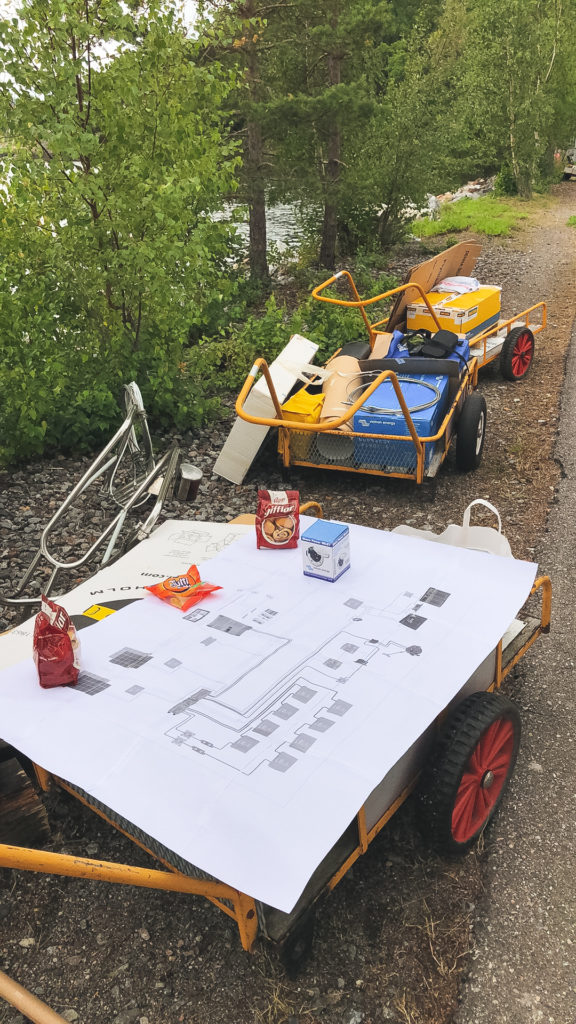 Tiger's shopping list for Idun's electrical installation is as follows: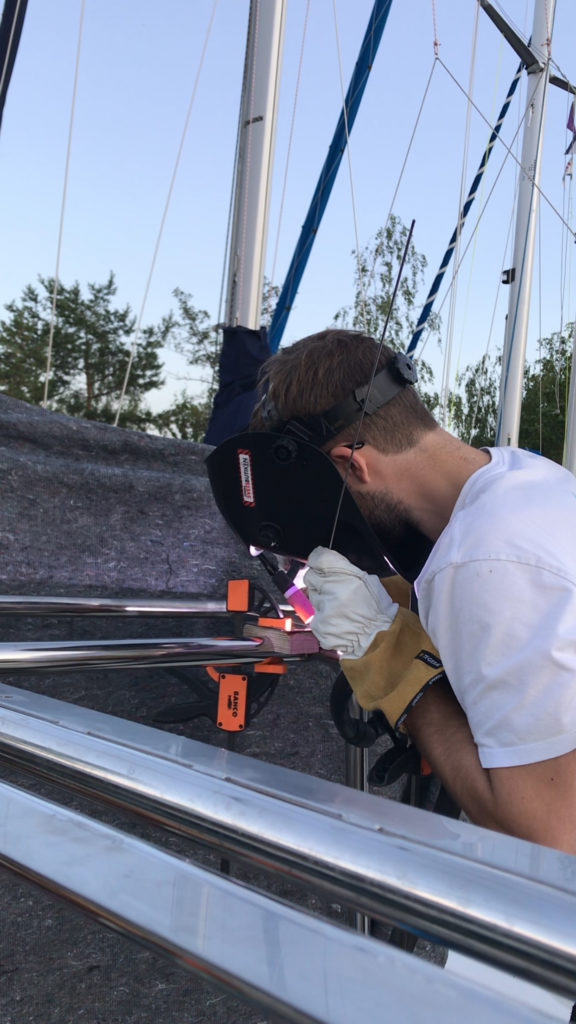 The solar panels will sit on top of a solar arch they're designing. If that's not enough we'll put up two flexible 115w, Tiger says.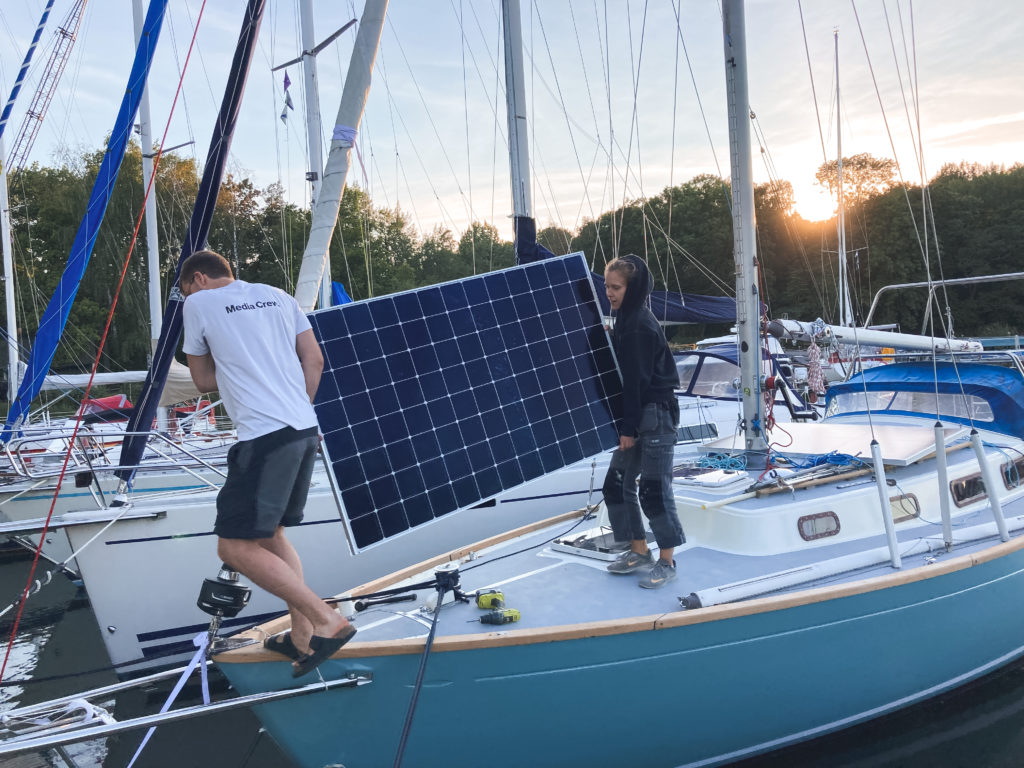 Both adventurers feel it's really important to strive toward a low-carbon lifestyle. Tiger says that although he doesn't like being drawn into discussions about trading diesel for big battery storage he's confident that after the equivalent of 700 litres of diesel-consumption running-time, his installation will be greener. For ever.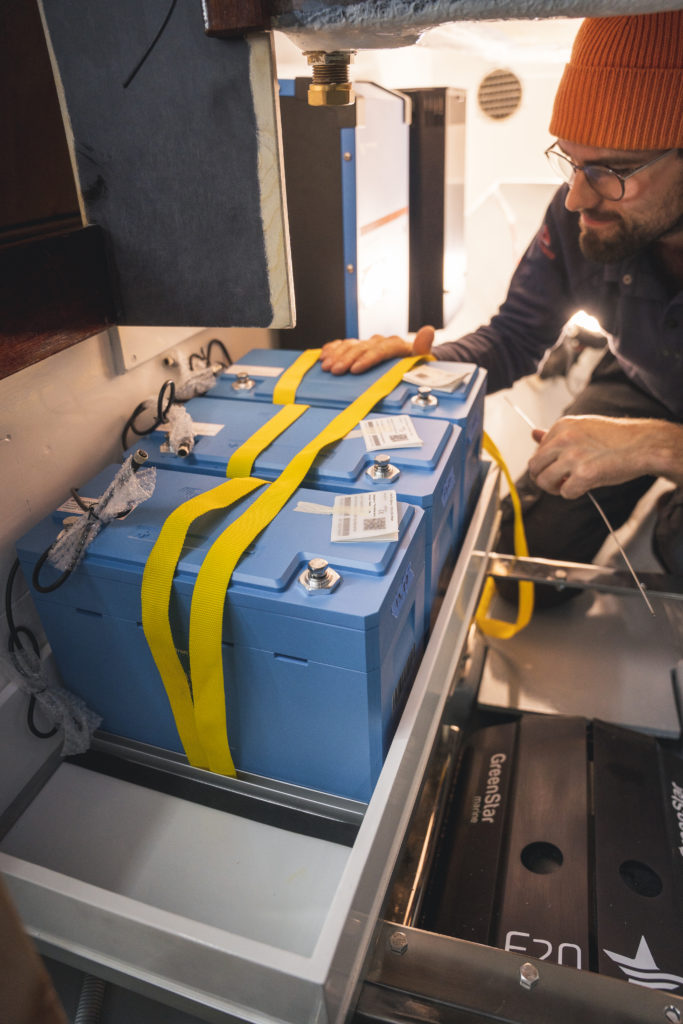 Tiger, who has been sailing all his life, bought their vessel three years ago and keeps it moored at the Stora Hunduddens Varvsförening boatyard in Stockholm. Idun is a blue water cruising boat, sturdily built for safety at sea – but she delivered an impressive performance during a 24 hour race last autumn …crossing the line amongst the sprinters.
In the true spirit of adventure Julia will build her sailing experience locally – and learning as she goes. She's really looking forward to their open-ended adventure which will begin next summer: It's such a huge project it is hard to comprehend! she says.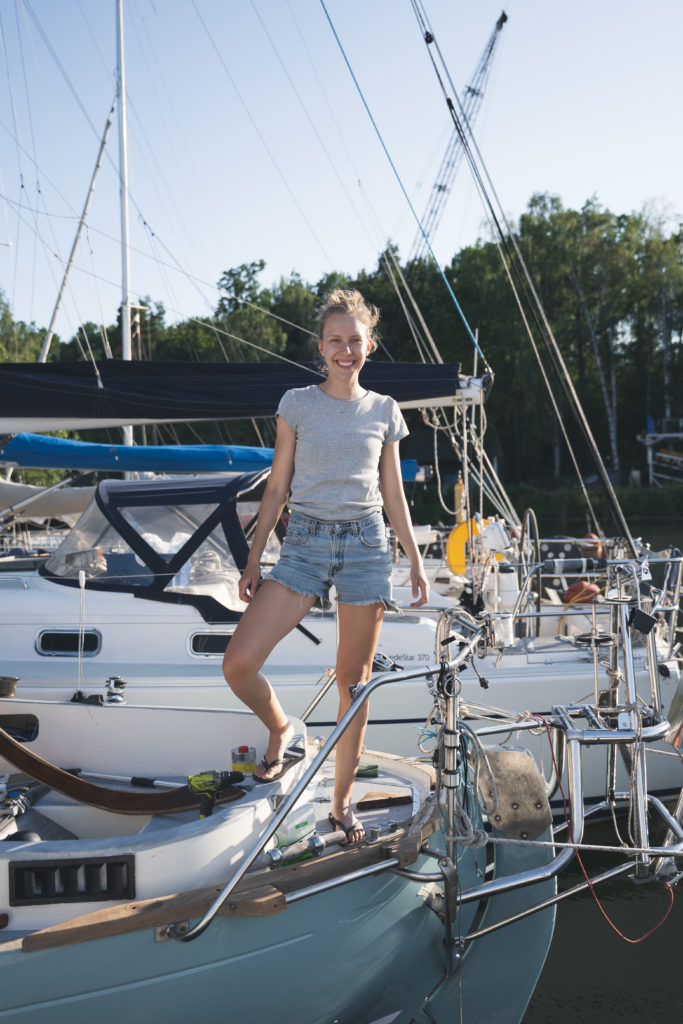 Their current plan is for their voyage to last 3 years – but if they can find work en-route they'd like to extend their cruise to 30 years 😉
In order to raise funds for the project Julia has taken work in a Supermarket, although she studied Sustainable Energy Technology. Tiger is working in a Camera shop – although his passion is for filmmaking.
Setting off in August 2022 they will sail through the English Channel and out to the Canary Isles before making a classic trade-wind-assisted crossing of the Atlantic ocean in November …arriving in the Caribbean in time to celebrate Christmas.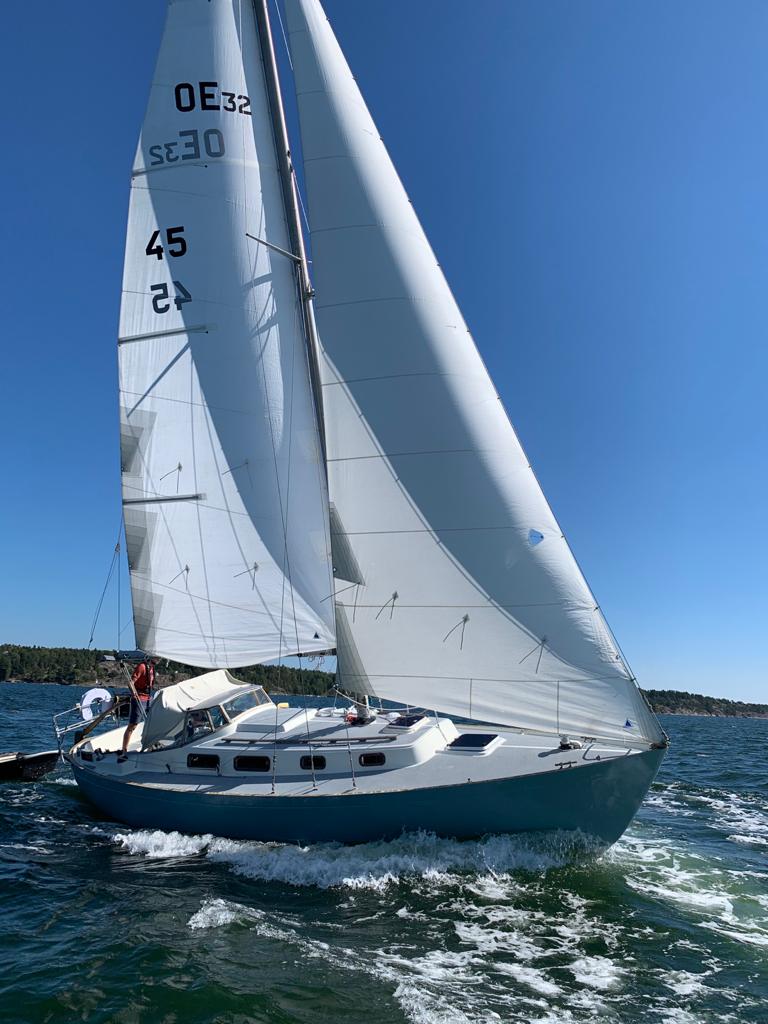 From there they will continue west-about, zig zagging across the pacific to experience for themselves the excitement of deserted atolls and paradise islands.
Having crossed the Pacific, Tiger and Julia plan to pay a second visit to New Zealand and Australia. They've done some travelling already in both those last named countries – although on that occasion they flew out, so they're already excited about arriving at those distant shores as wind-and-electric navigators.
Julia and Tiger invite you to follow them on their Instagram page which they will keep updated with news and pictures of their preparations. They welcome any questions about their set up and plans …and once underway they'll be sharing their ocean experience with you first-hand.
We wish them well and look forward to publishing a detailed account of how their electric sailing works out in practice.