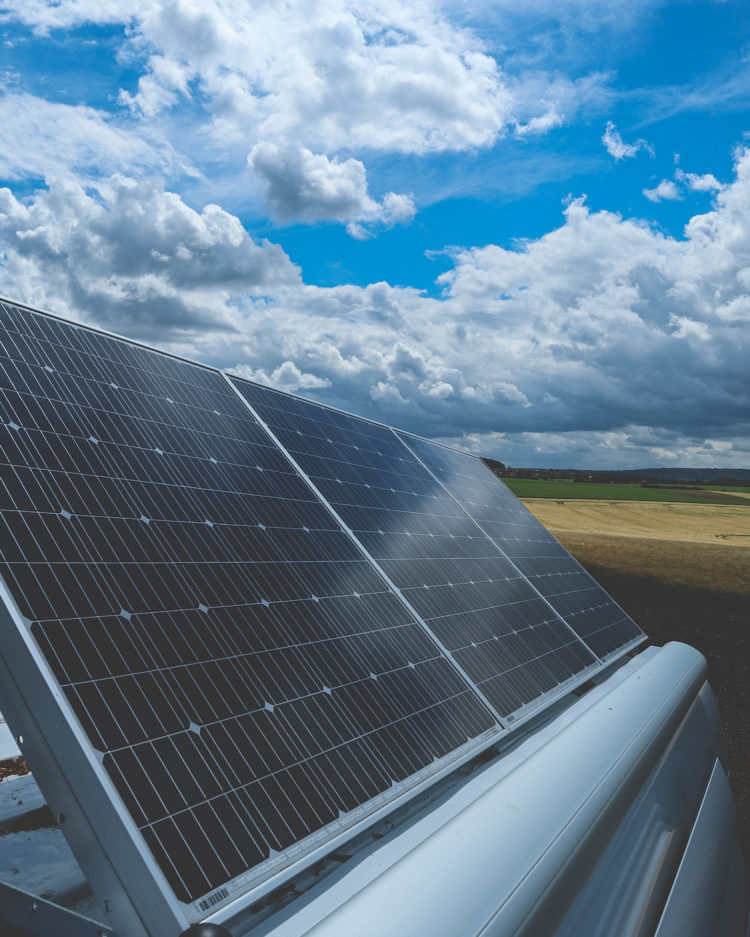 Tom Alderdice has found the job he loves.
His consultancy and installation service Tiny Build Electrics – helps Motorhome and Caravan owners design and install the energy systems they need to power both their needs and luxuries – grew out of a passion for sustainable living combined with the freedom of the road.
With twelve years top-end kitchen fitting experience he realised his best route to owning a mobile home which suited him was to buy a long wheel-base Mercedes Sprinter and customise it to his own- and his partner Sarah's-preference. Tidy and light, a lot of the materials used have been re-purposed using surplus timber, wicker-work trays – even copper plumbing has been turned into stylish towel rails.
Already familiar with domestic AC electric circuits – though not the DC systems, inverters, and energy-from-solar, Tom set about learning everything there was to know about leisure vehicle power systems.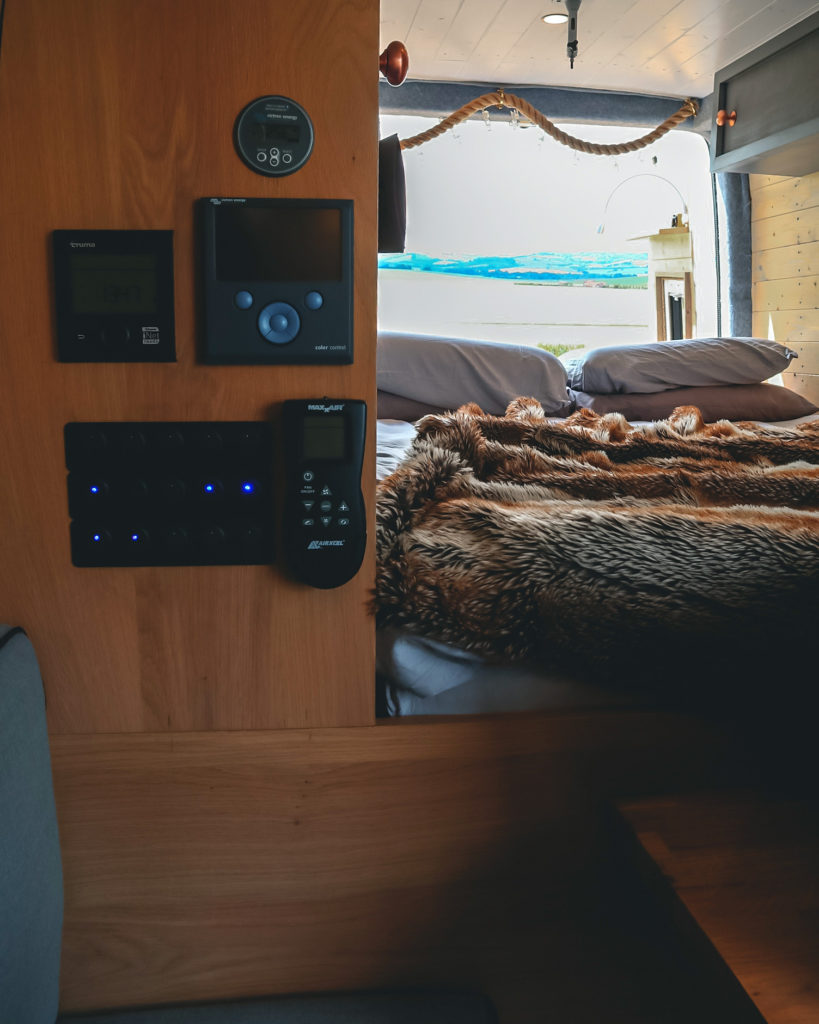 He first discovered Victron products through our YouTube channel; then began working through all the training videos (Victron Professional account required for access), really appreciating the logical easy-to-follow presentation from Digital Training Manager Guy Stewart. 
He viewed the webinars; and experimented with the MPPT calculator, trying out all kinds of combinations to see how they performed in different scenarios. And he familiarised himself with the product range by changing the settings and parameters, virtually, using the Demo mode on VRM.
Having calculated his own power needs he bought the equipment required for his own system – making a very professional job of the installation.
Putting his newly acquired knowledge to use he began to help other van owners with their systems, creating an Instagram page and populating it with really great images of Van life together with explainers and calculators in the hope of making the process easy to follow for others who have less experience.
It was only when his partner, Sarah, suggested he turn his interest into a business that 'the stars aligned' he says, and he gave up work as a kitchen fitter and he began to offer consultancy services to Campers who share his interest in the great outdoors and DIY.
He notices that the biggest hurdle for most van fit-out DIYers is their electrical system – so his consultancy is aimed at that niche – carrying our a power audit of client's 12V and 240V needs, and supplying the equipment to do the job. The system design is informed by listening to clients travel plans – how often will they be going 'off-grid'; whether they will be travelling most days (benefitting from alternator charging) …or remaining static for quiet days of exploration on foot.
From that information he produces a schematic: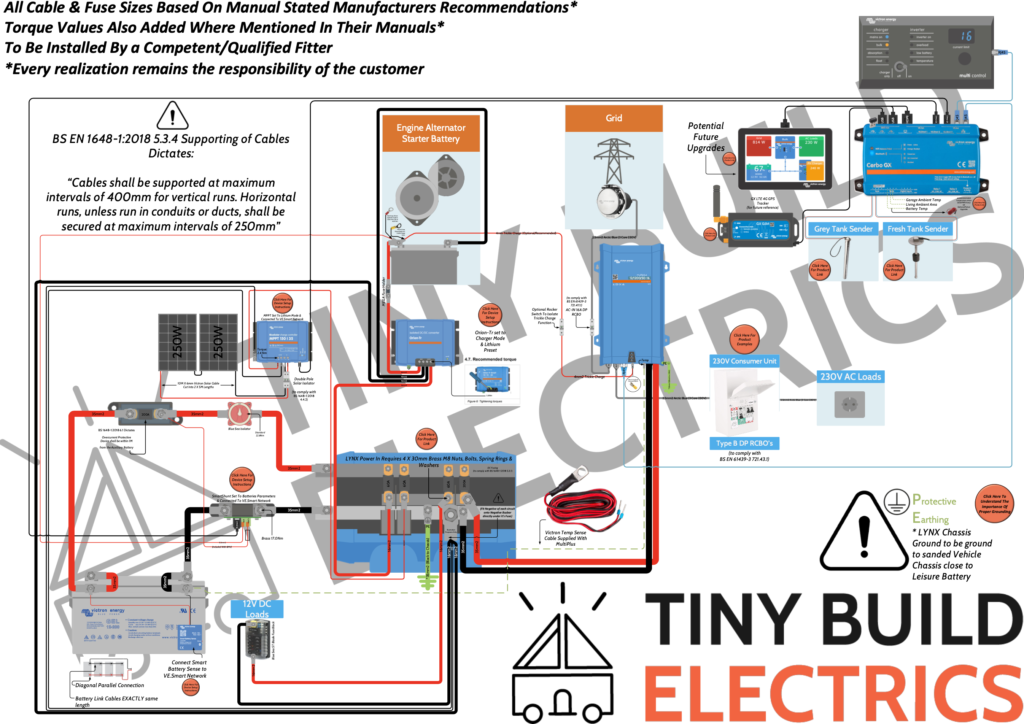 He loves to see the changing expression on peoples faces during video interviews as they explain their worries about wiring a system which can provide:
AC distribution from a hook-up energy supply,

battery charging,

and AC power distribution from battery when camping off grid
…and then explains that MultiPlus does all that in one box!
Off-grid Battery Charging from the Alternator whilst driving, or from Solar Panels during the day, is achieved by adding a DC-DC converter, and Solar Charger, respectively.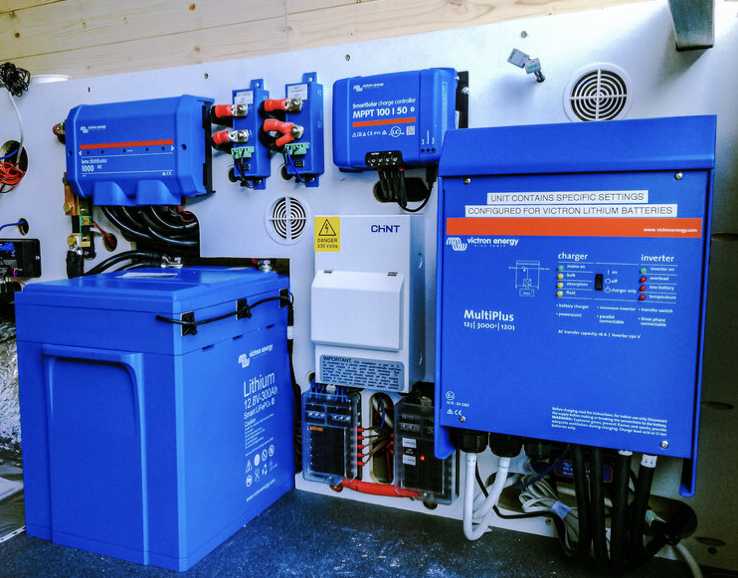 At the heart of the electrical installation Tom recommends the Cerbo GX for total van-system control as its tank input ports allow critical information about the van's stored-liquids to be presented at a glance – on a smart phone, or at the touch of a button on the cool-looking GX Touch 50 screen.
If clients prefer a simpler system with less clutter, fewer units, and everything hidden behind panels, he recommends installing a SmartShunt which acts as a battery monitor, and relays full system data to a Smart Phone via Bluetooth. All system parameters: State of Charge; System Voltage; Consumption; Charge Current – and extensive historic data, can be easily read straight from the screen.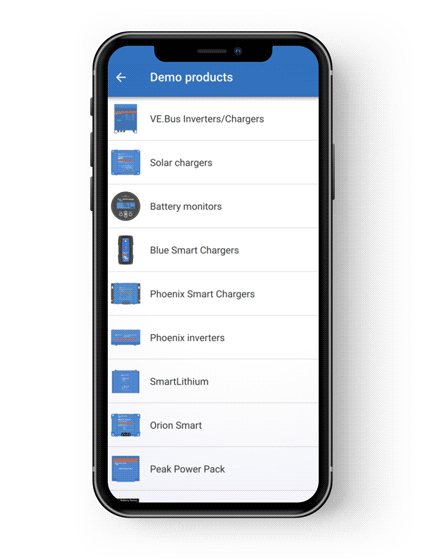 At the end of the consultation clients are free to source and install the recommended equipment themselves using a personalised schematic which Tom offers on the visualisation software Visio. Alternatively he will undertake the whole installation project.
Innovation in reliable electronics is only part of Tom's enthusiasm for Victron products – he loves the communication and management platform app VictronConnect; and the web-based Victron Remote Management (VRM) portal which allows him to monitor and re-program clients systems wherever they are in the world if they've installed a GX LTE 4G modem – or third party alternative – which uploads system data to the VRM platform via the cellular telephone network.
As his clients build their systems he knows questions will arise to which they'll want answers in seconds, so he's formed a WhatsApp user group where currently 80 members help each other whilst Tom monitors in the background ready to jump into the conversation if it needs steering back on track. He also provides a drive folder populated with multi-media client content aimed at answering some of those frequently asked questions.
One of his more unusual clients is stripping a Uni Mog ex-equipment transporter back to a more military style vehicle in order to take into the Egyptian desert to use as a base for family weekends …and to indulge in his hobby of remote-controlled vehicles and boats. Exactly why he takes remote controlled boats into the desert is a question we must leave in the air.
Eventually Tom and partner Sarah plan to live full time in the van with a Truma Combi 4e boiler capable of heating 10 litres of water in half an hour from 600W solar output, an LPG heater and an Eberspacher diesel heater in standby, and do some travelling of their own.