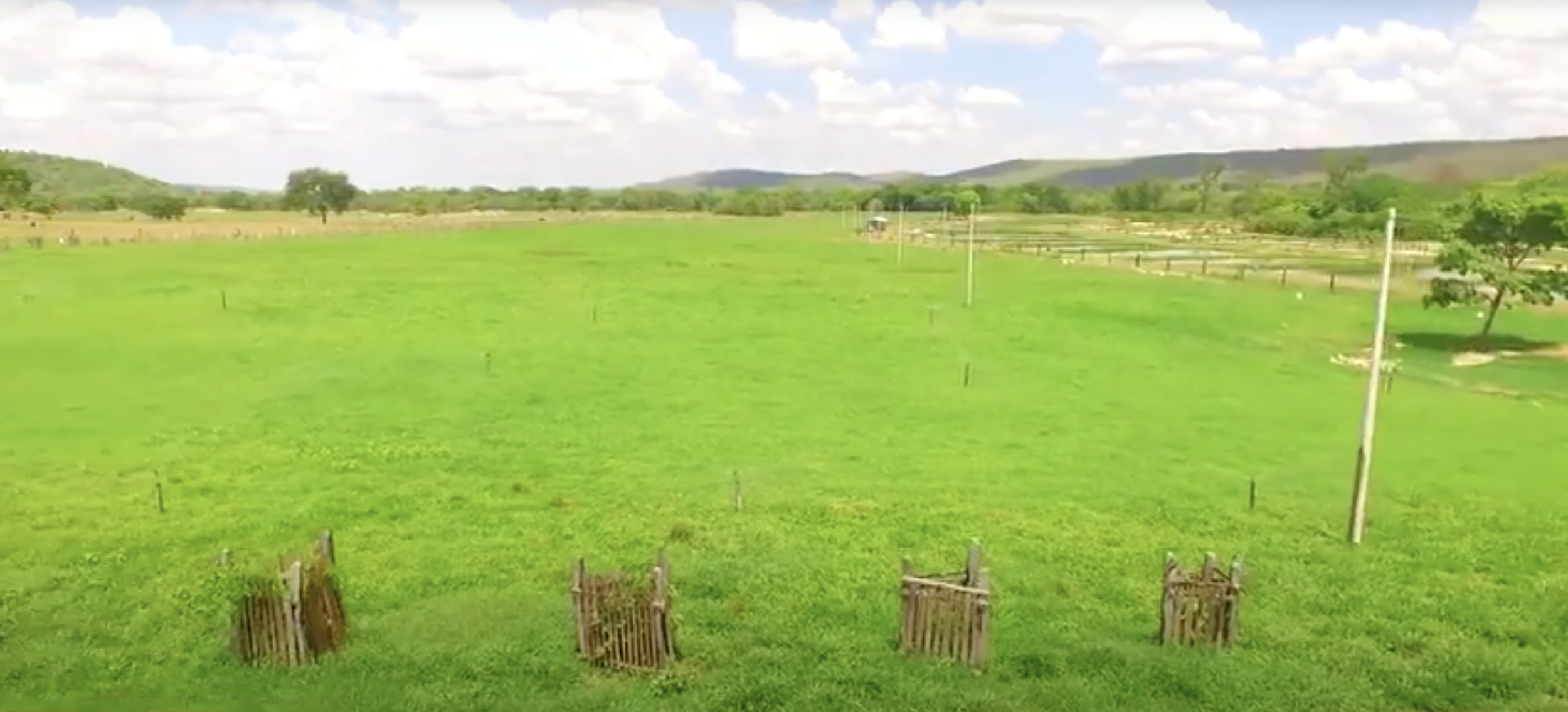 Water is the lifeblood of Tambaqui Farm in the Riachão das Neves area of Western Bahia, Brazil. From deep in the interior of the region they produce Fish and Lamb. Filtered and aerated water is needed to provide a clean, healthy environment for the twenty-six fish ponds; and the 'soiled' water is used to irrigate and fertilize the land, encouraging grass growth, and feeding the Sheep. Circular agronomy.
Until recently water was pumped around the farm using a 30kVA diesel generator. The operating and maintenance costs were high and – because of fluctuating oil prices – unpredictable. Generator breakdowns threatened the very survival of the stock – and so keeping profitable was a constant headache.
With the generator running for 10 hours a day – consuming 3000 litres of diesel per month at a cost equivalent to $1 (US) per litre – there was a $3,000 monthly bill to add to all the worry.
The Sun was the Solution
Seeking to offer a more efficient private energy supply for the farm, SunHybrid do Brasil designed and installed an off-grid power system based on PV panels. All pumps, motors, lighting and office equipment for the farm is now powered by their photovoltaic solar generator.
The 120 solar panel array offers a 32kW peak power provision which is harvested by five Smart Solar 250/100 MPPTs and stored in 24 Opz tubular batteries with a total capacity of 1520Ah. The battery voltage; state of charge; current in and out, and history is monitored and stored by the BMV 702 battery monitor. This information is available at a glance on the face of the BMV; otherwise, information relating to the whole system can be interrogated from the Color Control GX which is the communication hub, keeping everything in harmony.
From the Tambaqui farm's remote location the Color Control GX also relays its information via a wifi module to the free-to-use Victron Remote Management VRM platform – from where the system can be monitored by the installing engineers who can answer client-questions and make adjustments without visiting site.
AC power is available from three 15kVA Quattro Inverter/chargers – currently the largest units in the Victron range, here they have been configured to provide three-phase power. It's interesting to note that for even more demanding installations up to 6 sets of three Quattro units can be parallel-connected to provide 144kW / 180kVA inverter power, and more than 2500A charging capacity.
The original schematic shows the set up at Tambaqui Farm, but has been modified with an increased number of panels: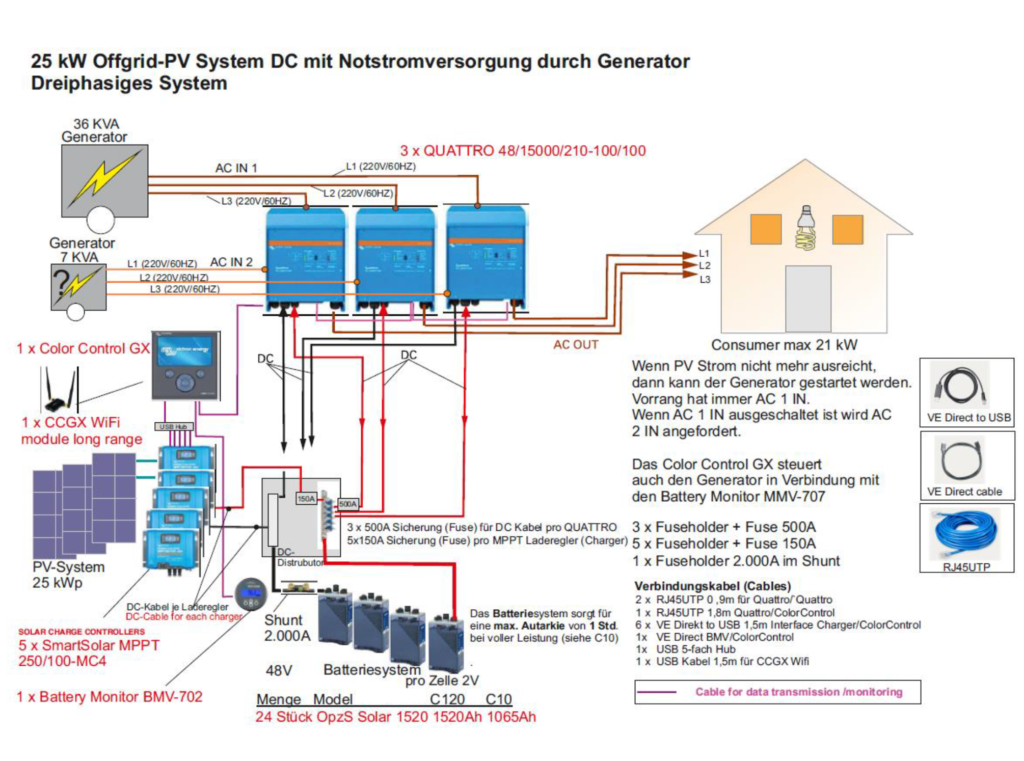 By day the farm equipment is run using solar energy in real time. Power provision overnight comes from the tubular plate battery storage system – which also take over the power supply during periods of poor weather. There is also an aquarium for the fry – or baby fish – which is circulated and aerated twenty four hours per day. The system, as designed, includes two back-up generators which could be auto-started by a relay – but the farm owner Mário Mascarenhas had such faith in the new system that he decided that he didn't want to include the generators. He was right – he has never had any problem with lack of energy.
Mário is pleased to have invested in a clean source of energy, reduced his carbon emissions, introduced peace and quiet – and is delighted to be free from the worries of fluctuating oil prices. The system cost is expected to be recouped within 3 years – and with operating costs under control and predictable, he finds that the farm is more profitable.
He says: The activities of our farm are always focused on sustainability. We work to conserve nature, and resources, by refraining from burning diesel oil. We find in the generation of solar energy a solution that provides us with savings and at the same time reduces our impact on nature.
About SunHybrid do Brasil
SUNHYBRID do Brasil specialize in photovoltaic solar energy and have more than 25 years of experience in this technology through their parent company in Germany. They aim to build their reputation on professionalism, attention to detail, and the installation of high quality equipment.