Using 'Lockdown' as a gift of time staff at PhilSolar Equipment and Trading's Mindoro outlet in the Philippines, decided to build a new demonstration board to illustrate the Victron Energy equipment they most frequently supply. The shop looks out onto a yacht club, so a lot of their installations are on board luxury boats.
We already have a few smaller mobile demonstration systems, says company Chairman Danny Maesen, but now we've built a combined AC and DC supply – and a number of nice gadgets have been integrated.
On the demonstration board a Victron Quattro 48V 10kVa is connected both to the grid and to a generator – for which an automatic start/stop function has been programmed using the Color Control GX. In case we have to switch off the system for whatever reason, an ATS is switching automatically to the grid; he says.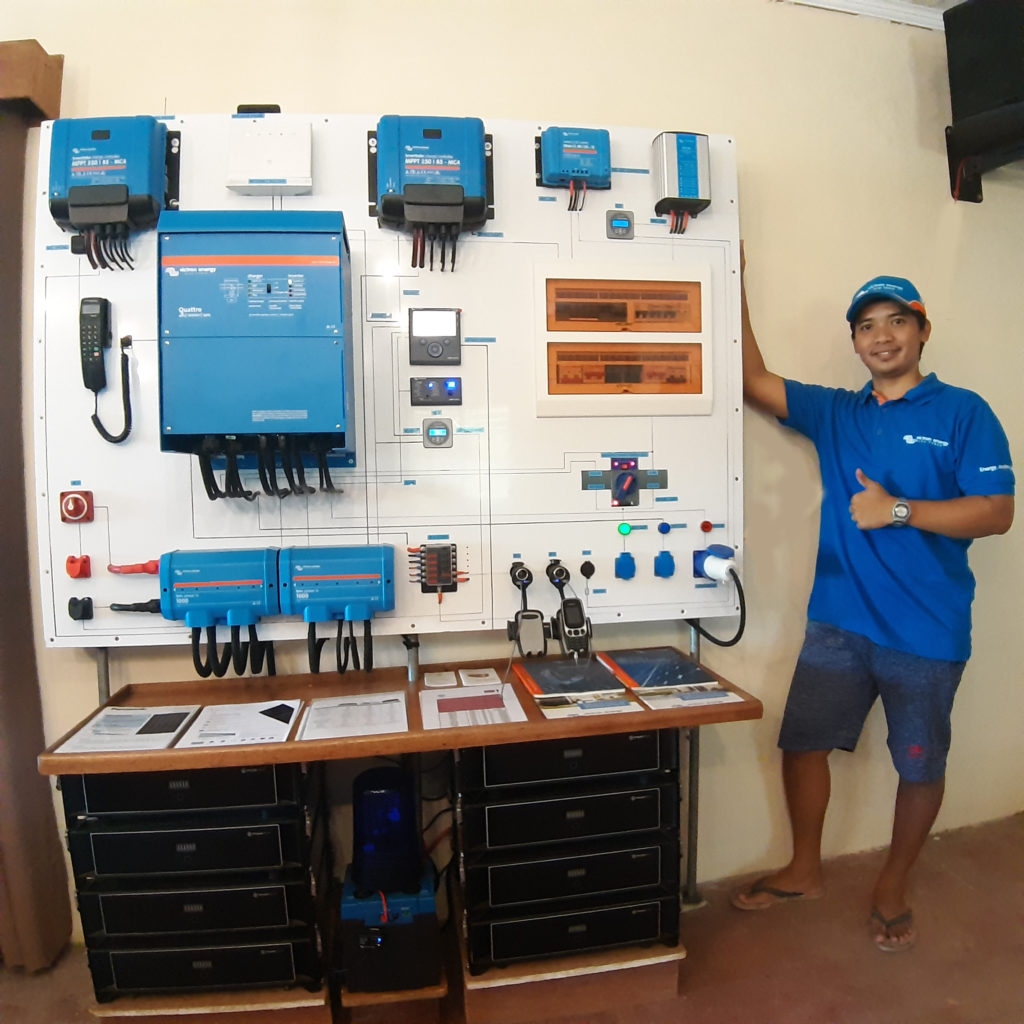 The Quattro has two AC outlets – of which the second AC outlet is only live when incoming AC power is available – this is a very useful design feature which is often used in this way: Connecting essential loads to the first AC outlet assures the user of an uninterrupted power supply at all times – regardless of what is happening at the grid, or generator. By connecting heavy loads – such as Air Conditioning, for example, to the second AC outlet ensures that those loads will only run when AC power is available. In the event of a grid power failure the systems batteries will not be drained by these non-essential, power-hungry loads.
The Mindoro set up has two pilot lights which shows which system is active.
With the Digital Control we can easily adjust the AC charge current from the system; Danny says.
Two SmartSolar MPPT 250/85A solar chargers are connected to two 4.86kWp solar arrays. The MPPTs can supply loads directly, and are used to charge a 48V/400Ah Lithium battery bank.
DC-DC converters
Also on the board are two DC-DC converters: the Orion TR 48/12; and the Orion TR 48/24V which the Mindoro shop often use to test appliances on the 24VDC systems found aboard their customers yachts. (The liveried Mindoro shop, seen below, is in walking distance from the Puerto Galera Mindoro Yacht club – which is pictured at the head of this article.)
The Orion 48/12V is connected to a 12V fuse box. CCTV, lights, router and night lights are all supplied from the 12V System – as are two cigarette plugs with USB ports which can be used to charge mobile phones and other appliances.  The night lights, by the way switch on and off via a relay on one of the MPPTs. Switching is controlled using Streetlight – a dynamic function which can be programmed to trigger actions based on the 'daylight' day. The daylight day changes, of course, with the seasons – but this functionality tracks the length of day, and adapts accordingly. A BMV-712 monitors the battery state of charge, loads, and keeps account of current transfers within the installation.
PhilSolar has installed off-grid and hybrid systems all over the Philippines. Danny says that Victron Energy has a very wide range of applications in his country, including power supply to Private islands; Beach Resorts, and the more unusual installation like the wind Lidar measurement project we mentioned recently. Also, in a country as fragmented as the Philippines with its almost eight-thousand islands, there is a demand for Solar based Micro grids, and uninterrupted power supplies for businesses as well as installations aboard luxury yachts.  And of course PhilSolar have had their own commercial van installed with a solar powered inverter – which they find useful when working remotely.
Danny says; We have used the Lynx Power In busbar system to connect all chargers, inverter, batteries and DC-DC Converters. All the connections are fused with mega fuses. We adjusted the busbar system a little bit so all the mega fuses could be mounted on the Lynx Power In.
A separate system with a battery switch is also connected to the busbars – this can be used for testing new incoming battery systems. We used JAB receptacle female connectors mounted on the board, and this system has its own BMV 712 battery monitor.
An old, but good working Motorola GSM has also been installed on the board to show how old and new technologies can be compatible.
This is the schematic of the demonstration board – for which Danny wishes to thank his Mindoro team: Patrick, Krizzia and Rhen.
You can get hold of Danny at:
Contact information:
Victron Energy Mindoro shop                                            PhilSolar Equipment and Trading Corporation
143 National Highway, Muelle                                           2F Cargohaus NAIA Complex
Puerto Galera 5203, Oriental Mindoro                            Paranaque City 1700 Manila
victronenergy.mindoro@gmail.com                                 danny.maesen@me.com
https://www.facebook.com/pg/philsolar.ph/photos/?ref=page_internal