We get some unusual applications of Victron Energy products and this seems to be in that class – a niche market where wind measurements need to be taken for onshore wind farms.
This installation uses Victron components to give power to and allow a vertical profiling Lidar measuring device to run with a 24/7 electricity supply, utilising off-grid battery/solar power.
This sophisticated wind Lidar solution collects precise data at differing elevations, providing an ideal resource assessment for wind turbine optimisation and monitoring – be that in the development or the operational phase.
Often proposed wind farms are in remote areas areas and getting a reliable electricity supply is no mean feat. Of course just a generator could be used but that is not the most environmentally friendly solution and it requires a constant supply of diesel – not a situation you want when a site is on a mountain top! Better to have a generator as backup.
The team at PhilSolar revel in such remote challenges and a few months ago they were approached with just that.
Modular design
The challenge was to design a system that could be easily constructed and initially tested in an on-grid friendly environment and then transported to be rebuilt at a site, then moved to another site as required – as these Lidars are moved regularly. A plug and play modular system was the solution.
PhilSolar designed a solar/battery enclosure with blower and exhaust fans, programmed to run during the heat of the day. Two temperature sensors measure the internal enclosure and external temperatures. The blower has a capacity 130 CFM (Cubic Feet per Minute) creating an airflow through the enclosure.
The metal enclosure contains 2 x MPPT solar chargers, 2 x battery chargers and 2 x 12.8V/100Ah lithium batteries in parallel, along with local and remote setup/monitoring.
Added to that is a standalone solar array of 2 x 2 x 270Wp solar panels so energy is assured throughout the year, including periods of poor PV harvest. This solar array is enough to charge the batteries in most situations at the various locations, however a backup generator is also available just in case.
Connections
The modular components have plug and play connections. For the backup generator a Victron shore power cable is used along with a Victron stainless steel power inlet which is built into the enclosure. For the Lidar its power cable is connected to an Anderson plug and a corresponding one to the enclosure. For the solar array MC4 connectors are used.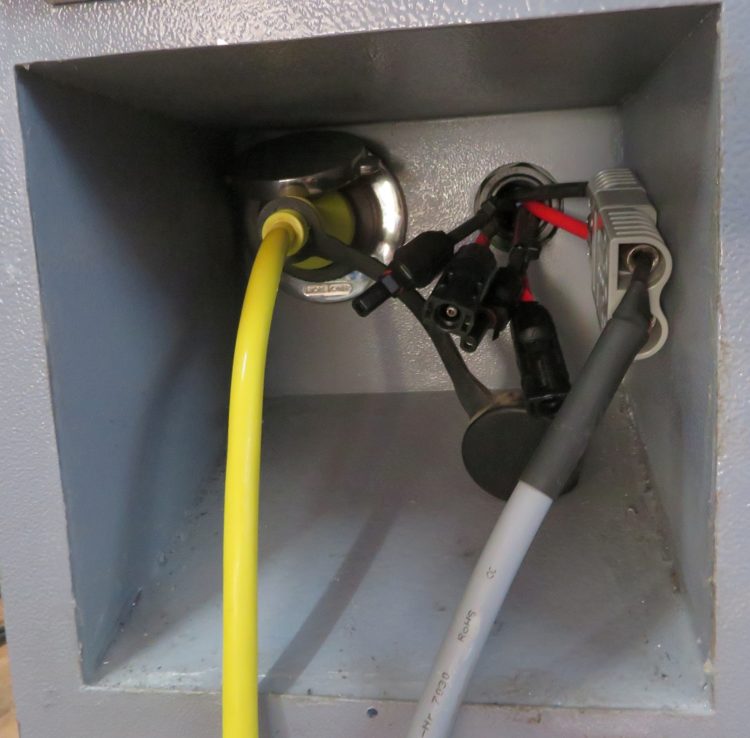 All components including the batteries have Bluetooth communication and can easily be setup and checked with a smartphone on site.
The backup generator is connected to the 2 x 25A battery chargers, however the use of the generator is expected to be infrequent.
A Venus GX and a GX GSM with an external antenna is connected to the system for remote communication and management via the VRM.
System components
2 x SmartSolar MPPT 100/50 Solar Charge Controllers
2 x Blue Smart IP67 Charger Waterproof battery chargers
1 x BMV-700 battery monitor
1 x Venus GX
1 x GX GSM + Outdoor Antenna
2 x PhilSolar 12.8V/100Ah Bluetooth lithium batteries
4 x Jinko Solar 270W Polycrystalline panels
1 x Own design and tailor made galvanised and powder coated enclosure
Art Sign mounting set, with inhouse made concrete ballast blocks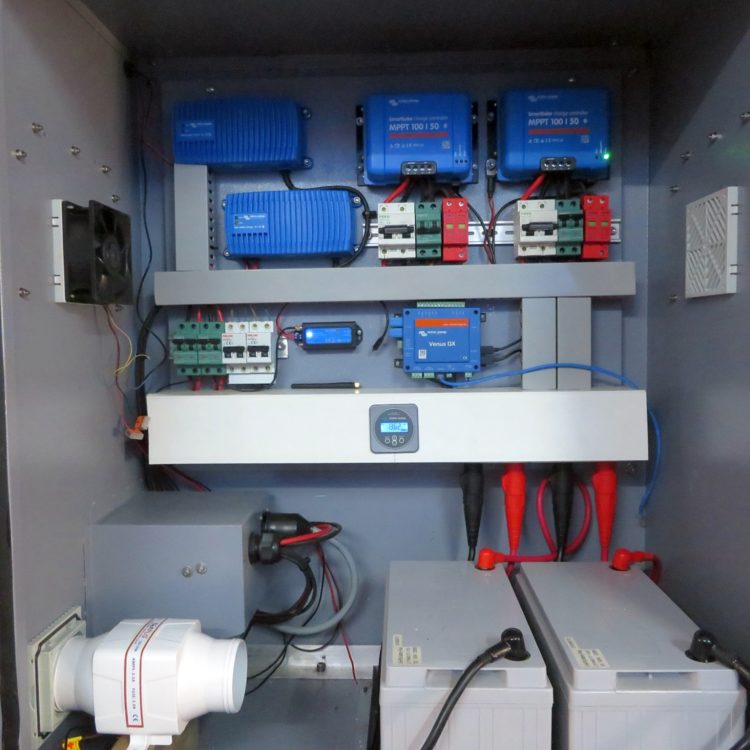 Remote challenges
As usual the logistics of getting the equipment to site were challenging. About 400kg materials needed to be hauled to the top of the mountain. A few local strong-bodied guys managed it in one day. It's a 2.5km uphill hike with bulky, heavy equipment – and some parts were very steep.
Conclusion
This isn't the first of PhilSolar's remote installation challenges, and whilst the design can be commended I think the principal congratulations must go to the workers that lugged all that equipment to site. Surely the modular re-assembly of the system on site was the easy part!
My thanks to Danny Maesen of PhilSolar in the Philippines for the info and photos used in this blog.
If you have a remote installation challenge in the area do give Danny a shout. Details below.
John Rushworth
PhilSolar Equipment and Trading Corporation – Supply, import, logistics and Victron support.
Website – http://philsolar.ph
Facebook –  https://www.facebook.com/philsolar.ph
Contact Danny Maesen: danny.maesen@me.com
PhilSolar Equipment and Trading Corporation
2F Cargohaus NAIA Complex
Paranaque City 1700 Manila
Philippines