Last week was the annual METS (Marine Equipment Trade Show). As ever Victron Energy had a stand and their products were featured on many other stands too. Here's a reflection on the 2018 show.
There were a range of new Victron products as detailed in the pre-METS blog. From a personal perspective though it's always interesting to see which products aroused most interest. This year Victron Energy's 'Glass Bridge' integration came out ahead.
This integration ensures a vessel's MFD (Multi-Functional Display) can display Venus-device information, at the 'Glass Bridge' helm and other screens, with a simple plug and play UTP cable connection. MFDs by Raymarine, Garmin, B&G, Simrad, Lowrance are examples of some of the OEMs that can integrate Venus-device information. Venus-devices are members of the GX Product Family.
Glass Bridge integration for Garmin & Navico brands is expected end of Q1; and for Raymarine it's expected Q2 2019. A full list of compatible chart plotters will be published in early 2019.
This silent video demonstrates the ease of integration. No need for sound commentary, as it's that easy to integrate!
Key features of Victron Energy's Glass Bridge integration
Monitor shore power and generator status.
Monitor battery status.
Monitor chargers, inverters, inverter/chargers.
Monitor AC and DC loads.
Control shore current limit.
Control the inverter/charger.
Open the Victron Remote Console panel; allowing access to further parameters.
Other show feedback
Smart BatteryProtect
Key feedback centered not just around Glass Bridge integration. In fact it was at the other extreme – being one of the most basic products of all – one that is shipped in the many thousands and likely even more now the new version has Victron 'Smart' tech. No fiddling with wires to program, just use VictronConnect over Bluetooth to program the new Smart BatteryProtect.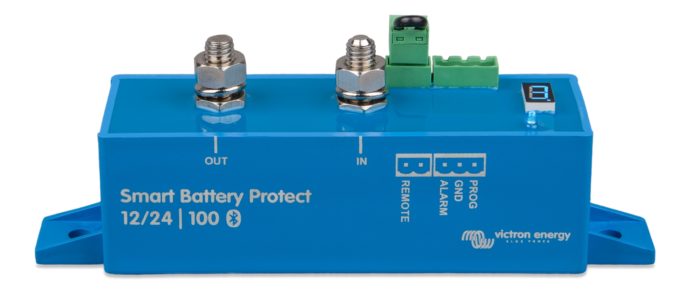 Phoenix Smart IP43 battery charger
This was particularly well received for the marine market, being available with an IP43 rating in 12 & 24V versions – 12/30, 12/50, 24/16, 24/25.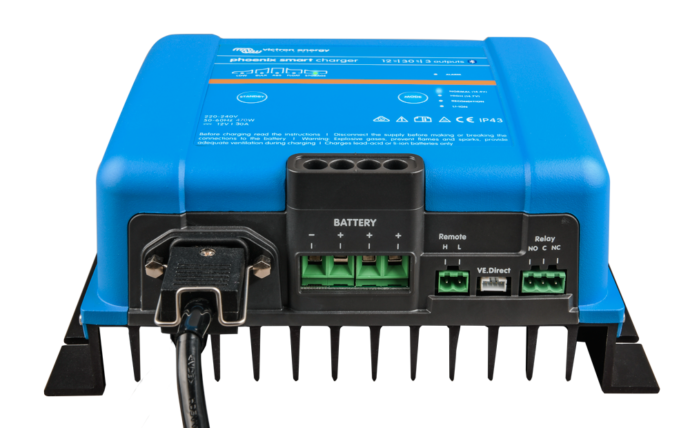 Adaptive 5-stage charge algorithm
Potential free alarm contacts
Remote on-off (also for Li-ion BMS)
Configure and monitor with your Smartphone
Ideal for use with Smart Battery Sense accessory
Works with VictronConnect app
More Smart tech
Users and particularly installers were also delighted to hear that soon they will be able to use VictronConnect to configure their Multis and Quattros too.
New Product recap
In addition to the key products above here's other new products that were on show.
24V Smart Lithium battery.
Lynx Ion BMS + HE battery.
Updated VE.Direct Inverter range. Previously 250VA, 375VA, 500VA, 800VA, 1200VA and now 1600VA and 2000VA models, with Smart tech of course using VictronConnect.
CANvu 500, now with IO  Extender.
Octo GX (See this link for the differences between the Octo GX, Color Control GX and Venus GX).
VE.Bus Smart Dongle.
GX GSM.
Inline Blue Power Charger IP65 state of charge battery indicator.
Photos
Too many photos to choose from, so here's a sample.



Socialising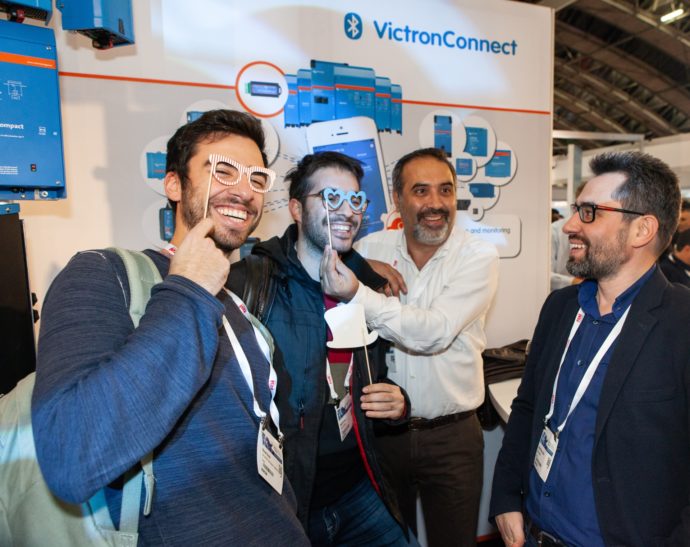 Conclusion
It's great to see the continuing progress of Victron products, especially more and more Smart enabled products. All in all the show was a Glass Bridge and maritime product success – and going by the photos a fun time was had too, by exhibitor and visitor alike.
Keep your eye on the Victron blog for more in-depth info on new products and on the Victron Pricelist for price and availability – or just check with your Victron dealer.
John Rushworth