METSTRADE show is the world's largest and most visited B2B leisure marine equipment show, yet where Victron are concerned it's also of interest to our end users too – as it is a launchpad and bellwether for new products.
This year between Nov 13th – Nov 15th Victron Energy will be launching a range of products at the show, a key one being 'glass bridge' integration of Venus connected devices for yachts. As Matthijs Vader, MD of Victron Energy says:
"I'm really excited about this product launch as it has been my wish for many years to show our equipment on the chartplotters of Raymarine, Garmin, B&G, Simrad, Lowrance and similar MFD suppliers. It's a winner, especially as it is so simple to implement."
Bridging the gap
If you are already familiar with the Venus OS which runs on Victron's Color Control GX, Venus GX and the new Octo GX, then you will be aware of the level and type of information that can be accessed. Until now it hasn't been easily displayed on a glass bridge – that has now changed.
If you don't already know, a 'Glass Bridge' is a MFD (Multi-Functional Display) that integrates a boat's systems and navigation status into a large screen or screens at the helm of the vessel, so doing away with multiple gauges, brackets and wiring complications.
An example of Victron's integration of their Venus data into a MFD is shown in the image below. It is a clean and crisp look, plus it is so easy to implement. Simply connect the MFD and the Venus-device with a network cable, and that's it. A Victron icon shows up on the MFD, click it to open the monitoring page.
3 steps and the data is integrated and available – as easy as 1-2-3!
Glass Bridge – Victron's Venus MFD integration
Features:
Simple & fast to setup.
Crisp & clean interface.
Will work with most MFDs: Garmin, Raymarine, Simrad, B&G, Lowrance.
Straightforward to support.
Display:
Monitor shore power and generator status.
Monitor battery status (state of charge, voltage, current and power).
Monitor the power conversion equipment: chargers, inverters, inverter/chargers.
Monitor AC loads, and DC loads.
Control shore power input current limit.
Control the inverter/charger: switch it off, on, or set it to charger-only.
Optionally open the Victron Remote Console panel; allowing access to further parameters.
Power equipment compatibility:
All Victron inverter/chargers: From a 500VA single phase device up to a large 180kVA three phase-system, including Multis, Quattros, 230VAC and 120VAC models.
Battery Monitors: BMV-700, BMV-702, BMV-712 and newer, Lynx Shunt VE.Can, Lynx Ion BMS.
Requirements:
Battery system.
Victron inverter/charger.
Victron Battery monitor.
Network cable connection between MFD and a Venus-device such as a Color Control GX, Venus GX or an Octo GX.
UTP network cable.
Other products at METS
GX GSM
An accessory for Venus-devices.
The GX GSM is a cellular modem; providing mobile internet for the system and connection to the Victron Remote Management (VRM) web portal. It requires a full sized SIM card; and connects to the Venus-device with a (supplied) 1m USB cable. 
VE.Bus Smart Dongle
The VE.Bus Smart Dongle is a Bluetooth device which allows you to connect your smart phone (or other Bluetooth device) to a Victron Product which has a VE.Bus communications port – such as all of the Multi range, all the Quattro range, Phoenix Inverters (1200/5000VA), Easy Solar and the ECOmulti.
This product is a great improvement in ease of configuration for installers. By using the free VictronConnect app you can monitor live data, and change settings smartly.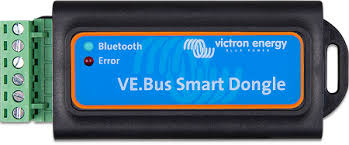 Phoenix Smart IP43 battery charger
Available in 12 & 24V models – 12/30, 12/50, 24/16, 24/25.
Adaptive 5-stage charge algorithm
Potential free alarm contacts
Remote on-off (also for Li-ion BMS)
Configure and monitor with your Smartphone
Ideal for use with Smart Battery Sense accessory
Works with VictronConnect app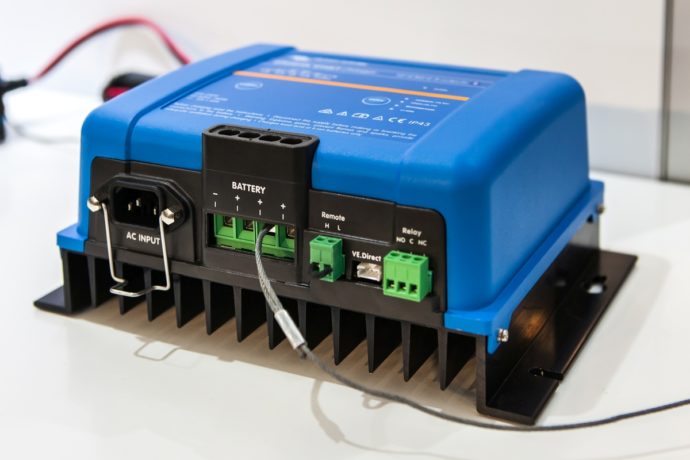 And so the list of new products continues, including more Smart tech:
Octo GX (See this link for the differences between the Octo GX, Color Control GX and Venus GX).
24V Smart Lithium battery
Lynx Ion BMS + HE battery.
Smart Battery Protect (A Smart enabled version of the

pre-existing

Battery Protect).
Updated VE.Direct Inverter range. Previously 250VA, 375VA, 500VA, 800VA, 1200VA and now 1600VA and 2000VA models, with Smart tech of course using VictronConnect.
CANvu 500, now with IO  Extender.
Accessories
Not only is there Smart tech everywhere but we also continue to do simple hardware devices, such as the new inline Blue Power Charger IP65 state of charge battery indicator for example.
Why not take a look at the range of other accessories for Victron products – maybe there's something you've missed.
Conclusion
As ever there are too many new products (a good thing!) to go into in depth in this short preview blog for METS. However we hope this blog gives our end users an insight into what to expect in the coming months. In the meantime if you are in the B2B category we look forward to welcoming you to METS 2018 in Amsterdam, between Nov 13th – Nov 15th. Victron Energy will be at Stand number 01.541.
For show registration follow this link. Note:
• Online registration for METS is free of charge up to and including 5 November.
• As of 6 November an online registration fee of € 70.00 per person is applicable.
• Onsite registration during the show period (13-15 November 2018) is € 200.00 per person.
• Invitations extended by exhibitors such as Victron Energy enable free registration at all times.
And for our end users, keep an eye on this blog for pending individual and in depth reviews on the METS featured products .
John Rushworth