Update January 2018: Ecolek Wales Ltd is currently in liquidation and this blog is kept merely for posterity.
Update March 2017: Ecolek Wales Ltd have recently launched a new website which can be found here www.ecolekenergy.co.uk. They are currently working on several existing projects using Victron Energy equipment which includes Passiv Housing, Wind Turbines and even disconnecting from the electricity grid. For any information or help with your project please contact info@ecolek.co.uk
---
Last year we reported on two innovative projects by Victron Energy installers Ecolek Wales Ltd. One was an off grid farm and the other an energy positive house. The Ecolek team are renewable energy specialists carrying out the design and installation of systems. Now their efforts have been recognised in the recent Welsh Energy Efficiency & Retrofit Awards.
Pictured above are Ecolek directors Ian Hewson and Andrew Youren receiving their awards, which you can read more about at WalesOnline. Thanks to Mr Jason Mitchell for the photograph.
Working together
Whilst Victron Energy can't claim credit for Ecolek's hard work, it is clear from speaking to them that Victron products play a key role.
Here's what Ian Hewson had to say, "With the UK's battery storage sector set to expand rapidly, Victron Energy systems allow us to pair emerging battery technologies seamlessly, which is unique. One example is a renewable energy installation we'll complete this week for a client in Carmarthen; all monitored with VRM world."
Congratulations to Ecolek on their awards; if their installations are anything to go by I'm sure there will be many more to come for this small but passionate and growing Welsh company. With a £26 million pound investment in their local area announced a few days ago, 'to drive forward the solar energy industry' – it looks as though Ecolek Wales Ltd are on the right path!
Example installation
The installation below is from the Parc Bach farm project, showing the Li-ion Battery Towers with one front panel removed to demonstrate how 4 of the 8 x 90 Ah Lithium batteries fit inside a tower. The Quattro shown is a 5 kVA one, next to a BlueSolar MPPT 150/85 charge controller with a BMV-700 series in an enclosure beneath it.
Further on and off-site monitoring is carried out using a Color Control GX connected to the VRM portal, which is also shared on VRM World. Here is the shared site: https://vrm.victronenergy.com/site/share/token/39249929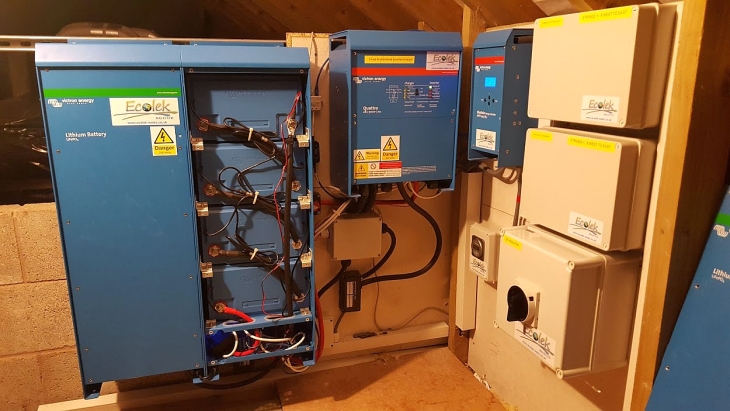 Battery storage benefits
To demonstrate the benefits of battery storage using PV in this case, a report has been prepared by Ester Coma from the Welsh School of Architecture, at Cardiff University, on behalf of Ecolek Wales Ltd. The predicted modelling data used is for one year using local weather data.
The image below shows part of that report, giving the monthly integrated supply and storage demand. As you can see this results in reduced generator runtime. Apart from less noise and the cost savings in not having to run a generator so often, Ester also calculates that the battery storage/PV system gives an 87% reduction in CO2.

We'd like to hear from you
If you have a similar success story or an interesting installation using Victron Energy products – do let us know.
John Rushworth.