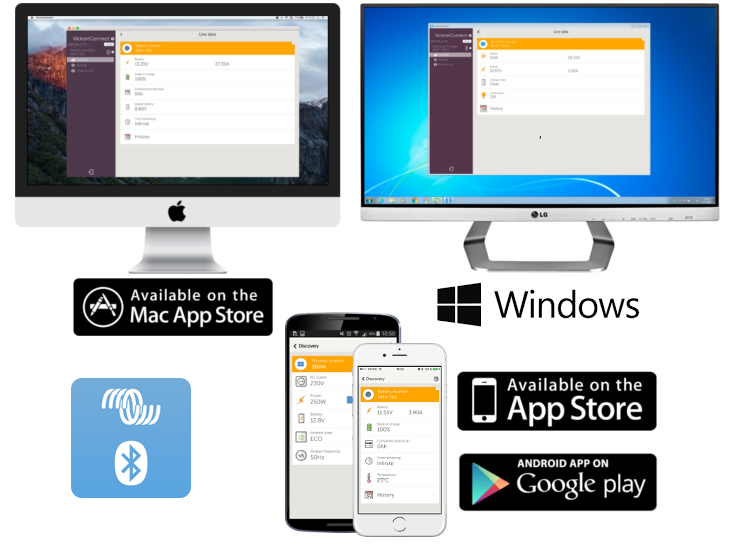 Great news! VictronConnect is now available for Mac OS X & Windows PC, plus there have been some upgrades in this new version for iOS and Android.
If you are not familiar with VictronConnect and the range of possibilities see earlier blogs, but for those of you familiar with this software (and the hardware it connects to) you have probably guessed where this is all going – one easy to use application to configure and monitor many Victron Energy products, available on most devices and platforms. What more could you ask for?
Download
This new version of VictronConnect is available here: https://www.victronenergy.com/support-and-downloads/software#victronconnect-app
Manual
Before you rush into installing please read the manual and make sure it is compatible with your device/platform: https://www.victronenergy.com/live/victronconnect:start
Please note the Windows version doesn't include Bluetooth support. For use only with VE.Direct to USB interface. Bluetooth supported devices use the VE.Direct Bluetooth Smart dongle.
Changelog v1.2
New platforms: Windows and Mac OS X versions are now available.

Add action bar to iOS keyboard with a minus (-) button and a "Done" button

Fix "Clear history" button on MPPT and BMV

Use different name in each step during the bluetooth dongle firmware update. (VE.Direct BLE dongle (legacy) and VE.Direct BLE dongle 2 (legacy))

Show Bluetooth/VE.Direct icon depending on the connection type.(Android and MacOS)
BMV
Fix an issue that returns a wrong value by setting to zero the alarm/relay temperature settings

Fix typo in temperature warning message shown on the live data page

Improve max/min values handling on alarms/relay settings pages
BlueSolar MPPT
Show description of the selected load mode algorithm

Fix "Clear history" button: it was partially hidden on the history page

Auto scale yield and consumption unit on the history page from kWh to Wh

Allow negative values for midnight-point shift on streetlight settings

Add load current to the live data page

Fix information box that warns the user that 30 day history is only available since firmware v1.16.
Conclusion
Hats off to the developers and have a great weekend!
John Rushworth