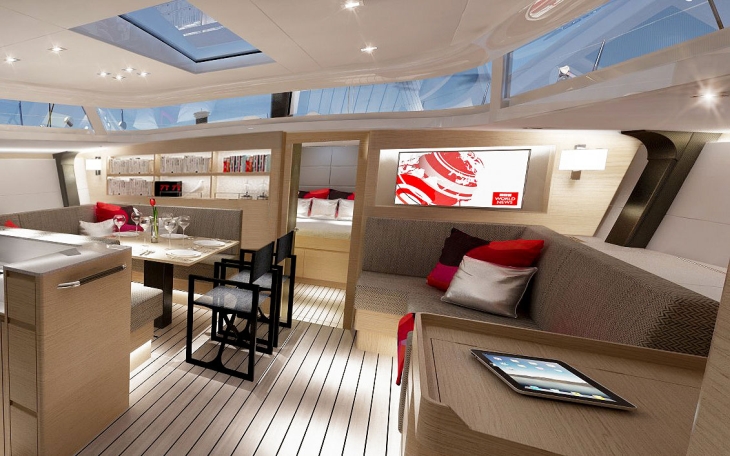 X-Yachts are no strangers to the world of performance sailing and their pedigree is easily warranted, as over the last 35 years the company has been synonymous with high performance yachting, winning nine official World Championship titles, and delivering almost 1,000 ISAF recognized one-design class yachts. Race victories in prestigious regattas like the Admiral's Cup, Sardinia Cup, SORC, Rolex Giraglia Race and Rolex Middle Sea Race all show testament to the X-Yachts heritage of building world class performance yachts.
However since 1990 X-Yachts have increasingly focussed on making offshore performance orientated cruising yachts over 50ft. More than 200 X-Yachts between 50 and 73 ft are sailing around the world, many of them making circumnavigation voyages.
The all-new X6
Building on this success X-Yachts have now developed the all-new X6 to provide ultimate luxury, without sacrificing the renowned X-Yachts sailing performance. The X6 has been designed to take her owners and crew anywhere in sumptuous style and comfort as demonstrated in the headline image rendering above and the one below. These images are based on advanced 3D design technology and showcase just some of the offerings and possibilities.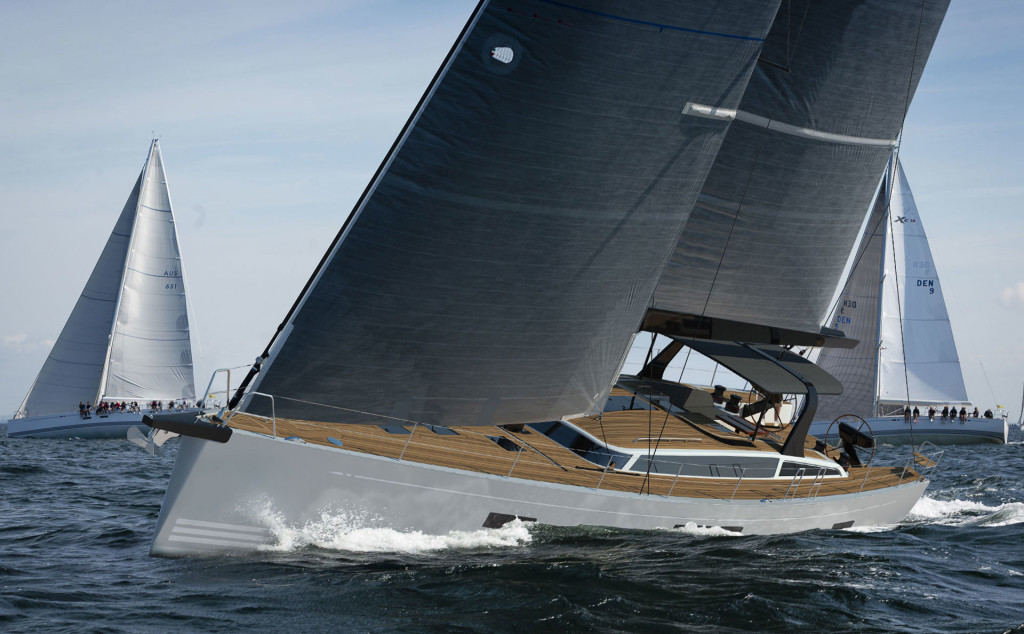 Lithium-ion battery systems
Performance, cruising ability and luxury in a modern 66ft yacht such as the X6 cannot exist these days without a performance energy system to match. This being the case Victron Energy are delighted to announce that X-Yachts have chosen a Victron Lithium-ion energy system as the optional enhancement for Hull No.1. The older technology of AGM (lead acid) is currently offered as the standard fit, but that is heavier with a lower charge acceptance rate, less cycling ability and a shorter lifespan.
For an in depth comparison of the two technologies see the blog: Batteries: Lithium-ion vs AGM
This all adds up to a growing list of prestigious yacht designers and builders who have chosen such Victron Energy systems. In fact in the coming weeks we also have another high-end yacht company to add to the list, besides Morris Yachts and TAG Yachts who have already fitted such systems.
X6 equipment specification
The chosen products for the X6 optional energy system include:
Why choose Victron?
In writing this blog I was curious to know why X-Yachts chose Victron Energy components, so I asked them. Here is what John Morsing who takes care of all their technical and electrical installations had to say:
"We chose Victron 's system because they were able to deliver a complete system where the individual components are all from one supplier. Moreover, in being our primary supplier of these components, we have historically had good cooperation, service and support, both locally and globally from Victron Energy."
Interestingly these are almost the exact same reasons I chose Victron for my private conversion to electric propulsion and a lithium-ion system on my own 26ft sailing sailing yacht. It would appear I'm in good company!
Conclusion
It seems barely a day goes by now where I don't hear of some company or individual choosing a lithium-ion system over older lead acid technology energy systems. Large, small, leisure or commercial it seems Lithium systems have come of age in the marine world.
Credits
Thanks to X-Yachts for the information and images used in this blog.
Thanks also to Niels Kaarill for making me aware of this project. Niels is Victron Energy's area sales manager for Scandinavia.
Links
Learn more about X-Yachts: https://www.x-yachts.com/en/
John Rushworth