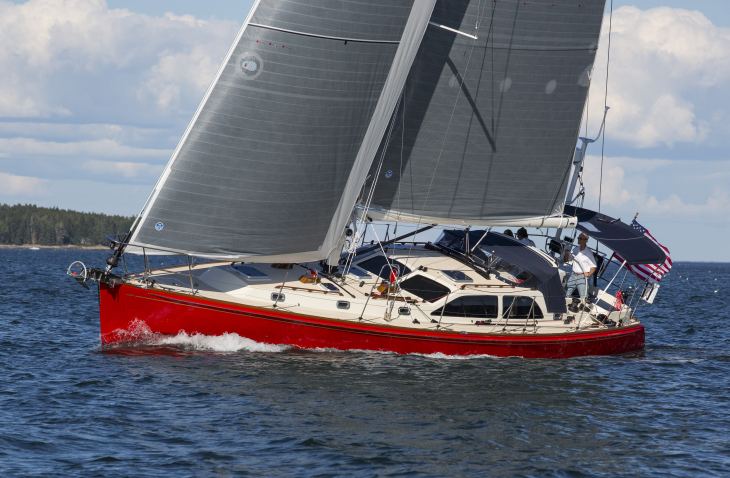 Victron Energy systems are at the heart of this stunning yacht pictured above. She is a hand crafted, built to order, Morris Yachts Ocean Series 48GT and we're delighted that SAIL Magazine awarded her the 2015 Best Boat award, for her innovative electrical system design.
The 48 GT is an evolved Chuck Paine design, finessed by Morris Yachts. In fact my own (small) yacht is a Chuck Paine design too (based on the Frances 26) and is in part where it all started. Subsequently and for more than 40 years, Morris Yachts have continued to build sailboats by hand, one at a time, using Maine's finest craftsmen. Started by Tom Morris, and now continued by his son Cuyler, the family's boatbuilding tradition upholds the same values now as it did then: "Every boat should be stunning, deliver supreme performance, and be crafted with the type of quality, precision, and attention to detail that will turn heads wherever she goes."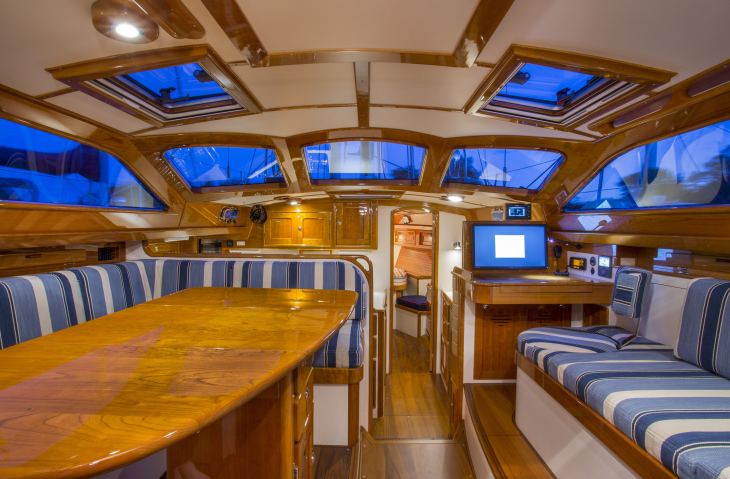 Hopefully the photograph above conveys that ethos, but as we go below the hood as it were – What furthermore makes her so special, in terms of her award winning electrical systems?
The DC or Hybrid concept
Victron Energy was founded in 1975 by Reinout Vader and like Morris Yachts a son (Matthijs) continues the family business. If we were to include C. W. Paine Yacht Design Inc, these three businesses have a combined experience of over 120 years. It's that experience and pedigree that leads to innovation, ever improving and award winning design.
In 2011 Reinout Vader wrote a small book called Energy Unlimited: Electricity on Board (And other off-grid applications). In this book (which is still available as a free download) Reinout details the benefits of the DC or Hybrid concept, which Morris use to good effect on their 48 GT.
Here in Morris Yachts own words is a simple explanation of what in their view makes the DC concept so good. "You won't need to worry about "charging your batteries" anymore. It's all automatic. And the batteries charge faster than conventional batteries so you won't have to listen to your generator run in that peaceful anchorage any longer than necessary.
We came up with this outside the box solution by working directly with the owner as well as Victron Energy and Fischer Panda to design an electrical system that, unlike most conventional cruising boat systems, is 100% DC based. This means the boat has an extremely powerful battery bank and charge sources that use inverted DC power to run all AC loads on board.
This elegant system incorporates a light yet durable 600 amp hour lithium battery bank, two 3,000 watt inverters, and multiple charge sources that are able to run all AC loads from the batteries.
In order to keep the heart of this system charged—the lithium batteries—we installed a 5,000 watt Fischer Panda DC generator as the primary charge source. That means this generator doesn't produce power to run the AC loads in the boat. It's sole job is to charge the batteries that offer up to 275 amps of charge. The shore power does not directly run any AC equipment beyond battery chargers.
A DC generator is much more efficient than a standard AC generator because it only runs when charge is needed, not whenever AC electrical loads are running. It's also designed to start and stop automatically when the system senses charge is needed. There is no need for the owner to worry about when to start and stop the generator.
The main engine has a 160 amp high output alternator that will charge when the boat is motoring. The charge sources are rounded out with 3 shore power battery chargers available when the boat is plugged in at the dock. Each charger offers 100 amps of charge that can all be run at once if need be."
Additional benefits of the DC concept
Reduced, faster charging times with longer cycle life when using Lithium batteries, when compared to lead acid
Lighter weight system components using Lithium batteries and a DC generator
Reduction in shore power rating
From four to ten times less shore power needed with a commensurate reduction in shore power outlet rating
Reduced shore power outlet ratings are more common than high output ratings
Built-in clean, stable and no-break AC power
Whatever goes wrong with shore power, the batteries and inverters are there to guarantee uninterrupted power
Built-in frequency and voltage conversion: Battery chargers will operate on a 50 Hz and on a 60 Hz supply. With a wide input range (90 V to 260 V AC) the battery chargers can connect to shore power anywhere in the world, without the need for an expensive and cumbersome shore power converter
System Design & Components
Owner brief: Design a 12V system that is "world proof", providing 120VAC on board anywhere in the world.
Components used:
3 x Centaur 12/100 Chargers
2 x Phoenix 12/3000 120V inverter ( parallel)
3 x Lithium -ion 12.8V/200 Ah
1 x BMV-700
1 x Color Control GX (CCGX)
VE.Bus BMS (Battery Management System and protection)
2 x Cyrix-Li-load/charge 12/24-120 A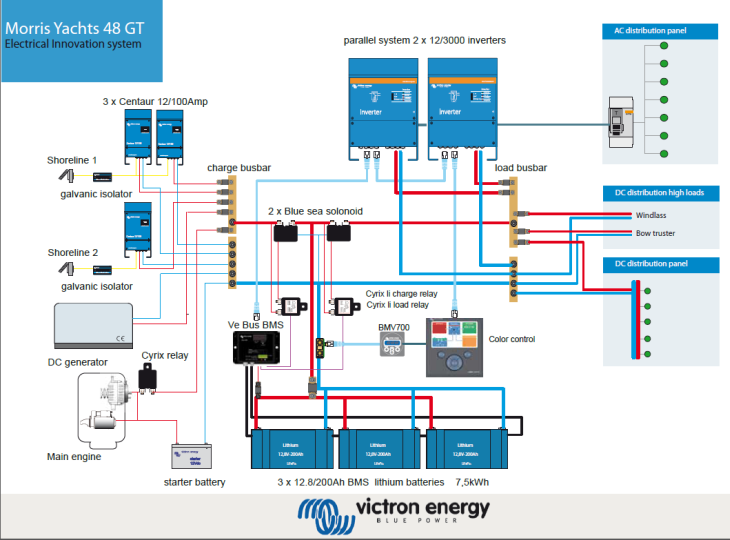 Photographs of some of the system components aboard the 48 GT:
Victron Centaur battery chargers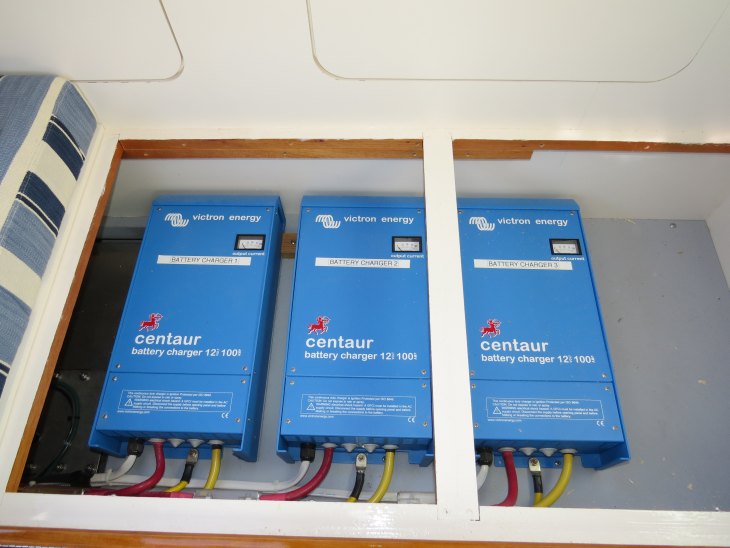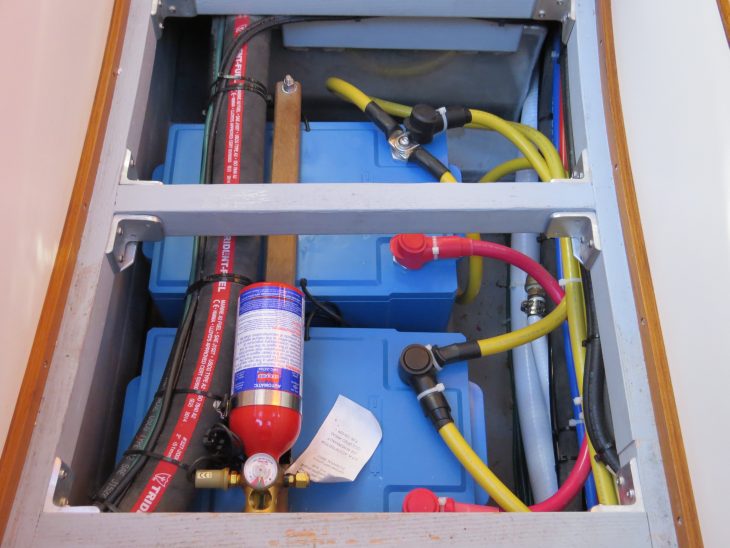 N.B. The photograph below was taken pre battery sync and a Color Control GX (CCGX) software upgrade. To keep abreast of software upgrades and enhanced features see the 'Firmware & Software' category of this blog:
https://www.victronenergy.com/blog/category/firmware-software/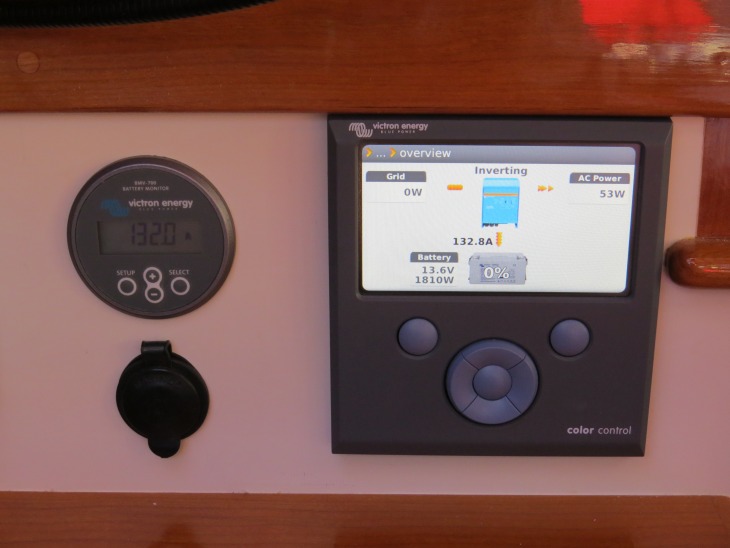 Award accolade for the DC concept
What makes winning this award even sweeter is the fact that Nigel Calder, who is considered as having literally written the marine electronics Bible, was part of the judging team.  And we couldn't have said it any better than Nigel when he says, "This is the ideal energy solution for a midsize offshore cruising boat, beautifully executed by Morris Yachts."
Credits
Many thanks to Susan James of Morris Yachts for the images used in this blog. We wish Morris Yachts and the lucky owner of this innovative Ocean Series 48GT yacht every success. Grande Touring never looked so good.