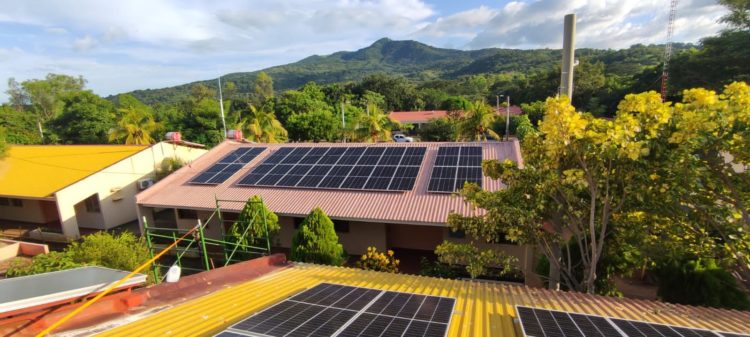 The San Jacinto-Tizate Geothermal Power Plant, in Nicaragua, which has a production capacity of 77 MW – has just installed solar energy for its own use.
Sound strange? A law in Nicaragua compels geothermal energy plants to sell all the energy they produce to the Central America Distribution Network. They then buy back the energy they need for their own use.
The power plant is owned by PENSA – one of the largest generators of renewable energy in Nicaragua, which contributes significantly to the overall energy requirements of the country. At the plant, hot water from deep underground is used to power a Two-Step Steam Regeneration Turbine.
Power grid
Buying electricity from the grid is all well and good until it fails – as they all will of course, – so the Geothermal plant has in the past used diesel generators to provide energy to their sleeping quarters, dining room, kitchen, offices, and geochemistry laboratory during blackouts.
Apart from the interruption and inconvenience of power-switchover; the noise, cost of fuel, and ongoing schedule of generator maintenance became unacceptable.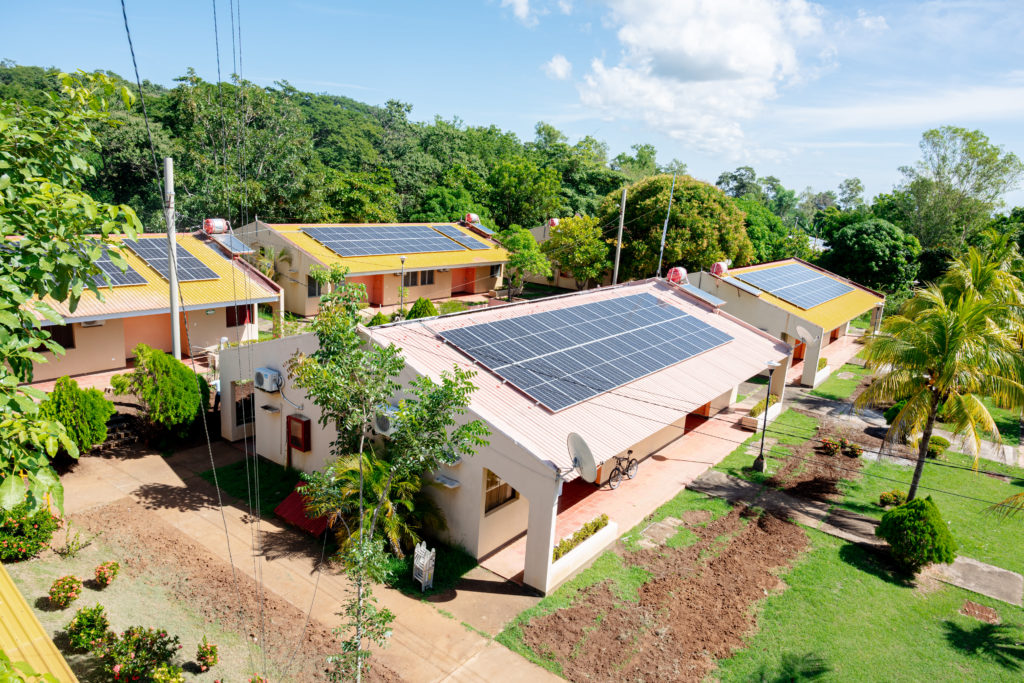 Ecami S.A.
Managua-based Ecami S.A. were invited to provide a solution to the problem. They have forty years experience in the planning, design, supply, installation and maintenance of Solar Energy Systems – and have installed 20MW of solar energy systems to date.
The plant required a photovoltaic system with an installed capacity of 72 kWp interconnected with the local network. The system must fulfill two objectives: first, it must supply the average demand during the hours of sunshine – which is 17 kW. The grid may be used to meet greater demand.
The second objective is to supply all or most of the nighttime electricity demand through a battery bank – at least 210 kWh/day on a daily basis. They required a control system which indicates when the batteries fall to 80% SoC, when they will choose to consume power from the grid.
The Solar Installation
A 72kWp photovoltaic array was installed comprising 144 TRINA Solar brand solar modules which store power into 48 Pylontech Lithium Batteries (US3000 48-volt 3.5kWh) via 6 SmartSolar MPPT RS 450V 200A Solar Charge Controllers.
6 Quattro 48/10000 Inverter/Chargers provide the power supply, together with a Cerbo GX  and a GX Touch 50 which provides system control and remote monitoring.
The client now has an uninterrupted power supply …and silence!
The space available to mount the installation was relatively small, but with advance planning, Ecami's photovoltaic designer Jose Medina was able to design a tidy and practical arrangement of the component parts.
It's worth noting that the accuracy of sensitive laboratory equipment depends on the availability of a high quality energy supply. Victron Energy's range of true sine wave inverters are available with outputs of between 500VA and 15kVA. The Phoenix, MultiPlus and Quattro range of Inverters, and Inverter/Chargers have all been proven over many years and can be configured for three-phase and parallel operation – so that their combined power offers up to 180kVA and 2400A of charging capacity.
Nicaragua currently produces more than half its electricity from renewable sources. With an abundance of sunshine and wind, and 19 volcanoes – there are opportunities for the further expansion of its Geothermal programme.