We have received this story from Vodafone Foundation and UNHCR.
In 2013, the Instant Network Schools (INS) programme was developed through a close partnership between Vodafone Foundation and UNHCR, the UN Refugee Agency, with the shared goal of providing refugees and the communities that host them expanded opportunity for accessing high quality, and innovative digital education.
The INS programme is the flagship programme of the UNHCR Connected Education team and is founded on a holistic approach to educational technology. The programme transforms existing classrooms into multimedia learning hubs, inclusive of robust teacher training, curated digital content aligned to the local curriculum, and an enabling connected-environment. It also works through relevant national line ministries, implementing partners and the local community. 
As of April 2022, the INS programme had established 84 centres in the Democratic Republic of the Congo, Egypt, Kenya, Mozambique, South Sudan, and Tanzania. With the objective, by 2025, to deploy to up to 300 schools  and reach 10,000 teachers, 510,000 students and approximately 1,500,000 indirect beneficiaries from the students, teachers, parents & community members.
In Mozambique, 15 INS centres have been deployed across 12 schools in the Nampula province benefitting approx. 57,000 students and 1,000 teachers …where the initiative is supported by the Ministério da Educação e Desenvolvimento Humano.
Access to reliable power is the key to making the most of the INS programme. Most partner schools are in remote areas where access to the grid is either unavailable, unreliable or too expensive. For that reason Vodafone Foundation and UNHCR are investing in solar infrastructure. Each school receives a solar energy system designed for their present and future power needs.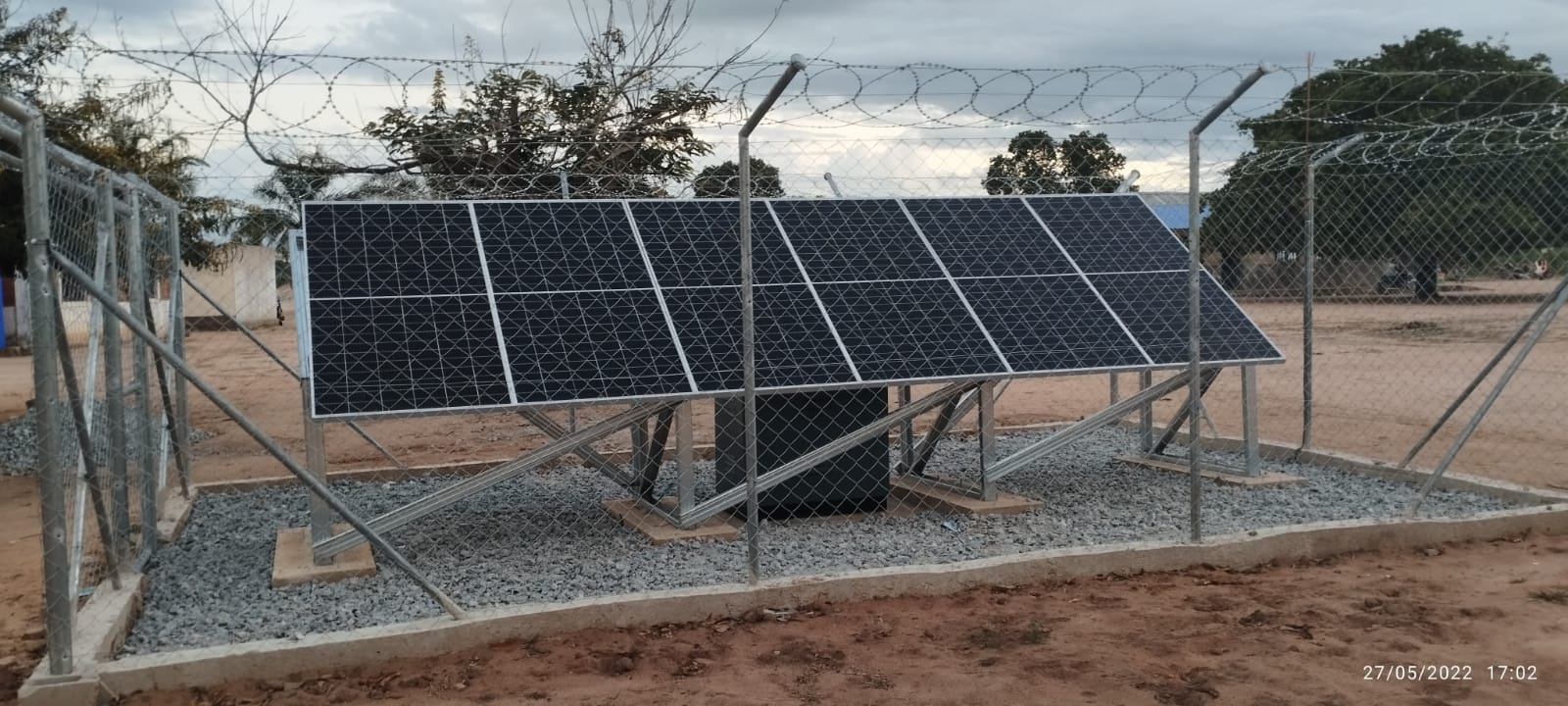 In Mozambique Logos Industrias, Lda, was chosen to design supply and instal ten PV energy systems tailoring each to the conditions on site – with regard to access, safety and meteorological conditions. Logos Industrias has almost 20 years experience in Solar Energy, and a national presence through its six branches.
In some schools, the choice was to install solar panels on the roof and interior cabinets, while in others in ground structures, with cabinets dedicated to all Victron equipment and batteries.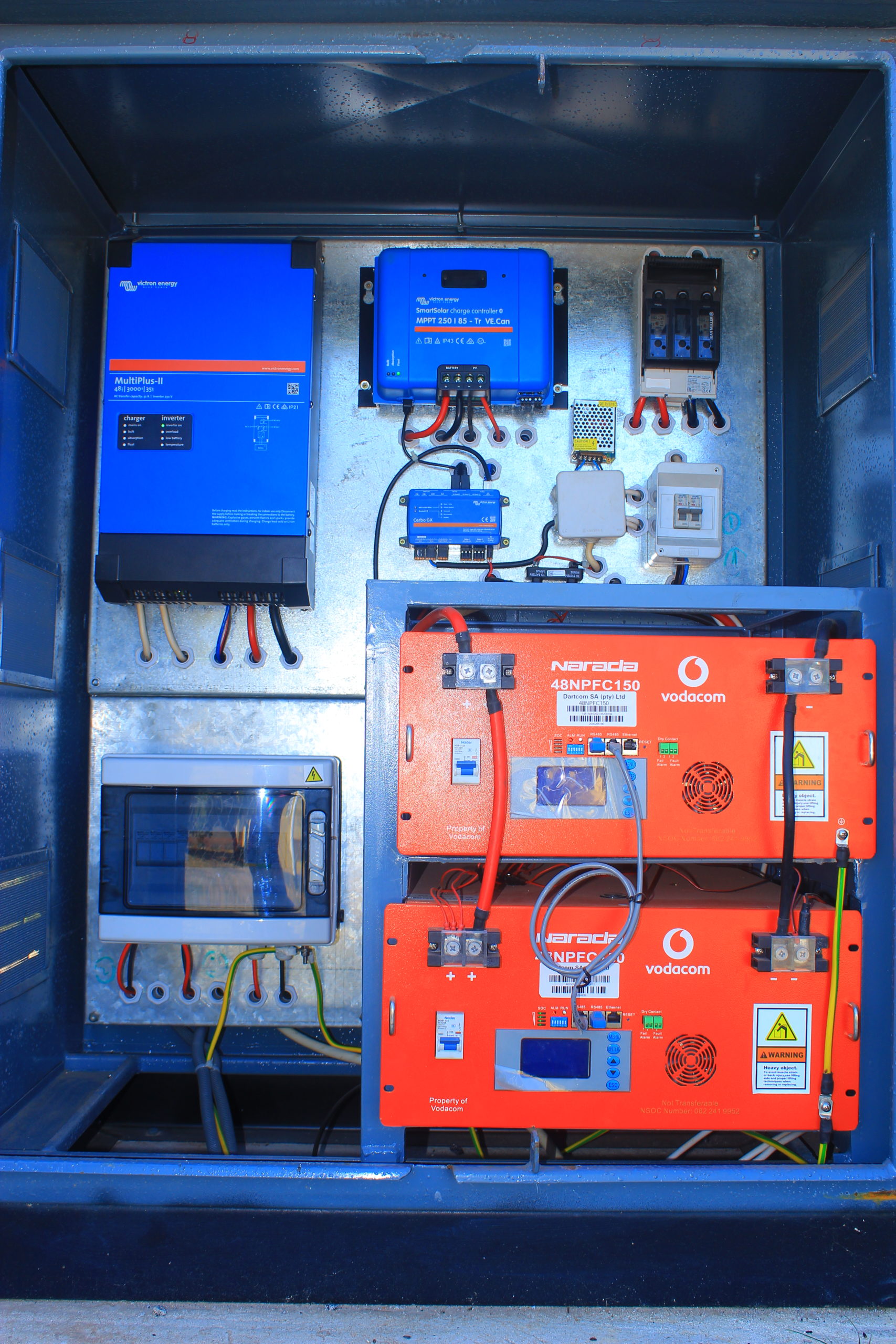 The main components typically used in these systems are:
MultiPlus II Inverter Chargers: available between 3 – 10kVA these current control Inverter/Chargers maximise self consumption and iron-out an imperfect grid supply
JA Solar 455W Solar Panels
SmartSolar MPPT Solar Chargers are used as part of a smart-comms Bluetooth installation for easy set up and monitoring. VE Can ports allow daisy-chaining of many devices, offering synchronised charging across the system.
Cerbo GX devices harmonise the whole system including third party devices, and allow remote engineering monitoring and management – ideal for remotely located installations
SmartShunt – a tidy, easily installed battery monitor which can be read on your phone
Narada LiFePO4 Lithium Batteries
By working together, this programme ensures that refugee and host community pupils will have access to a digital education and go on to achieve their full potential.

Students learn at the Instant Network School in Maratane Refugee Settlement.

The headline photo, and the one above are courtesy of Vodafone Foundation/UNHCR. UNHCR and Vodafone Foundation's Instant Network Schools programme aims to connect refugee students in a quality digital education and improve ICT literacy and digital skills. Vodafone Foundation's Instant Classroom – the equipment used for INS – is a digital 'school in a box' that can be set up in a matter of minutes. It includes 25 tablets, a laptop for the teacher, a projector, speakers, 3G modem and a library of digital educational resources and is helping shape UNHCR's Connected Education approach. The INS programme has had a significant impact within the schools in refugee contexts by ensuring that refugees, and the communities that host them, have access to accredited, quality, and relevant learning opportunities.