What seemed a dream a few years ago has become an affordable reality: construction-site equipment powered by high-performance batteries …which require only two hours of charging.
Mobile power supplier MobilHybrid recently demonstrated the savings potential of their technology, together with other advantages, during the construction of a large block of residential units built between May 2018 and June 2019 in Austria.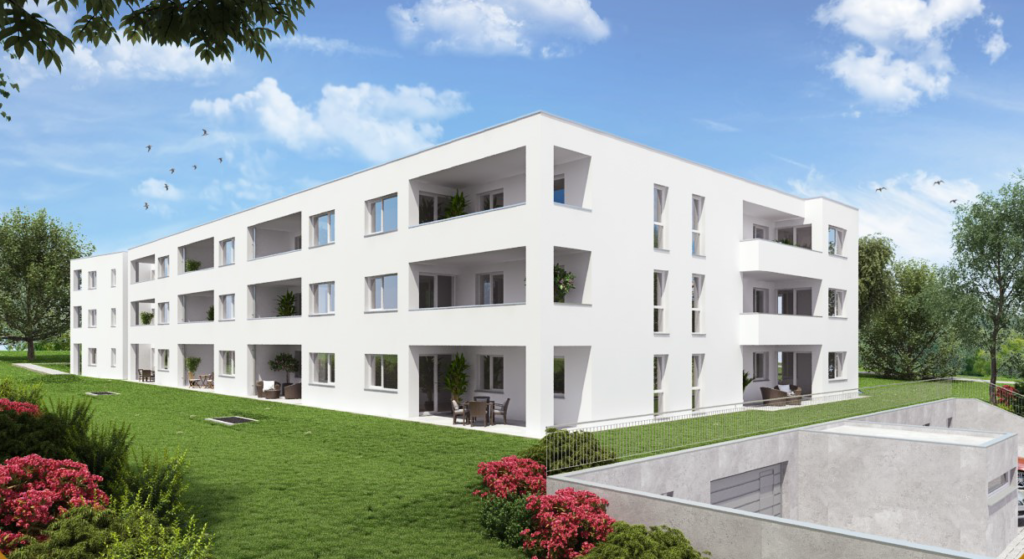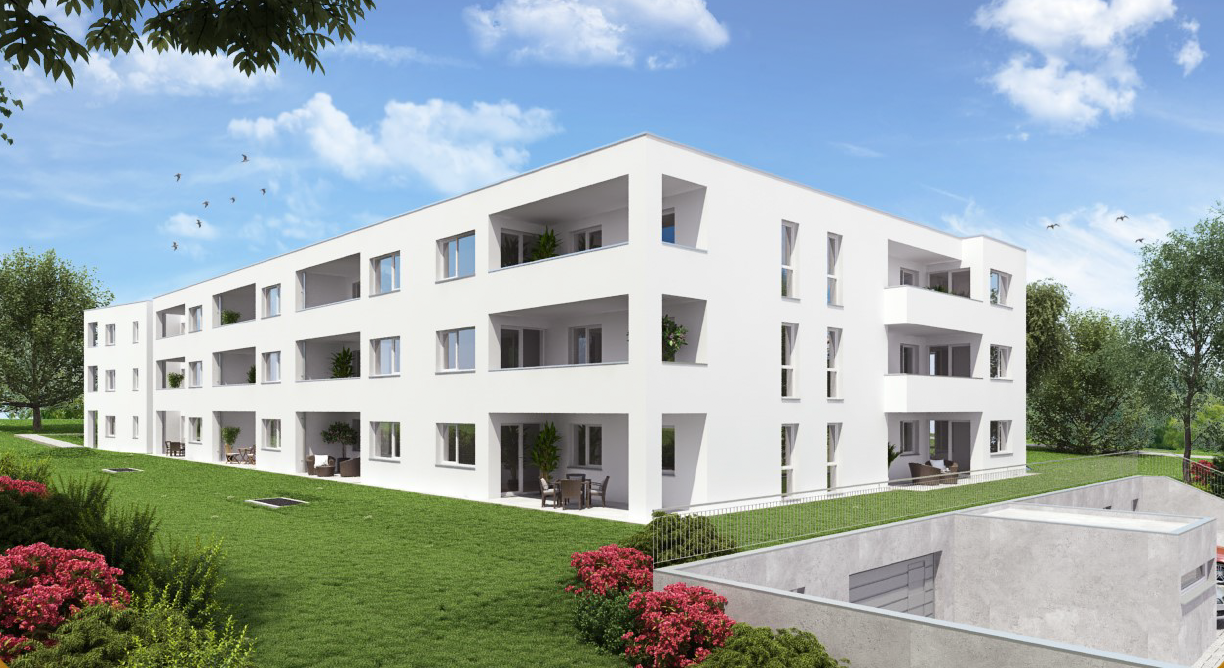 "Ultimately the increasing demands from energy suppliers with regard to load peaks and feedback – and limitations of grid power – leave us with no alternative but to use powerful diesel gensets"; says construction manager Derfler, of the Austrian construction company HITbau, who are based near Linz, and specialize in property development. If civic law limits noise and emissions it's almost impossible to use conventional construction machinery and cranes at the same time, safely.
With their innovative mobile power storage technology MobilHybrid have shown that site gensets can be shut down whenever they would otherwise be operating at partial-load. They say their solution is easier, more economical and more efficient. When the battery runs low, the intelligent electronics inside the MobilHybrid unit will start the generator automatically. The integrated high-performance batteries have the advantage of being capable of receiving a full-recharge in just two hours. The generator is then automatically switched off again and the construction site and its containers are once again supplied silently, and without emissions.
Thanks to the high overload capacity of the MobilHybrids – the MH24 offers 72kW peak power and has three Quattro 10kVA's on board – construction machines such as saws, pumps, welding machines and construction cranes with high peak-loads can also be safely supplied.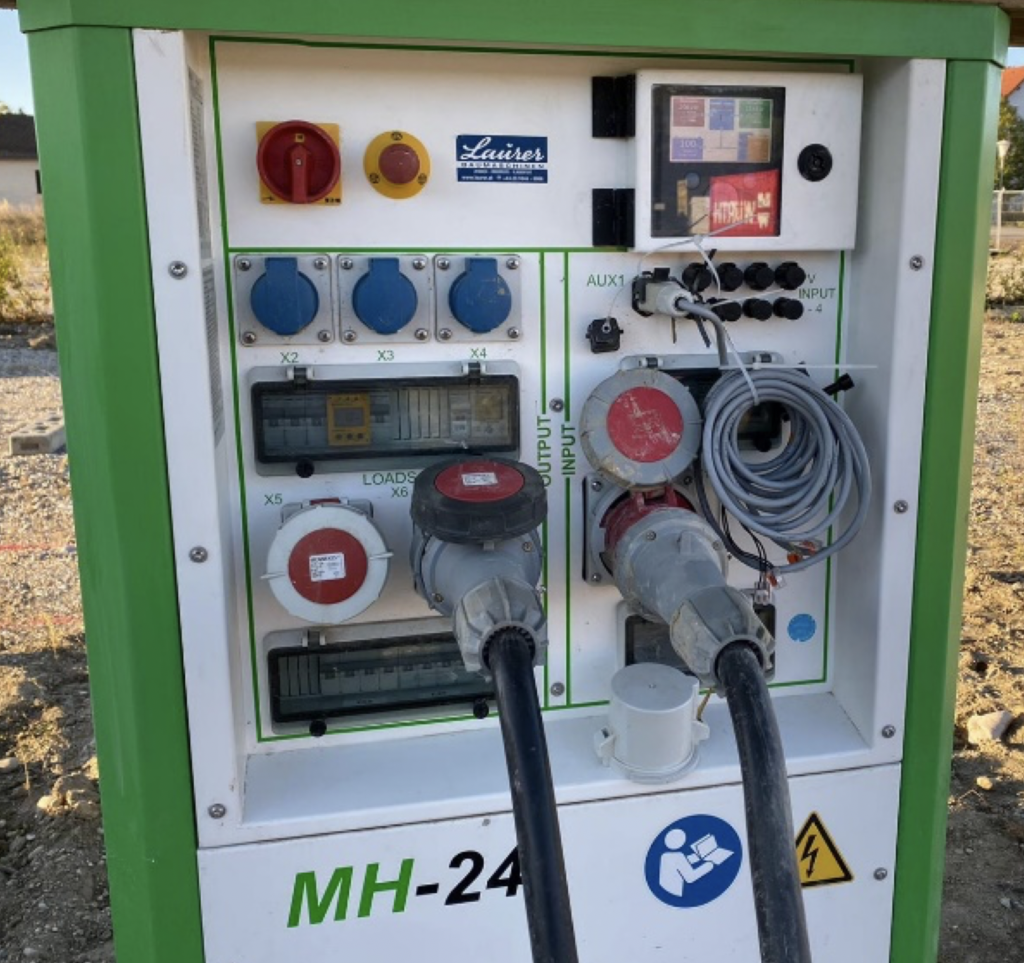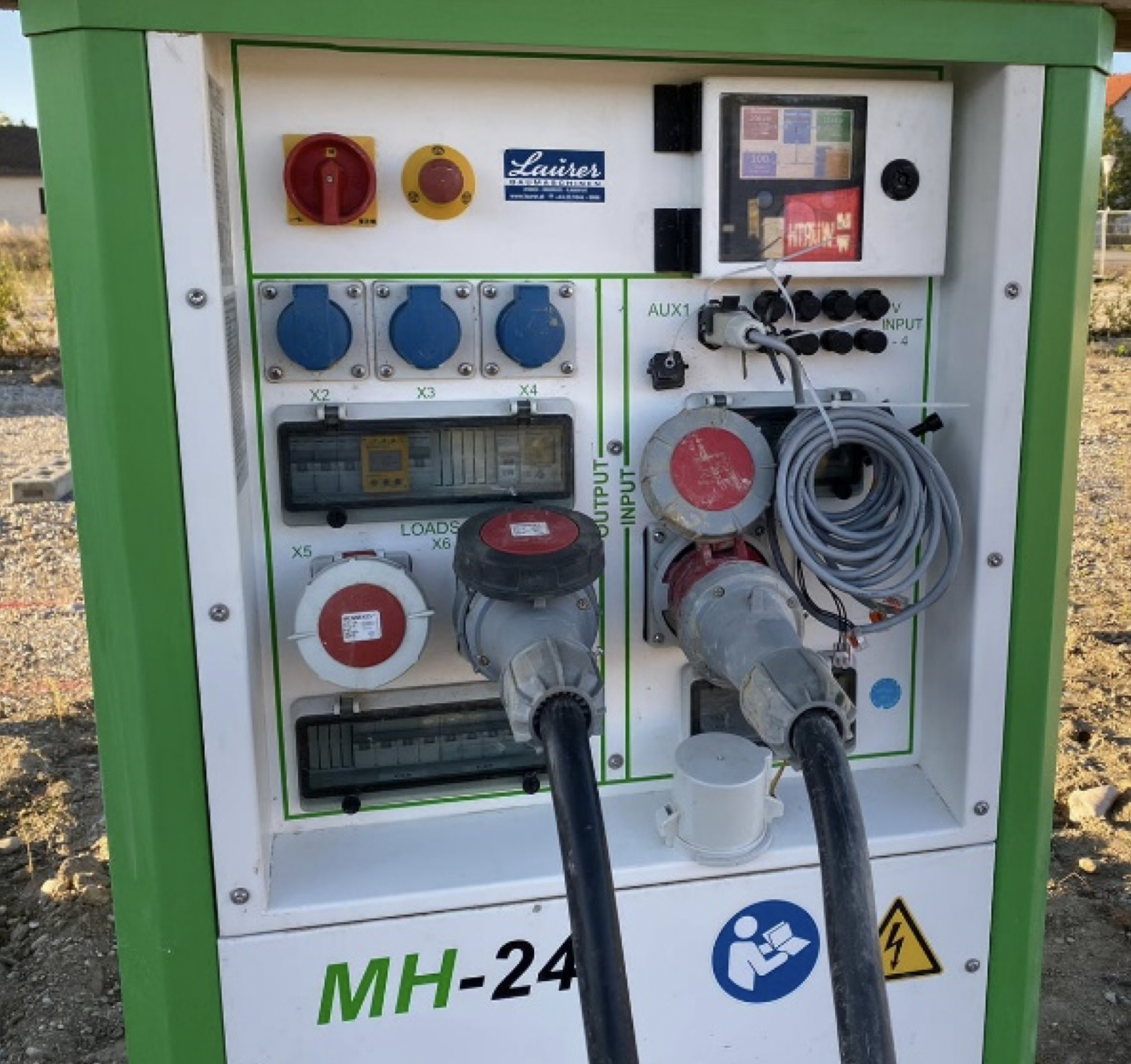 A construction site crane – the Potain Mdt 218 – has been operated using a MobilHybrid MH24 power unit for months. The best thing about it is that we were able to completely do without the diesel generator; reports the site manager.
Harald Hornbacher, MD of Laurer Baumaschinen GmbH, based in Jenbach, has successfully employed a combination of construction cranes and MobilHybrid for years. Energy providers are increasingly limiting the grid connection performance and sometimes prohibit the connection of network-critical consumers such as construction cranes; he says.
Both complement each other perfectly, since the MobilHybrid buffers peak loads of up to 125A from the battery and thus there are no critical network effects – as the construction site in Austria shows. The connected load limit is 40A, the Potain crane with 34 kW lifting motor power and 120A starting current could therefor not be supplied by mains electricity. Usually an 80-100kVA diesel generator is used. Diesel consumption is approximately 350 litres per week – and extremely inefficient.
The crane operates with very little power when swivelling or lowering building materials, but a lot of electricity is needed for a short time when lifting heavy loads. Therefore, a smaller generator cannot be used. Experience to date shows that diesel gensets in this performance class us up to 20,000 litres of diesel per year – yet operate at less than 10% efficiency, which also leads to high maintenance costs, noise and emissions.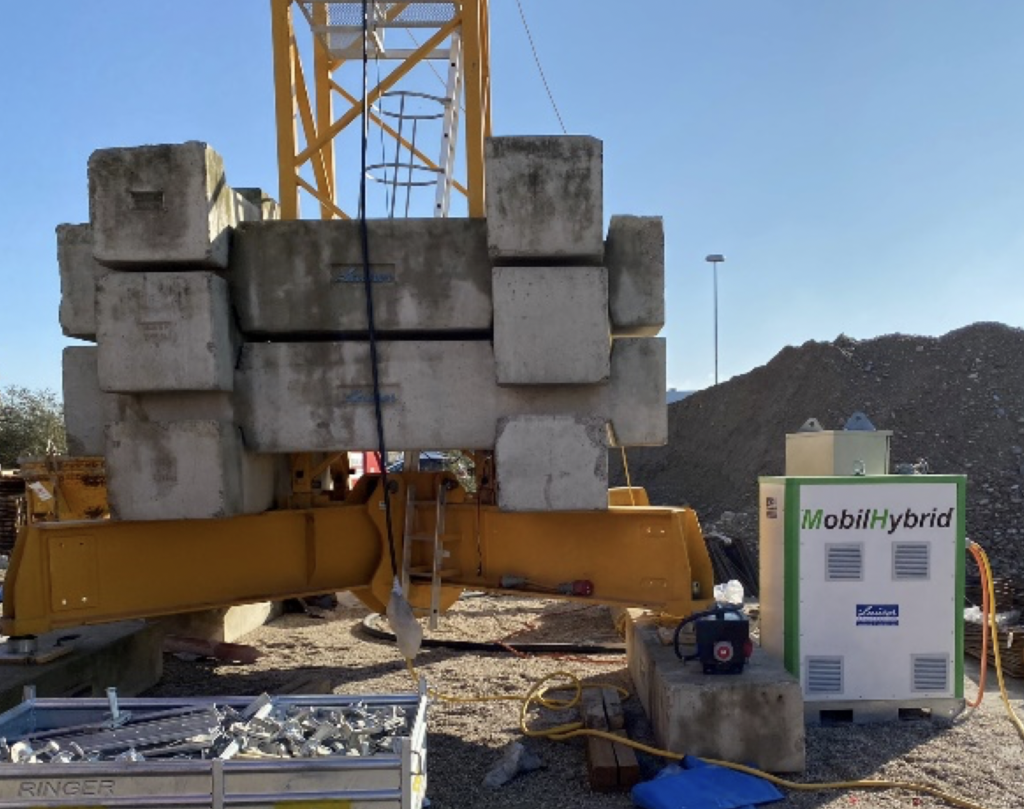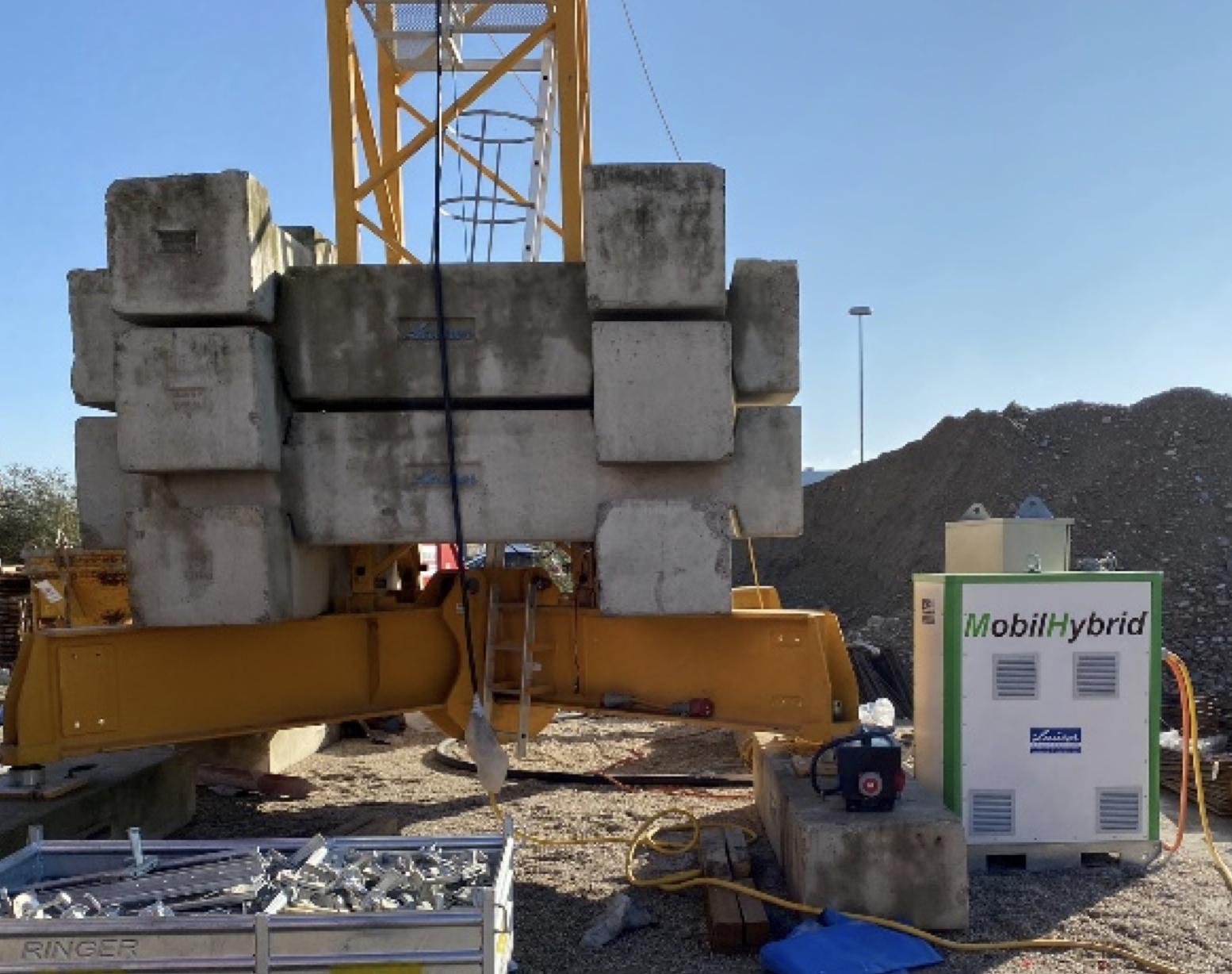 At the construction site the crane and all other electrical construction machinery, including the containers, are connected directly to the MobilHybrid – which hosts a range of outlets, with up to 125A available. The electricity grid is connected to the MobilHybrid, and a current-limit is then set inside the unit so that no more current than the approved limit is drawn. If more energy is required than the power grid can provide, the MobilHybrid supplies the additional energy from the battery. If less energy is required than the available current limit, the surplus electricity is directed toward on-board battery charging. The purchase of a mobile electricity storage system pays off within a year; says Hornbacher, who has already sold several MobilHybrid units in Austria.
The MobilHybrid scores particularly well at inner-city construction sites where strict requirements regarding noise and emissions apply. If you combine this with a mobile PV system – also available in the MobilHybrid portfolio – some of the energy can be generated in an environmentally friendly and sustainable manner.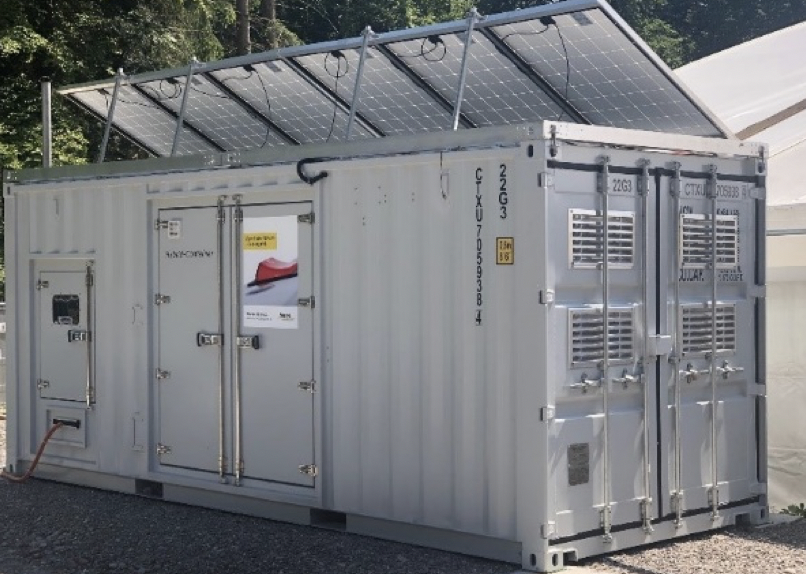 Dr. Michael Seehuber Executive Director of MobilHybrid explains: It is not necessary that the construction site be provided with three-phase power; it is possible to optionally supply the energy storage with only single-phase 220V generator or grid power. This opens up completely new possibilities for the use of powerful electrical machines with three-phase current without any generator.