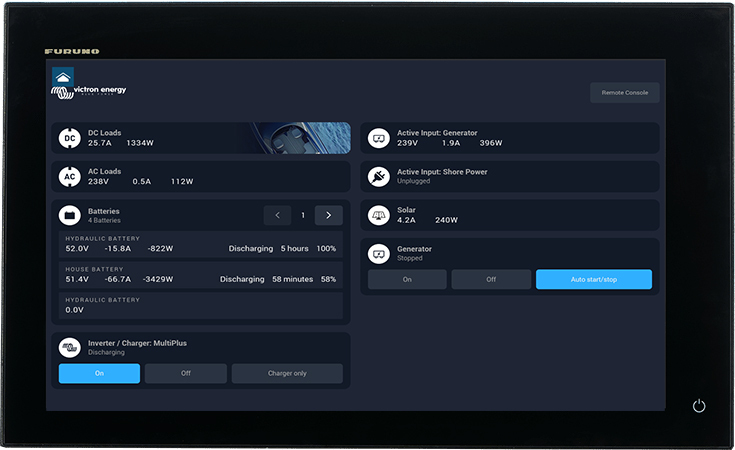 Skippers of Commercial and Leisure vessels equipped with Furuno navigation systems can now view their vessel's energy system data alongside all other maritime information.
Information regarding the vessel's generation, storage and supply of power can be viewed at a glance on the vessel's Multi-Function Display (MFD) – a presentation known as 'Glass Bridge'.
This compatibility applies to the following Furuno models:
NavNet TZtouch3 TZT12F

NavNet TZtouch3 TZT16F

NavNet TZtouch3 TZT19F

Navnet TZtouch2 TZT2BB Black box
What kind of information can be viewed?
Glass Bridge integration removes the untidy clutter of visual displays from different manufacturers all vying for the limited space on the ship's Bridge or navigation area.
Viewable data includes:
Battery State of Charge (Bat 1, Bat 2); Time to Go; AC loads / DC loads;
Generator output; shore power
Shore power disconnect

Control shore power input current limit.

Inverter/Charger control: On, Off, Charger-only.

MPPT Solar Charger power harvest
Opening the Victron Remote Console allows even deeper access and control
Connectivity
The Victron installation must include a GX device. The Furuno MFD can be connected directly to the GX device using an Ethernet cable. Data from all units within the Victron power installation – Inverter/Chargers; Batteries; Battery monitors; DC/DC converters – is gathered and controlled by the GX device and made available on the MFD.
NMEA 2000 Communication
Integration is also possible using the NMEA 2000-out port on your GX device using a VE.Can to NMEA2000 micro-C male cable. Integration by this method requires more work than will be experienced using the software application, but results in a more customisable display. More information is available here.
Which Victron Devices are compatible?
All Victron Inverter/Chargers from the 500VA device through to 3-phase configured systems providing 180kVA, including both the 230VAC and 120VAC models of Multis, and Quattros. All Victron MPPT solar chargers. Battery monitors: BMV-700 / 702 / 712 and later; Lynx Shunt VE.Can; Smart Shunt.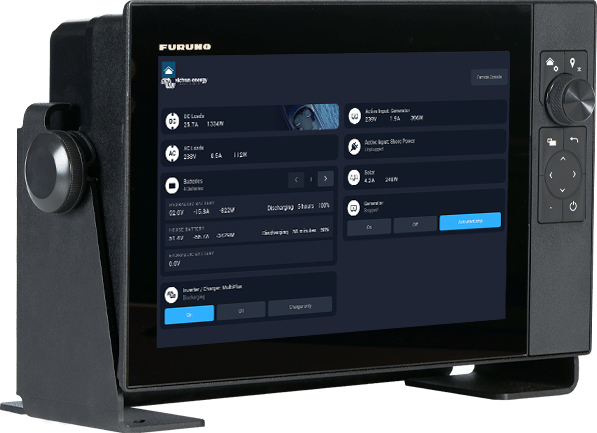 Further information
An overview of the Furono integration features can be found on our
product page
.
A full guide for integrating your Victron products into a Furuno MFD can be found
here
.