A competition we announced last month on Facebook invited users to post a video showing their system – what a great response we had! The competition announcement was viewed over 20,000 times and attracted more than 750 comments/entries!
The prize was tempting: €1000 worth of Victron Electronics – plus an hour's free consultation with a top-flight Victron Engineer. The winner was decided by Facebook users themselves – going to the video with the most 'likes'.
We've really enjoyed watching all the innovative and interesting ways in which Victron users make the most of their power set-ups. And don't worry – if you, or someone you know, didn't get a chance to enter the competition the good news is that we will be running another one soon! We'll announce the opening of the second competition on our Facebook page. The link to our page can be found at the bottom of this article.
The winning video entries – the ones which attracted most 'likes' – were as follows:
First place went to Roberto Miguélez whose time-lapse video received 1175 likes.
He was delighted to hear of his success, and said: I'm so so happy! And exhausted. I only could sleep one hour …it has been so intense! His grid-tied system comprises a Multiplus II 48 5000VA Inverter Charger; with a BMV-700 battery monitor.
A 4000Wp solar array supplies a Fronius Primo 8.2 solar inverter. Initially Roberto had decided against battery back up – but later changed his mind – which meant he had to dismantle the whole of his system and install it in a larger space. He has 8 x Lithium Battery Smart and a Battery Management System.
Roberto's whole system is controlled by the Venus OS and Home Assistant (over modbus).
I am really happy with it. Roberto says; The system is stable like a rock, saving costs are huge and my home is protected from blackouts, sabotages… I have chosen Victron for trust, versatility, integration (I love VenusOS!) and the limitless upgrade options. The biggest challenge was find large enough space in order to allow upgrade with the unlimited capabilities. I am planning to add a BlueSolar MPPT or another Multiplus II …and more solar panels.
Roberto powers his home which is all electric (heating, AC, water, home automation system, servers) and includes a Chevy Volt Electric Vehicle.

Roberto's distributor is Enervolt Power Electronics based in Mataro, Barcelona.
Kareem Magill came second with a really thorough presentation of his system aboard his catamaran Soniya which attracted 1026 likes. Kareem moved to the Philippines to begin a new life living on his boat, and makes his living by teaching kite-surfing.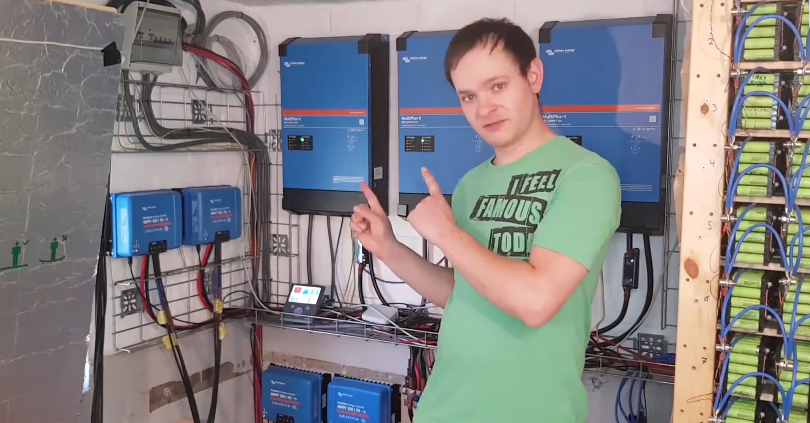 and Tim Vercammen's video achieved 418 likes. Like Roberto he uses a MultiPlus 48V 5000VA inverter but configured for 3-phase supply. He has 10kWp solar, and has installed 4 MPPT solar chargers with a view to increasing the number of panels he uses. Power harvest is stored in a home-made battery bank of 70kWh – which is still expanding. The goal is to fit 100kWh in the rack seen here on the right. The battery has a Batrium BMS that communicates with Victron over CAN bus.
We wanted to mention a few of the other entries – we only wish there was room to mention them all.
Roli Reutimann, from LEAB, drew our attention to a 3 phase Passenger Boat installation. In order to take care of 'Peak' demand the vessel's owners had found it necessary to install and run two 27kVA generators – in spite of the fact that normal demand was around 8kVA. Roli was able to demonstrate that 3 x 24V Quattros can be configured for three-phase supply; the 8kVA models chosen are each capable of 16kVA Peak. The customer has installed two systems, guaranteeing an uninterrupted supply.
Simon Ljungberg has got a great setup in his 1971 Volkswagon T2.
Woody Feffer owns a forty-foot Gulf Stream Tour Mater of 1996 vintage. Excellent Design allows him to pack a lot of system into a small space.
Thanks to everyone for taking part and for all the effort which has created some truly great videos. Please follow our Facebook page for the next competition start date – we look forward to seeing some more great installations from all around the world. Keep them coming!