Joe Baravi is the sales manager for Solar Fiji. His van is equipped with a fridge, coffee maker, rice cooker and microwave – in short a mobile kitchen, powered by the Fijian sun. He's been driving his kitchen around the islands' village communities to demonstrate what's possible with solar energy; making breakfast, lunch and tea …chatting to people, and giving iced-cream to the children.
He says he's spreading the word because not many people realise the possibilities of solar power generation – or if they've had experience of it in the past they've been disappointed. So he wants to change that perception by demonstrating professionally installed equipment in action.
Solar Energy is the ideal solution in paradise. It solves your problems silently, without harm to the local environment; and it's free-to-use. But what problems could there possibly be when you live on a Paradise Island?
Well, a typical shopping trip into town from the outlying areas might take an hour or two by bus …followed by another hour-or-two bus-journey home – so getting the groceries may cost a whole day. In temperatures which constantly hover around 25°C fresh produce quickly deteriorates – so even by the time you get home another shopping trip looks imminent. Refrigeration extends the life of a lot of perishable goods, reduces waste, and saves time and money – so there's a great economy in owning a solar fridge.
Joe's van is equipped with the luxury appliances people want for their home: a kettle, a deep freeze, a toaster, an electric frying pan; iced-cream maker, and milk shaker. Whilst the kettle's on, he takes time to demonstrate the power consumption, solar harvest, and storage – all of which can be seen at-a-glance on the display of the Color Control GX.
The van installation comprises:
6 x 85W Solar Module Poly Flexible Panel – for the van's roof.
The van is a sociable way of allowing Joe to show-off the installation – and demonstrate the type and size of domestic appliances it can run. He makes coffee for visitors; he cooks and shares traditional rice dishes with enquirers. As he works and crowds gather, an ideal opportunity arises to discuss how the sun which blankets the islands in tropical warmth can also help the islanders stay cool.
At the moment the van includes Joe's accommodation – together with domestic lighting and charging points. But later plans include refitting the van into a mobile cinema as a fun way of demonstrating that all kinds of mobile businesses can be run when you have remote energy.
Remote power is being installed everywhere in Fiji. Joe says that villagers are straightforward and once they decide to install a solar system after having seen it demonstrated, they stick with their decision. A typical installation consists of 2 panels and an 800W MultiPlus Inverter/Charger. And when neighbours see how well it works, they want one too.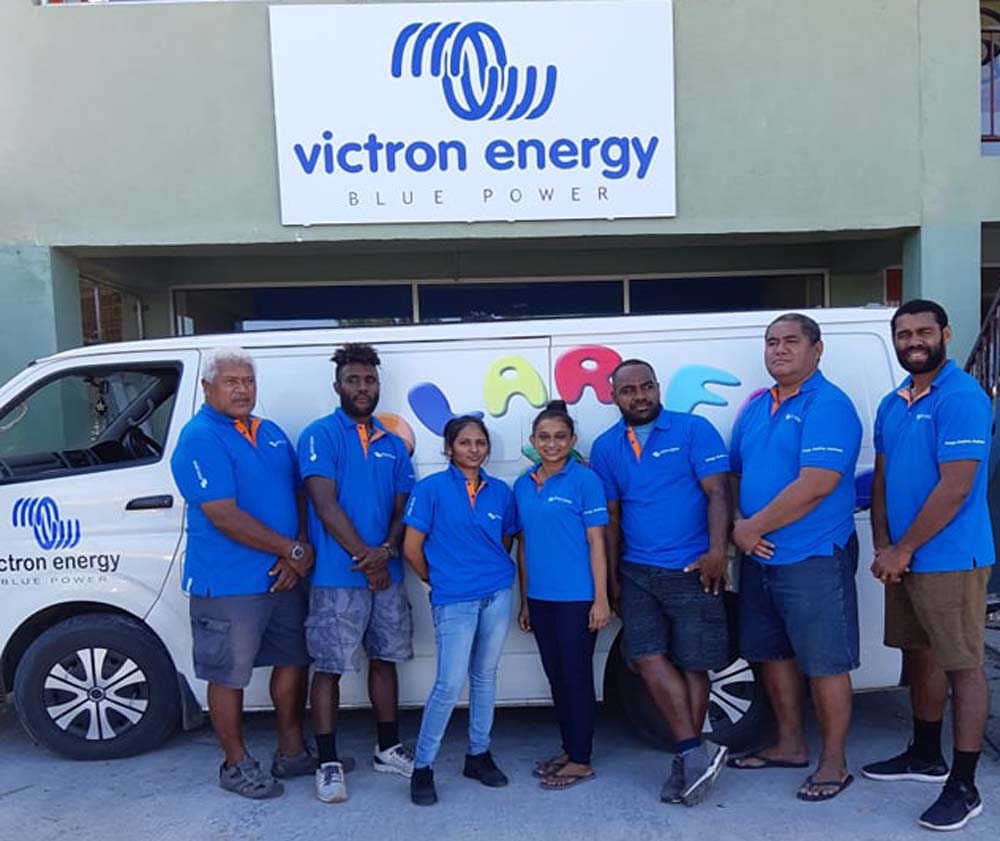 The team outside their Suva HQ: Joe Baravi (Sales Manager), Pita Tamani (Head Solar Technician), Ashna Bandana (Electrical Engineering Intern), Ayshna Lal (Business Manager), Paula Tukana (Solar Technician), William Fuata (Sale Rep), Peniami Vuadreu (Sales Engineer)