The Kibuluge General Hospital in the Shabunda territory of the Democratic Republic of Congo is so remote that it's difficult to get to it by road. When you depend on a diesel generator for operational power, just obtaining fuel can be a headache.

In the past the hospital, which is run by Medicins sans Frontière Espagne, has struggled to provide its patients with 24 hour care. But that has all changed thanks to solar power and Lithium storage.

The installation was designed and completed by Victron Dealer GoShop – a long established electro-mechanical engineering company operating in the DRC which specializes in solar-based power installations – and who are helping to establish the Congolese infrastructure by way of Mini-grids, and irrigation pumps for agriculture …to name but two applications.

Local knowledge is essential – Shabunda lies in an extremely remote part of the DRC, where working with partners is essential.

Engineers and equipment were flown in by NGO partners.

GoShop believe it's important that the equipment that they install is reliable, has a long service life, requires few maintenance call-outs …and it helps a lot that it can be managed remotely – using Victron's Remote Management platform VRM.

Power from the hospital's 32kWp solar array is harvested by five MPPT 250/100 which charge seven lithium batteries providing 13.8kWh of storage. A Quattro 15000 VA provides power to the hospital and charges the batteries, when necessary, from two standby generators: an SDMO 9kVA and 6kVA. Victron Inverter/Chargers work seamlessly with a large range of power plant.

The hospital, which has its own operating theatre, now benefits from an uninterrupted power supply.

The generators are programmed to start automatically in the case of voltage drop or low battery state of charge – and can also be started remotely via the ColorControl GX – which lies at the heart of the system, harmonising power harvest, storage and demand. It also offers at-a-glance status information, and is the communication unit which provides remote management and uploads data-logging information to the Victron Remote Management platform.
An unusual feature of installations in the DRC is that they are routinely surge protected against lightening strikes. It is a fact not often reported that at 70 lightening strikes/km²/year, DRC experiences more electrical storms than anywhere else in the world except Lake Maracaibo in Venezuela – with which it is about equal. Tragically, in 1998 all eleven members of a football team were killed when lightening struck the field during a game. The danger posed, and damage done by electrical storms is an ever-present fact-of-life in the DRC.
Lightening conductors are also routinely fitted. A Citel DC surge arrester has been installed for each of the 4 regulators and two Prevectron S60 lightning conductors from Indelec. These surge protecters play an important rôle in protecting the installation when spare parts are expensive and hard to obtain.
Surge protection is less common elsewhere in the world. In other countries solar arrays and framing may be left 'un-grounded'; lightning is less common, and off-grid systems are not connected to long cables (which can receive an induced voltage impulse from a nearby strike).
In a second large-scale and recently completed installation by GoShop, in partnership with Equatorial Power, the radiology department of another hospital – the Bugarula General – has benefited from a transformative mini-grid installation on the Island of Idjwi – the second largest lake island in Africa.
Electricity has never been present on the island, severely limiting the islanders' ability to engage in commercial activity – in spite of the fact that it has an estimated population of around 300,000 inhabitants. Notwithstanding the difficulties of access, GoShop and Equatorial Power have built a 20kVA installation serving over 300 households in just eight weeks.
The plant became operational in January. It too is registered on the VRM portal, highlighting the value of remote monitoring and management in areas where engineer call-outs are impractical and would result in great inconvenience for Pay As You Go (Paygo) clients. 16 BYD lithium batteries provide a total storage of 40 kWh, the installation is protected by surge arresters and lightening conductors; and has a 50 kVA Teksan Generator programmed to start automatically in the event of a low battery voltage should there be an extended period of bad weather.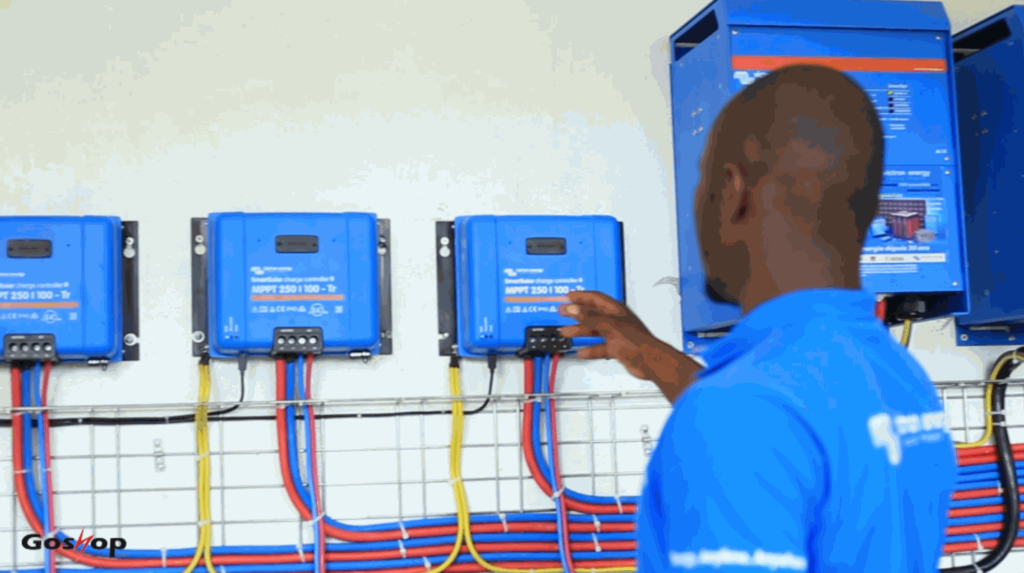 Households account for more than 50% of the customers of this mini grid – the rest being made up from small businesses – such as hairdressing salons, offices, shops, refreshment stalls as well as medium-sized enterprises such as the hotel and those offering temporary accommodation.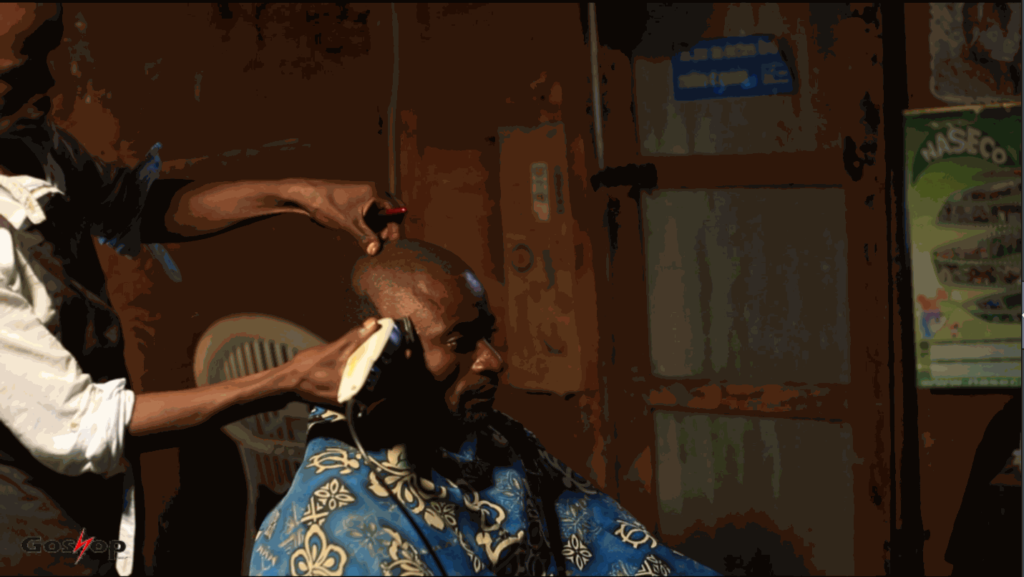 Equatorial Power will remain in charge of the project's future maintenance of the plant, as well as taking on the job of marketing the benefits of a reliable source of electricity to future clients.
GoShop foresees growth opportunities having demonstrated the viability of building infrastructure projects as demonstrated in this pilot scheme – which has been greatly admired.