Remote in the Northern Alps at 800 metres there's a hotel and bunkhouse providing itself with silent 3-phase energy. The owner is an electrical engineer and knew exactly what she wanted to achieve when she got in touch with energy specialist and installer  Elektro-Mechanik Meisl.
Built in 1973, the hotel which includes a former cow-shed has just been converted almost entirely by its owners to a luxurious 30 bed apartment hotel popular with kick-back-and-relax tourists and companies who wish to provide training breaks …who can also take advantage of the built-in seminar room for its meetings. In the summer the hotel has a bunkhouse which is busy with trail cyclists.
Self-build runs in the family – the cow shed was built by the great-grandfather – more-recent excavation was completed by the grandfather, and the hotel owners acted as their own architect and builders – he is a plumber …and they knew at the outset that they wanted to run their hotel as far as possible on renewable energy. They have succeeded with their ambition rather well, we hear: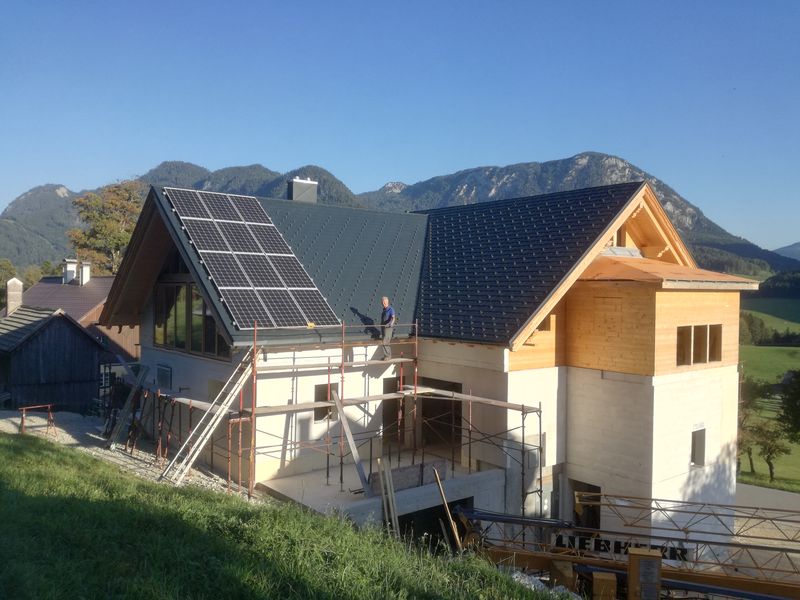 The owners say: We wanted a storage system that provides a full 3-phase emergency power supply – we are in a mountainous region and power failures are common. Further it  was crucial that it could be easily integrated into our custom energy management concept. Therefore ENERFLEX was actually the only possible solution we found. And we were not disappointed.
ENERFLEX is an energy storage system developed by Meisl which offers a broad range of solutions according to customer requirements. Grid-parallel configuration allows customers to maximise their self-consumption with zero feed-in. Power from Photovoltaic panels is sent directly to the battery bank, or diverted for use in real-time according to demand. The system also allows for an uninterrupted power supply. Enerflex is factory-built, resulting in fast installations which look really smart.
The Energy Storage System (ESS) installed in the Alpine hotel is capable of providing 3-phase electricity to run their commercial-grade cookers and boilers.  A private energy system was required because of the frequent power outages which – owing to their remote location – can be of long duration. Even on get-away-from-it-all breaks, guest expect continuity of service.
The result of all this planning is that the accommodation block is achieving 80% self-sufficiency. In addition to powering normal loads there is a ventilation system; 5000 litre hot water tank; space heating; and a 11kW wall box to charge an Electric Vehicle.
Victron energy design their products to work seamlessly with in-house as well as third-party components. The Color Control GX frequently lies at the heart of these systems – harmonizing the differing technologies, and allowing the whole installation to be remotely managed and monitored via the Victron Remote Management VRM platform – which is free to use.
Let's take a closer look at the system Meisl have installed – it comprises:
21.6 Kwh 48V Murata Storage
1 CCGX
17.11 kWp PV Modules
2 Fronius PV inverter
1 Smart1 controller
Bob Hopman, Victron area sales manager for Germany says: In general the German market for home storage systems is growing faster each year – and with the new MultiPlus-II range which has all the certificates needed (VDE-AR-N 4105) now available in 3kVA & 5kVA the system calculations are very flexible.
A hoteliers' ability or failure to be able to provide guests with high levels of comfort will make or break their business. In the Alps there's no shortage of wood and the hoteliers take advantage of that as part of their vision for sustainability by burning wood for space heating. It's important to keep your guests cosy at an elevation of 800 metres, in the Alps, in the winter.