Mlinda is an initiative which supports marginalised communities living in rural India to achieve sustainable village economies.
They do this by installing solar mini-grids for industry; by assisting local entrepreneurs to purchase modern efficient electric machinery; and by encouraging a diversity of business-types – so that communities have a broad spectrum of employment opportunities, and work is not seasonal.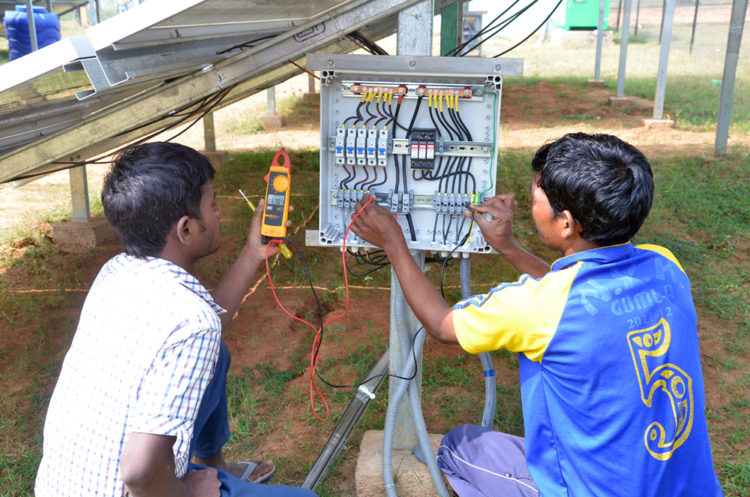 In 2016, Mlinda began their Rural Electrification Project. To date they have installed 31 mini grids, each of 20-30 kWp, in the Gumla district of Jharkhand.
Mlinda's model for mini grid installation and support to the communities is anchored in close ties with villagers, and deep understanding of their energy needs. Engineers and local operators stay in the villages and work with the communities. Consumers pay an upfront connection fee and then pay for energy usage through pre-paid meters. The mini grid is designed to cater for 80% productive and 20% domestic loads. Mlinda grows demand responsibly, ensuring it is based on low energy devices. They also provide loans to farmers to finance energy efficient devices to accelerate uptake.
Reliable power allows agricultural based-economies to irrigate crops; hull grain; express vegetable oil; refrigerated storage of crops; in addition to support industries – such as metal fabrication; mechanical repair; and banking. Power allows for the introduction of businesses like chicken rearing – creating a demand for grain on the farmer's doorstep. The programme encourages the spawning of lots of 'small' electricity users, rather than one or two big ones – this ensures that every member of the community gets a chance to develop their potential by having access to electricity in spite of the fact that they may use very little.
At home, electricity allows domestic chores to be performed more quickly, and (usually) women can choose to take on independent work opportunities beside caring for their families. Children's education benefits, too, because reliable domestic lighting enables them to study at home, after dark.
A private school and a health centre have been connected to Mlinda mini grids.
The Mlinda initiative is intensely ambitious and plans to achieve 50 mini grids by the end of next year, serving 5,000 families and businesses.  In order to reach this target they have to create the tools and manuals, and invest in staff-training programmes which will allow the replication of what has been achieved so far, on an increasing scale. From there they hope that by 2023: 125 villages will be powered; 250 villages by 2025; and through training of other organisations, 1000 villages soon after.
The headline is owned by: © Flickr/La Citta Vita