UPDATE: v5.10 and v5.11 were released shortly after. See changelog for details.
Good day!
This release includes Solar Charger firmware v1.42, a major improvement. Also, VictronConnect no longer enforces firmware updates, it now warns when bluetooth is still configured with the default PIN code, plus it contains the latest VE.Bus firmware files and many more improvements.
Before I start explaining the details, a fun fact: we're closing in on the 100k active users on Android, only 646 more to go. (!)
New Solar Charger settings and firmware
VictronConnect now ships with the last available Solar Charger firmware: v1.42 / v1.43 for all BlueSolar- and SmartSolar models, and v1.02 for the SmartSolar VE.Can models.
These updates contain improvements in the battery charge algorithm, fixes for the 30 day history recording as well as adds new installer configurable settings. We have put those settings behind an 'Expert mode' switch. This keeps the normal interface clean, as well as emphasises that changing them shouldn't be done lightly.
This screenshot shows all the settings now available, with Expert mode enabled: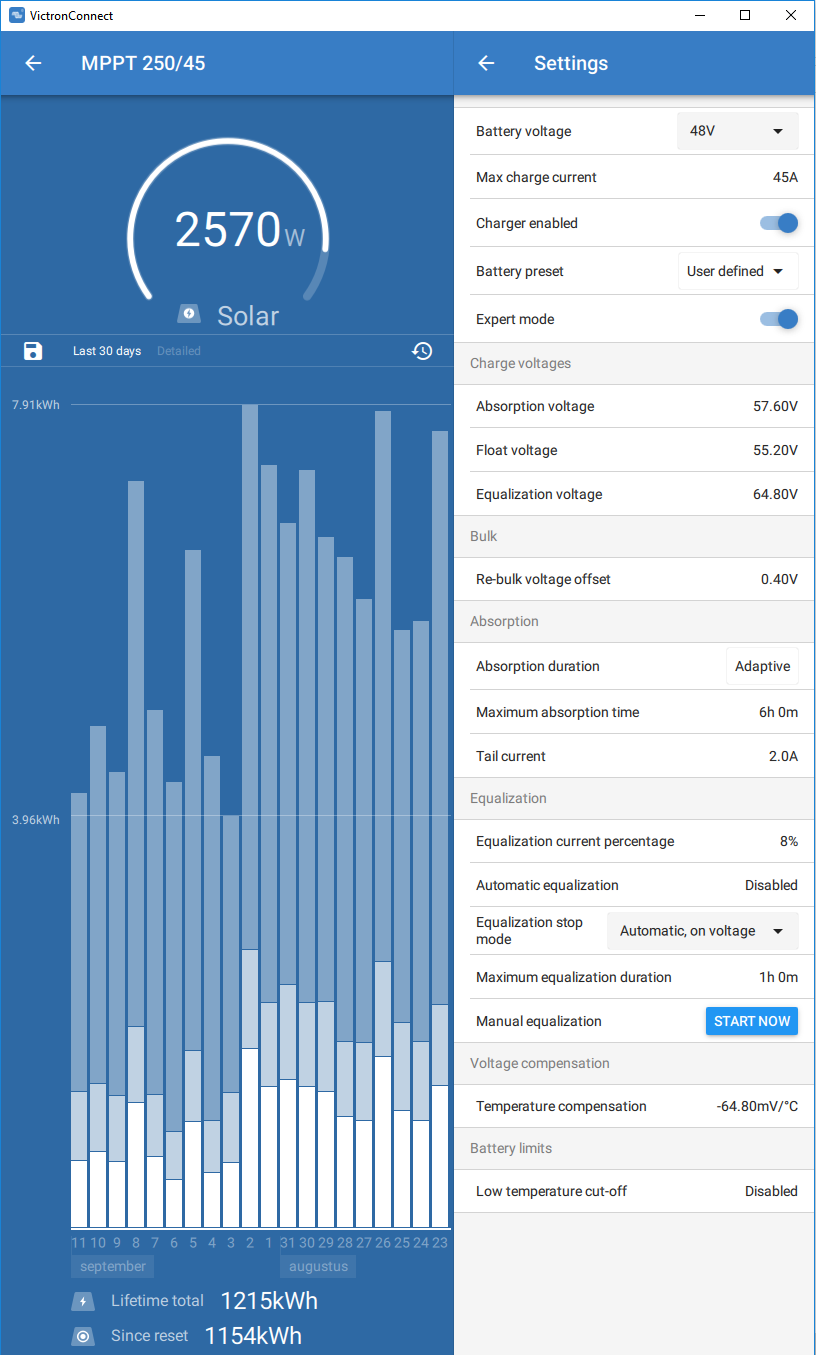 The new Expert mode settings are:
Adjustable tail current (affects changeover from absorption to float).
Adjustable re-bulk offset voltage (affects changeover from float to bulk).
Adjustable automatic equalisation parameters (current / duration).
Choose between adaptive- and fixed- absorption time. The adaptive mode is the method that has always been in the algorithm. It adapts the time to the battery voltage as seen in the morning. The fixed absorption time is what it says it is: a fixed time. No multipliers related to voltage in the morning. Setting the absorption time to fixed does not disable the tail current mechanism: disable that too to get a 100% fixed absorption time. Note that we advise to not use fixed absorption times for lead-acid batteries.
For various settings, there are text explanations giving the setting details, such as this one:
Then, the Lithium battery rotary switch preset has been changed. Absorption time for that preset is fixed to 2 hours, and it will not stop on low tail current. And the re-bulk voltage has been lowered from 13.7V to 13.4V (for all battery types).
For more information about the changes in these new firmware versions, login to Victron Professional and navigate to the Solar Charger firmware.
To conclude on the topic of Solar Chargers, I want to personally thank the many people that have helped raising issues, proposing new features, testing and working with us to improve it. And to let you know, there is one more significant improvement coming, Synchronised Charging for the SmartSolar range, over Bluetooth. Its implementation has been finished, and is currently being extensively tested.
No longer enforcing firmware updates
VictronConnect used to always install the latest firmware version on a product. It would not let you connect without doing so. This helped us a lot to maintain the quality of VictronConnect, and the speed of development, since we had only to test against the latest firmware version. And we did not have to add exceptions in the source code, like 'if version is this and this, then don't show item so and so'.
But, that could also be very annoying when you simply want to connect to see what is going on, even more so in case something went wrong during the firmware update.
Now, installing the latest update is no longer enforced upon connection, except for highly recommended updates.
Installing the latest firmware version *is* required when accessing the Settings pages: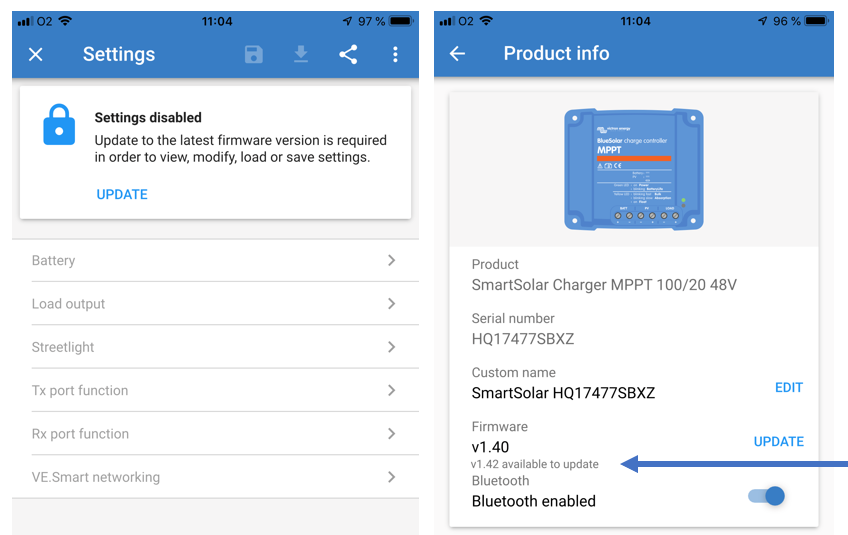 To see if you have the latest firmware, do the same: open the Settings pages by clicking the cog-wheel in the upper right of the screen.
Phoenix Inverters new setting: ECO mode search time
The Phoenix Inverter firmware has been updated to v1.17, including a new feature: ECO search time. This helps make use of the ECO mode with loads that take a while to power up, such as certain LED lights or fridges. Other changes include adding PAYG lock feature, fix wrong AC output voltage being shown in some cases, add Bluetooth on/off setting and more changes: see changelog on Victron Professional for all details.
The new setting is shown at the bottom of this screenshot: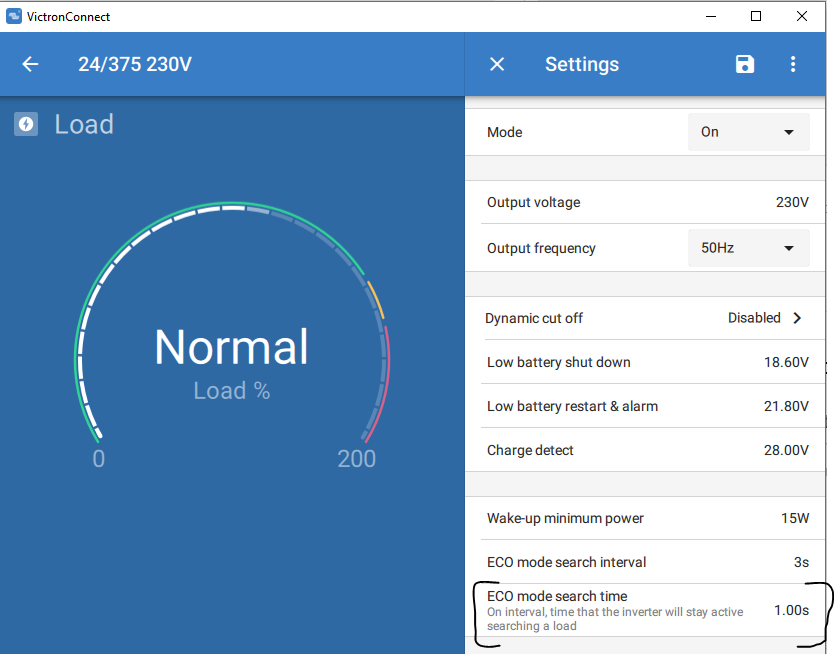 VE.Bus firmware 460 and 463, and DC Low Restart changes
The latest VE.Bus firmware files have been included.
Wondering what VictronConnect is doing with VE.Bus firmware files? Yes! VictronConnect can now do what you had to use VEFlash for in the past: firmware updating our inverter/chargers. And using VictronConnect for that is now the recommended method. VEFlash is being phased out. VictronConnect is both faster and easier to use, for details including a video see the previous blogpost.
The minimum DC Low Restart has been lowered for 24V models from 21.8 to 20.6, and from 43.6 to 41.2 for 48V models. Not for 12V units, due to hardware limitations. This same change has been released in VEConfigure a few weeks ago.
Unsecured access warning for Bluetooth PIN code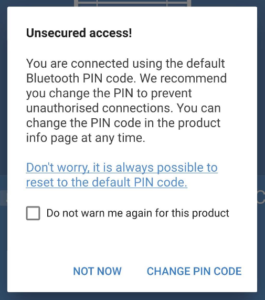 That warning shows when the product is still using the factory default PIN code, 000000.
More products have the Disable Bluetooth option
In some cases, the installation type requires disabling Bluetooth. For security reasons for example: there is nothing more secure than simply disabling the feature.
With this new version, Bluetooth can now also be disabled for SmartSolar Chargers, the Phoenix Inverter Smart family and the Impulse-II Smart Chargers.
For other products, like the BMV-712, Phoenix Smart IP43 Charger and the Smart Battery Protect it was already possible to disable Bluetooth.
There is only one last product family for which this is not possible yet, all the Blue Smart Chargers, i.e. the IP22, IP65 and IP67 models. It's a top priority for us to finish this, you can expect more news soon.
The Disable Bluetooth option is in the Product info page: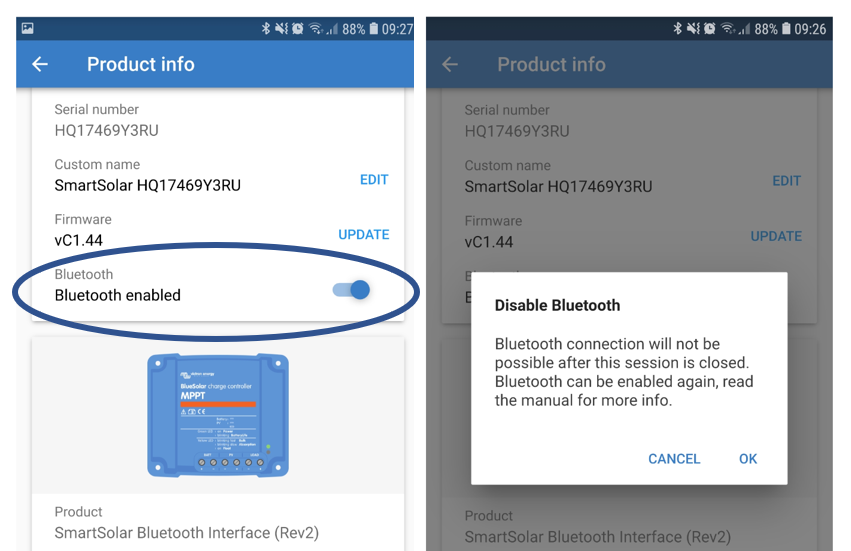 Our Lithium Smart batteries do not feature any buttons or other physical means to re-enable Bluetooth once disabled. Therefore it's not possible to enable Bluetooth ever again. The procedure for them looks like this: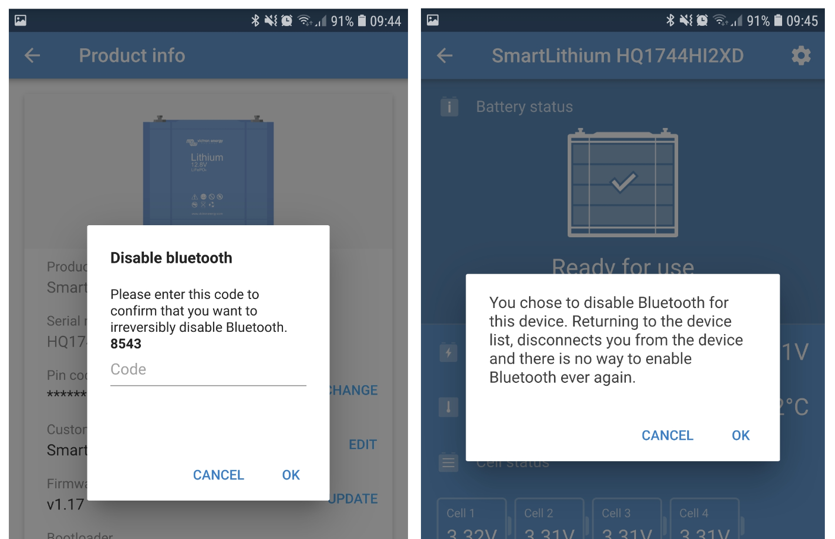 More changes
Various improvements on guiding the user when they can't connect using Bluetooth, including video tutorials.
The framework used in VictronConnect has been updated, which was required to comply with the latest Google Play Store requirements. This improved the application performance but adds a drawback: we had to drop support for old OS versions such as Android 4 and iOS 10. For details, see the VictronConnect changelog.
Fix the unwanted microphone and camera permissions which were shown under "May be requested" by the Google Play Store; those permission requests slipped in by mistake: the app doesn't do anything with microphone nor camera.
The Trends tab now remembers the last selected graphs and metrics.
For the rest of the changes, refer to the VictronConnect changelog.
So, to conclude, this is a large set of improvements of VictronConnect. My compliments to the team that worked on this, as well as everyone involved in testing. It's a great update.
Best regards,
Matthijs Vader