On August 28th just over three months and 4,000km since their departure, Shackleton and her crew aboard the converted lifeboat Stødig have now crossed the line of latitude that marks the Arctic Circle.
Their voyage so far has taken them via 7 countries, since leaving Newhaven in the UK – which we reported on in a previous blog.
Having overcome engine troubles in the Baltic, Stødig and crew made steady progress north. Now they are only a month away from their destination Tromsø, which will be used as a base to explore Arctic Norway.
Stødig is owned by two architects – Guylee Simmonds and David Schnabel, both aged 28. Theirs is an adventure of a lifetime. Accompanying them is Shackleton, Guylee's Duck Tolling Retriever.
One of many super photos of Shackleton and crew adventures, as Stødig passes through Lysefjord in southwestern Norway. More photos on Stødig's Facebook page.
One of the reasons Guylee and David have been able to take this extended adventure is they are both self employed. The speed (or lack of!) and sea conditions has often meant that whilst one is at the helm, the other can sit below and get stuck into some work.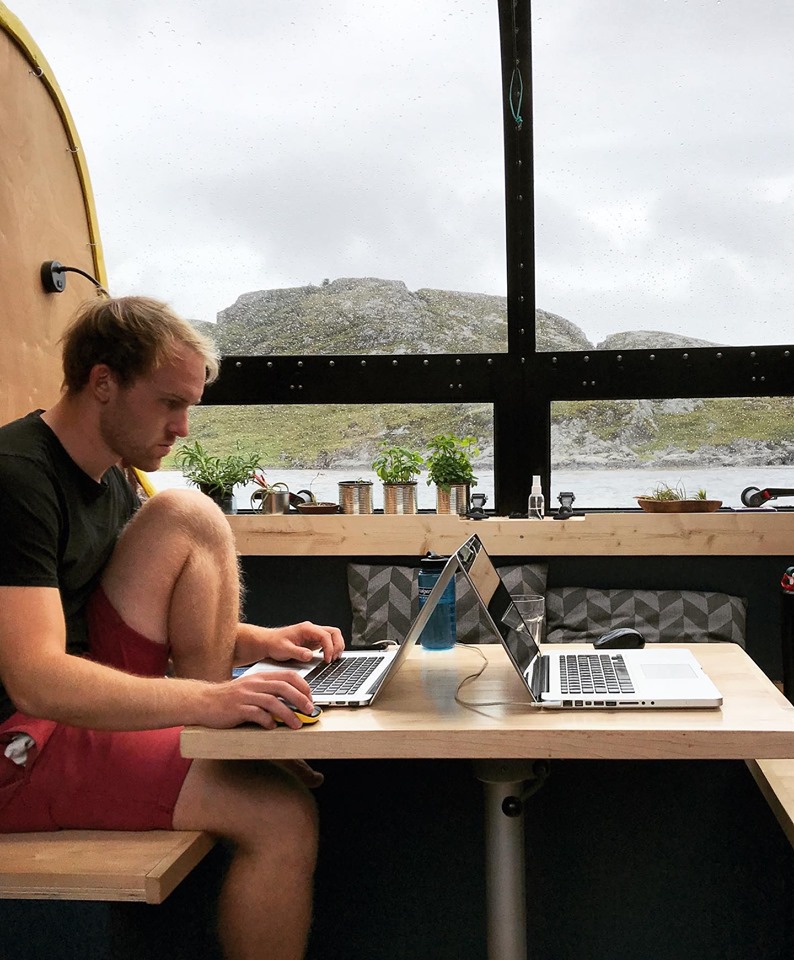 Stodig's adventure is also a way to help raise funds for Hope Health Action, who provide life saving health and disability care to the world's most vulnerable without discrimination. Guylee has been involved in their work in Haiti since 2009, most recently spending 18 months working there.

Stødig is equipped with solar and wind power, a composting toilet and generous space for both equipment and guests.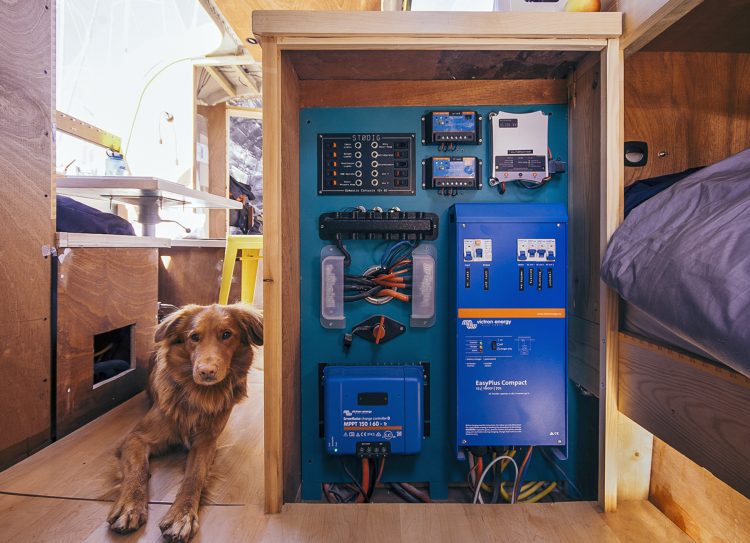 Victron Energy equipment fitted:
1 x Color Control GX
1 x Battery Monitor BMV-700
3 x 1 x 12V/230Ah AGM Super Cycle Battery (Domestics)
1 x 12V/165Ah AGM Deep Cycle Battery (Starter)
1 x EasyPlus Compact 12/1600/70-16
1 x SmartSolar MPPT 150/60-Tr
1 x 25A Buck-Boost
Conclusion
Victron Energy and Barden UK are pleased to help with sponsorship of Victron equipment, for this unusual yet worthwhile and fascinating adventure. Here's what Stødig's crew had to say about the Victron products they use:
"Now that we've reached the Arctic with more changeable weather and remote places to visit, our ability to live, work and explore from Stødig is all the more important. Our electrical systems enable us to stay off-grid for extended periods of time, whilst living comfortably and working remotely aboard our floating home. Our batteries and inverter are very reliable, maintenance free and coupled with the easy monitoring through the Color Control GX, – we are able to spend more time enjoying our surroundings and less time worrying about electrical systems."
John Rushworth
Here's what a few well known adventurers also have to say:
MARK BEAUMONT

adventurer & broadcaster

– Stødig exemplifies a lot of things I am passionate about: adventure, self sufficiency, sustainability and a dogged determination to explore remote places in new ways. With Guylee and David's design skills I am looking forward to seeing how they overcome the challenges facing them during the lifeboat's conversion and how they can capture and share this entire odyssey.
SIR ROBIN KNOX-JOHNSTON

sailing maverick

– Everyone should do something like this when they are young, this voyage should inspire others to take on their own challenges.
Links
Stødig Website – https://www.arctic-lifeboat.com
Stødig on Facebook – https://www.facebook.com/arcticlifeboat
Stødig on Instagram – https://www.instagram.com/arcticlifeboat
Hope Health Action – https://hopehealthaction.org
Barden UK – http://barden-uk.com