Intersolar Europe 2017: Victron Energy products everywhere…
Once again Victron Energy had an impressive stand (and party!) at this year's Intersolar Europe, which took place last Wednesday, Thursday and Friday in Munich, Germany. This annual event held at the Messe München exhibition centre attracts around 1,200 exhibitors and 40,000 plus visitors, which includes those exhibiting/visiting ees Europe (the electrical energy storage exhibition)
It wasn't just Victron Energy exhibiting and demonstrating their own products at booth B3.440, as Victron products were also in evidence on a number of other stands, plus they could also be seen integrated into other companies' products and innovations.
New products introduced
What better place to introduce new products than the world's leading exhibition for the solar industry and its partners? And so it was with the new 250V MPPT Solar Charge Controllers, the BMV-712 with built-in Bluetooth, Smart Lithium batteries, the Venus GX and even more variants in the growing Phoenix Inverter VE.Direct family.
Please note that information about the latest new products on the main Victron website is an ongoing process and for these new products mentioned, dealers/distributors should first check stock levels on E-Order or through the P&A app. New products (when stock is available) are also announced on the blog from time to time and on Victron Professional, which end users are encouraged to sign up to too, besides dealers/distributors and installers.
Products everywhere
Besides the classic range of Inverter/Chargers on the Victron stand…
….other companies were also displaying Victron products. A few examples are shown below.
Featured company at the Victron Energy booth
On the right of the photo below you can see one of the ESaver range, by Bredenoord, which featured on the Victron stand.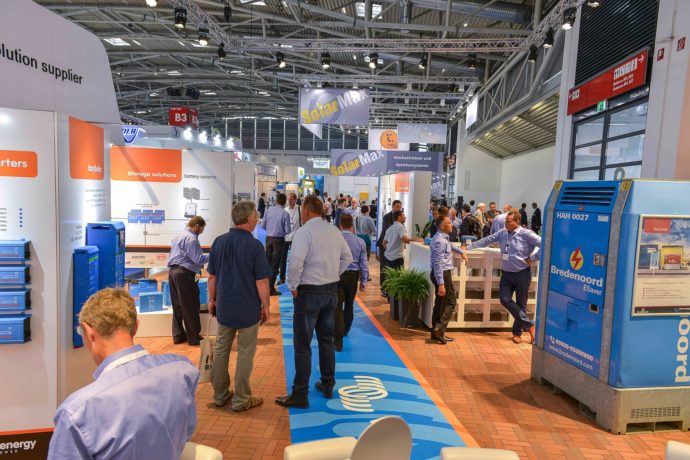 These hybrid generation and storage systems (with Victron inside) are part of the ESavers range which supplies required power from various sources. Intelligent switching between the sources, plus using the diesel generator only in its optimum operating range, enables the ESaver to supply power with significantly reduced emissions.
Party time!
After all that hard work customers and staff deserve some fun.
Who can you spot in the collage below? Click the image to get a larger version…
Conclusion
Whilst I personally didn't make the show, it's clear there was much to see and lots of fun to be had too – so why not make Intersolar Europe part of your agenda for next year.
Thanks to Marianka Pranger for the information and images used in this blog.
John Rushworth