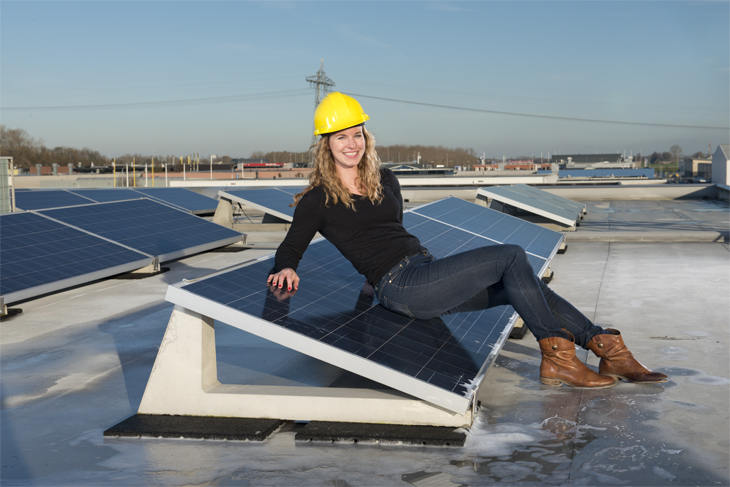 This insight is part of the 'Victron Energy people: Who is who?' series of blogs.
For a complete list of Victron Energy people in this series please see:
https://www.victronenergy.com/blog/category/victron-people/
You may have seen my name on the Victron Energy Calendar and wondered who that person is – well, that person is me!
My name is Marianka Pranger and I started working for Victron Energy in December 2009, immediately after graduating with my Bachelor's degree in Communication Systems, Multimedia and Design. I remember entering the Victron office in Groningen for the first time and thinking I was in a Smurfs palace. Everything was blue. The walls, doors and of course all the products that people were working on were blue. Thankfully though at least the people inside the building were not Smurf blue!
Initially it was a temporary job but I enjoyed it so much that I decided to stick around. I started mainly with the website, documentation and writing news articles for Victron. Since I like to do a variety of things, my daily work has grown to include Marketing & Photography. Basically I am responsible for all Marketing related tasks such as brochures, flyers, documentation, the website, social media, events and my favorite of all: photography.
In 2014 we started with the Victron Energy Calendar, which shows the variety of Victron Energy's products and the applications they are used in – from all over the world. It is great to see how and where Victron equipment is being used and I'm constantly surprised by the variety of new applications.
Even though I'm not particularly technical, I still manage to learn and understand as much as possible about our products. In fact in the early days Matthijs once asked me if it was AC or DC that came out of the wall socket. I was pretty well convinced it was DC – another lesson learned!
In my personal life I love driving my Mazda MX-5. Sometimes my dog Baako comes along and sits next to me with his head sticking above the car windscreen. I also practice Urbex Photography, which is basically climbing over a fence and taking pictures inside an old factory or building. Some examples can be seen on my personal website at www.mariankapranger.com
Together with my boyfriend I live in the North of The Netherlands in a city called Groningen – the place to be!
I hope the above gives a little insight into who I am and what I do.
Marianka Pranger.