Fully Charged
I don't know about you but I'm a great fan of Fully Charged, on YouTube, hosted by Robert Llewellyn.
Last Wednesday's show featured Redflow's ZCell batteries at Simon Hackett's home. The day following the show publication and at the time of writing this blog – the show was already showing over 11,000 views. And now, 4 days later,  it's at 59,000 views on the date of publication of this blog.
We've blogged about theZCell batteries before and the fact that Redflow are great fans of Victron Energy products such as the MultiGrid – and so it was all very pleasing to see Robert getting to grips with Victron's Color Control GX, being shown around Simon's house, and the Redflow lab which showed a number of Victron Energy Quattro units.
In the Lab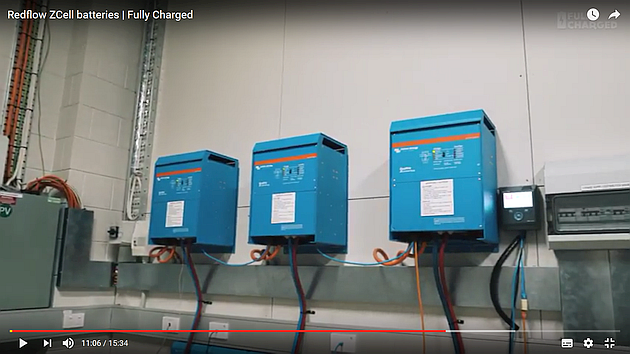 Fully Charged show
Robert describes his show thus:
"Fully Charged is a weekly series produced and hosted by Robert Llewellyn (Red Dwarf, Scrapheap Challenge, Carpool). It's not only about electric cars, bikes, boats and planes but how we generate and even own the electricity to power these machines. From looking behind the myths of renewable energy, to seeking the truth about conventional generation Robert Llewellyn demonstrates what the future could have in store for us all."
Redflow ZCell batteries on Fully Charged
Here then is this week's 'fully charged' Victron episode.
It's worth noting that Simon's house, in south Australia, also features on VRM world as Hackett-ZCell.
Conclusion
If any of you know Robert personally do encourage him to feature more Victron Energy products – as with over 150,000 subscribers to his show this can only be good for all concerned. In fact and to ensure the show continues to grow you might like to consider a patreon pledge.
Links
If you wish to learn more about Fully Charged and Redflow please see the following links:
https://www.youtube.com/user/fullychargedshow
https://www.facebook.com/FullyChargedShow
https://www.facebook.com/redflowenergystorage
https://www.facebook.com/ZcellAU