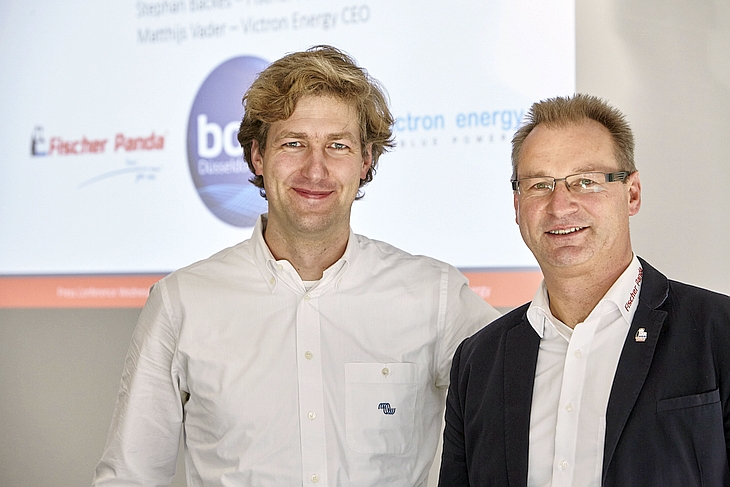 At the recent Düsseldorf boat show Matthijs Vader (Victron Energy CEO) and Stephan Backes (Fischer Panda CEO) were delighted to announce a mutual marine alliance at their 'Freedom of Yachting' press conference. What though does this announcement mean for the customer?
Marine Alliance
Take two expert companies in the marine industry with a combined experience of over 80 years, coupled together with a long standing relationship and you have the perfect recipe for taking business cooperation to the next level.
This cooperation has resulted in a new  'Alliance' between Victron Energy & Fischer Panda; what this means in practice is:
5 tailor-made marine base systems designed and announced
Joint R&D effort on systems management & control
Joint pre-sales support
Joint after-sales & technical support
An example of one of the 5 base systems
The 5 complete base systems can be seen in the German and English brochures.
Tailor-made
In creating these 5 tailor-made base systems, Victron Energy and Fischer Panda are able to provide integrated turnkey systems combining the best of their respective product ranges. Namely:
Victron Energy
12 / 24 / 48V battery systems
Inverter/chargers from 500VA to 15000 VA
European 230V AC and USA 120V AC modules
Solar Chargers
System monitoring
Fischer Panda
27 different Marine Generators
Variable & fixed speed
This alliance means it is no longer solely a case of Victron's slogan of  'Energy. Anywhere. Anytime.'; we can now jointly and confidently say – Power wherever you are!
Base Systems
Within the 5 base systems, each system has the following features:
Full automatic seamless switching between shore and genset power.
Single system monitoring: Color Control GX with full automatic generator start/stop (including silent run times).
Remote system monitoring via the VRM Portal
Monitoring & Control
Color Control GX with Victron Energy & Fischer Panda branding: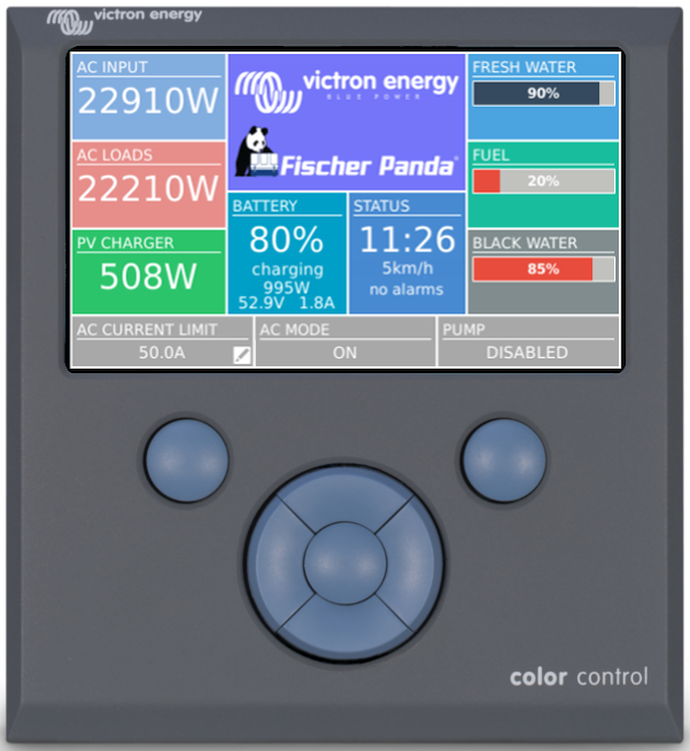 Options for all 5 base systems
Isolation transformer
Solar
Lithium batteries
Electric drive propulsion
Integration with navigation systems (Raymarine and others)
Helm showing Raymarine integration example:
Generator example: The new Panda 5000i.Neo
As mentioned above a system option is electric propulsion and one such generator that would be ideal in a small serial hybrid solution would be the new Panda 5000i.Neo.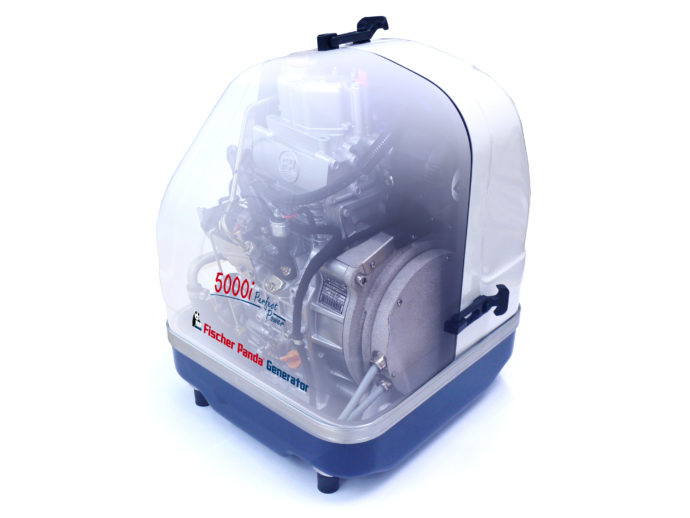 For my own boat Elektra this would easily have pushed her along at 5 knots without depleting my Victron Lithium ion batteries and it could have been 'silently' integrated into the old diesel engine space, instead of having the 'get me home solution' that I currently have. I do that by using an external but excellent Honda 1 kVA fixed mounting suitcase generator, which I may add is an ideal partner for a small Victron MultiPlus.
Having said that I wish this Panda 5000i.Neo had been available at the time I converted my sailing yacht to electric propulsion. 4kW of power would have been enough, as I say, to power Elektra in real time at 5 knots and leave charge over for the house batteries. Far more efficient and with better fuel economy than the 10hp Volvo Penta engine it would have replaced. If you are wondering how a 4 kW serial hybrid can replace a 7.5kW diesel engine, it's all down to efficiency and the actual thrust available at the prop.
Conclusion
You can learn more about these 'Alliance' systems in the German and English brochures.
For any other questions please contact the combined Victron/Fischer support department: fischerpanda@victron.zendesk.com
As ever we also welcome your feedback in the Disqus comments section below.
Victron Energy look forward to making life even easier and more comfortable onboard for our marine customers – by providing tailor-made base systems in alliance with Fischer Panda.
Power wherever you are!
John Rushworth