India: Victron Sponsored Solar Ferry in Operation
Recently India's very first solar ferry was launched. The event was inaugurated by Sri. Pinarayi Vijayan Hon' Chief Minister of Kerala. The chief guest was Sri. Piyush Goyal Hon' Minister for New & Renewable Energy.
Sponsored in part by Victron Energy, the solar ferry went into service on January 13th 2017 for the Kerala State Water Transport Department sailing between Vaikom and Thavanakadav.
The ferry is named ADITYA and besides being the first solar ferry in India, she is also India's largest and fastest solar boat. During full load trials for classification she achieved 7.4 Knots @ 90% power. Here's a short video to give you a flavour of the 'sunshine ferry'.
Design & construction
The original vision to make their local water transport more efficient dates back to 2010 when the original NavAlt team (part of Navgathi Marine Design & Constructions Pvt Ltd) started experimenting by retrofitting a small passenger boat with photovoltaic panels. Some lessons learned and a number of iterations later ADITYA came into being.
Here is her basic specification:
Catamaran hull
20kWp photovoltaic array (140 square metres)
50 kWh Lithium ion battery energy storage (700 Kg)
2 x 20 kW electric motors
20m length x 7m beam
6 hours runtime at cruise speed (cruise speed requires 15kW power)
Carries 75 passengers
Max speed 7.5 knots
Optional plug & charge
No fossil fuels onboard
ADITYA's solar array seen from the air.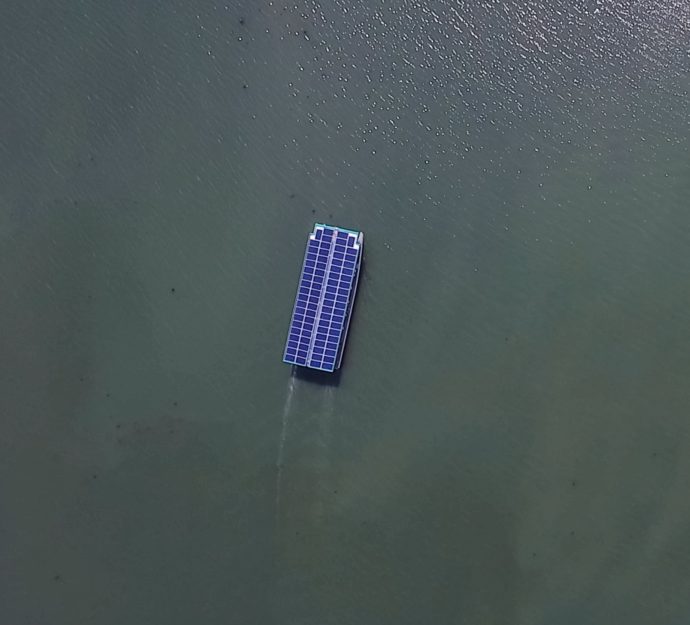 Victron Sponsorship
As Arjun Bhaskar of Navgathi Marine Design & Constructions Pvt Ltd has said:
"India's first solar ferry wouldn't have been possible without the support of our sponsors who believed in our vision. We thank you for that great support and are delighted ADITYA is now in operation, sailing through the back waters of the Southern state of Kerala and providing a valuable service."
Sponsored equipment includes:
2 x BlueSolar MPPT 150/35 (12/24/48V-35A)
2 x Battery Monitor BMV-702
2 x Temperature sensors for BMV-702
1 x Color Control GX
4 x VE.Direct to USB interfaces
Conclusion
It's always good to see sponsored projects resulting in tangible benefits for people – and it seems the planet.
My thanks to Victron Energy's support engineer Carsten Michelsen, who is based in India and made me aware of this project.
You can keep up to date with ADITYA's progress through the NavAlt Solar & Electric Boats Facebook page.
John Rushworth
​