New inverter range: Totally redesigned from the inside out
As ever Victron continue to surprise with an ever improving and expanding product range, so much so it is often difficult to keep pace with the rate of change! This is a good thing though and the purpose of this blog is to highlight and introduce you to the new, inexpensive, low power range of pure sinewave Phoenix Inverters.
The range is from 250VA to 375VA in 12, 24  and 48 Volt formats. Whilst these products have been quietly introduced over the last few months, production is now set to ramp up over the Summer to keep pace with demand, plus there will be higher power models coming later in the year – and remember this is a total redesign from the inside out and includes a number of very desirable features.
New design
Whilst this range continues to use the well proven full bridge with toroidal transformer there is a new enclosure, new electronics and new software. The units comprise of a steel chassis and plastic cover; electronically the inverters have improved dynamic output voltage stability. Last but not least is the range of communication and configuration options using VE.Direct. More of that in a moment.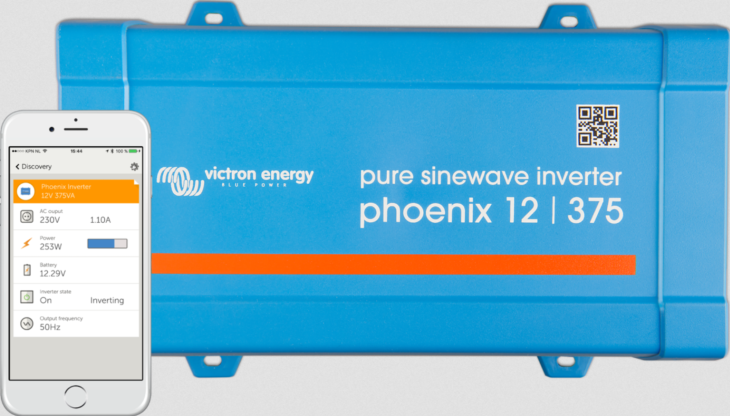 Firstly one of the things you'll notice in the image above is that the inverter has a QR code on it. This is very handy to access data sheets and manuals, plus of course you can also show customers and friends more about the product, both quickly and easily. For more about this see the blogpost:
Victron Toolkit app – now with QR scanner
Inverter features
Proven reliability using full bridge plus toroidal transformer topology
High start-up power
ECO mode
Remote On/Off
LED diagnosis
Available with different output sockets

Screw terminals

Filax Automatic Transfer Switch option

VE.Direct communication port
To learn more about these features, see the product datasheet which gives an explanation of each of these features.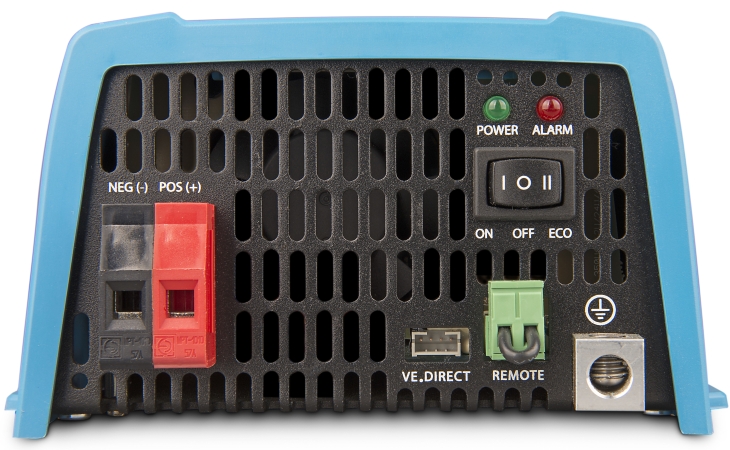 Communication
In the image above you'll note a VE.Direct communication port. This can be connected in one of two ways to communicate with and monitor your inverter.
Personally I'm a great fan of the Bluetooth Smart dongle option using VictronConnect. It really makes life easy. You can read more about this in the blogpost:
VictronConnect v1.2 released: Now includes Mac OS X & Windows PC
Whilst VictronConnect now supports Mac OS X & Windows PC, besides phones and tablets, please note the Windows PC version does not include Bluetooth support so that can only be used with the VE.Direct to USB interface.
Before installing VictronConnect please read the manual and make sure it is compatible with your device/platform: https://www.victronenergy.com/live/victronconnect:start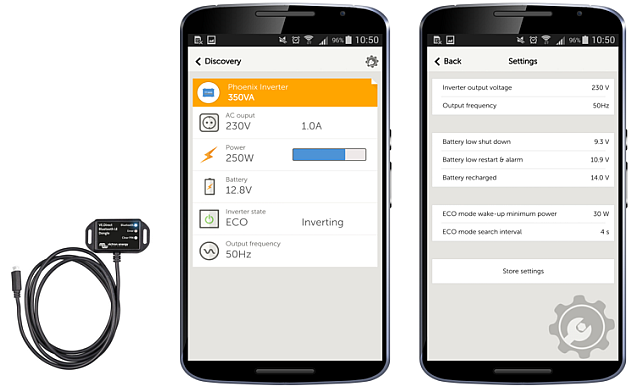 Configuration & Monitoring
Using VictronConnect and the Bluetooth Smart dongle shown above (or a VE.Direct to USB interface cable) you can do the following:
Configuration:
Low voltage alarm trip and reset levels
Low voltage cut-off and restart levels
Output voltage 210 – 245V
Frequency 50Hz or 60Hz
ECO mode on/off and ECO mode sense level
 Monitoring:
In and output voltage and current alarms
Conclusion
We hope you enjoy the new inverter range and welcome your feedback. Whilst the new range does not come with a free chocolate Easter egg – at least we hope we've whetted your appetite. Happy Easter!
John Rushworth