The biggest marine equipment trade show METSTRADE opens from 15 until 17 November, in Amsterdam. We'll be there, will you?
Come and visit us on stand number 01.541
During the past 48 years of innovation Victron Energy have become best known for making the largest range of solar charge controllers in the world and a huge range of Inverters, Chargers, and Inverter/Chargers for the Marine, Industrial, Hybrid Generator, Mobile, Off-Grid, and Grid-connected power markets.
We've also developed – and are continually adding features to – the most desirable app-based user-interfaces.
Single-glance system status
Deep-dive analysis with management control – for one system, or the hundreds of systems you control.
Wind and Solar Priority – minimises use of shore power when docked
Automatic relays – eg. generator auto-start/stop
Instant-access mobile widgets
Push-notifications to alert you to anything you should be aware of right now.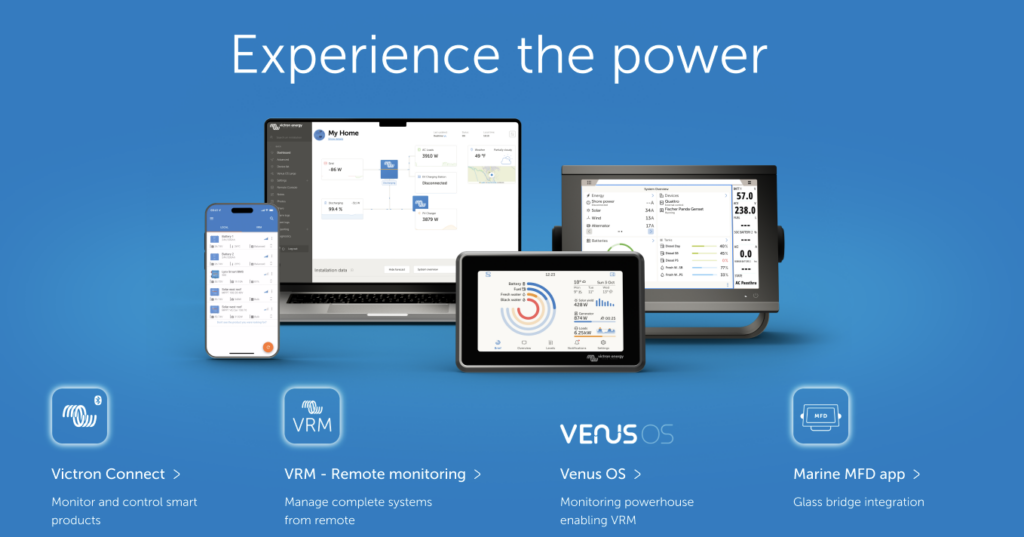 METSTRADE 2023 – What can you see at Victron Energy?
We've built live demonstrations featuring all our latest Marine products and Software developments – such as the Smart BuckBoost:
Orion XS 12/12-50A DC-DC
Allowing you to charge any battery from any alternator, the Orion XS 12/12-50A DC-DCDC-DC Charger can be used as a dual-battery charger or as a power supply.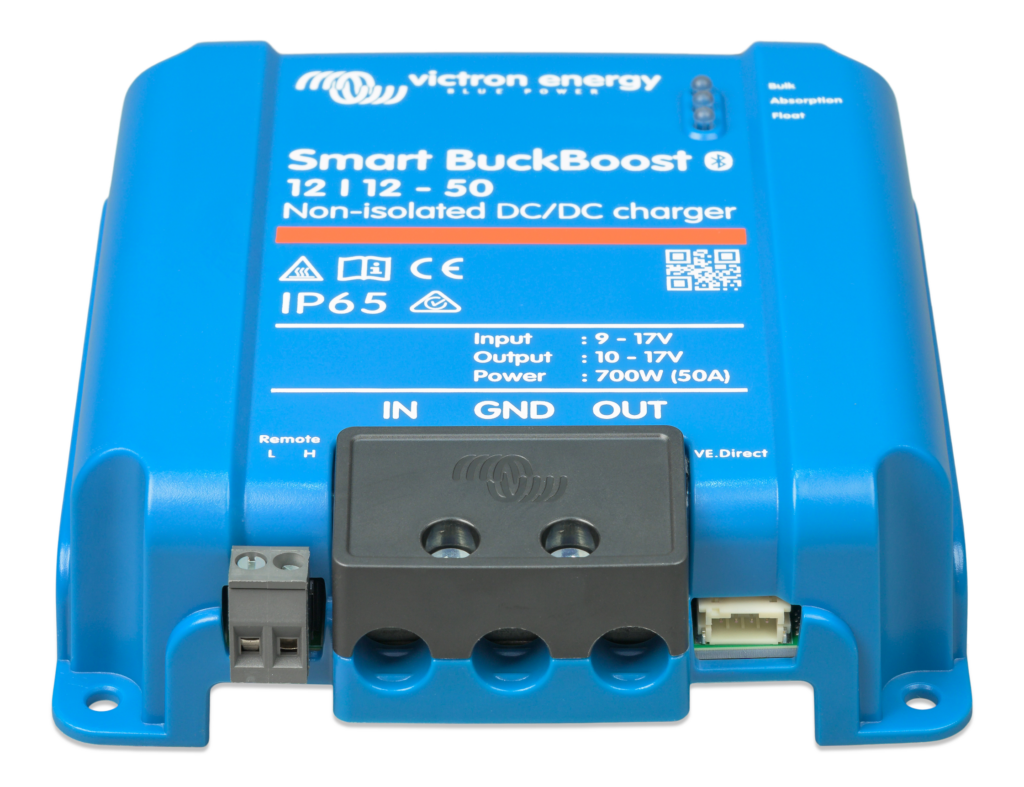 With a wide input and output voltage range, it features:
Dual Battery charging from 'Intelligent' alternator – overcomes voltage fluctuation and/or cable drop.
Configurable input/output current to 50A – add unlimited parallel units for even greater power
Automatic engine-shutdown detection – eliminates extra wiring
Low Voltage/Low Temperature shut down
Instant Readout, and live status direct to your phone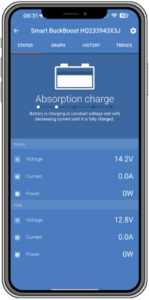 Efficient cooling thanks to aluminium circuit board technology
VE.Direct port for optional integration with a communication centre.
The charger has a four-stage adaptive charge algorithm. Controlled charging protects the alternator from being overloaded whilst charging lithium batteries. In power supply mode, the output voltage remains stable regardless of the applied load or fluctuating input voltage (within the specified range).
Orion XS can be set to supply power only when the engine is running – eliminating the need to re-wire or add an engine detection sensor. Smart BuckBoost is programmed and monitored using the mobile VictronConnect App.
Check out the full list of Orion XS  features here.
Ekrano GX
The Ekrano GX is a fully-featured communication centre – quad-core, multi-port, touch-screen – which provides data compatibility and control between multiple Victron- and Third-party devices.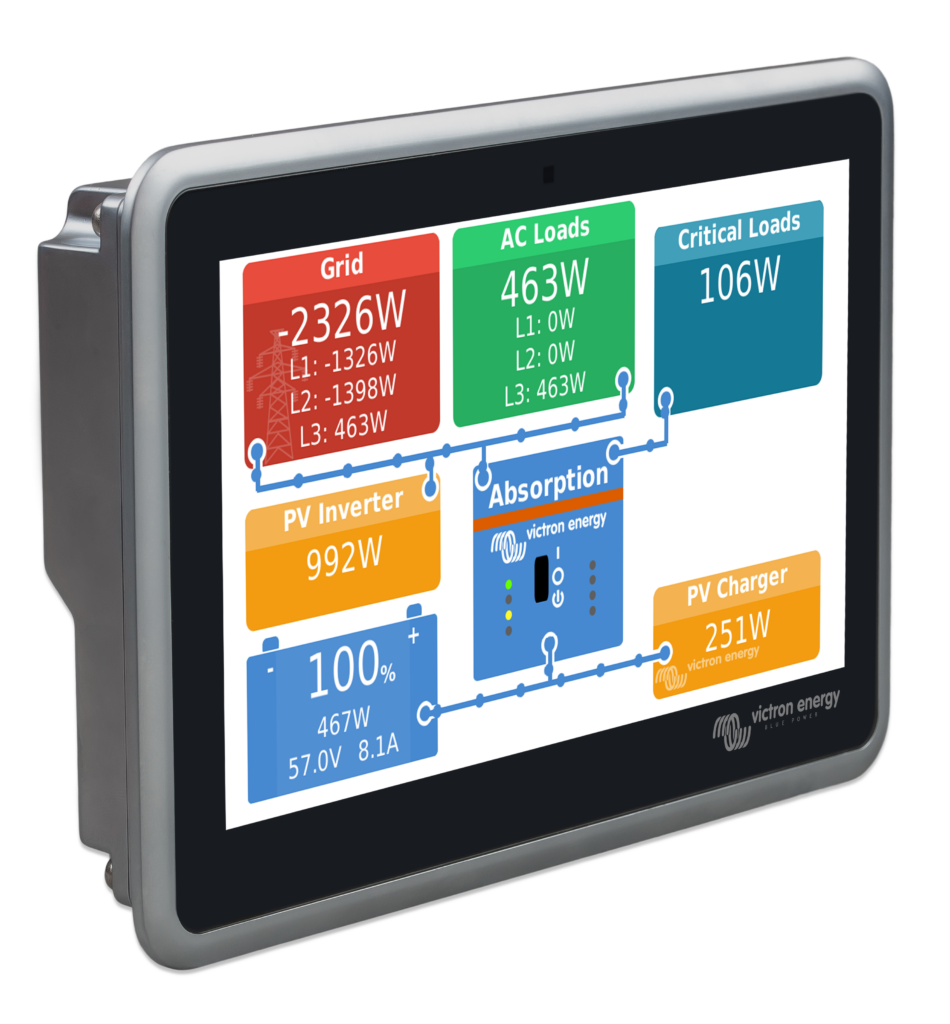 It can be 'surface' …or 'flush-mounted' – in which case the Ekrano GX is waterproof. Behind the display there is a comprehensive range of communication ports. Two relays provide automated actions – such as generator auto-start/stop.
Victron Energy devices and events you'll be able to see, touch and hear at METSTRADE:
MultiPlus, Quattro and Skylla: Powerful Chargers and Inverter/Chargers – pure sine wave, high efficiency, ultra-reliable, wide-range of IP ratings for harsh environments
SmartSolar Charge Controllers – maximise solar harvest in spite of shading
Orion XS 12/12-50A DC-DC – charge any battery from any alternator
Lynx Smart BMS 1000, Lynx Distributor 1000 – 'T' Class fuse option, M10 Busbar inter-connection
Plus information-packed Live Discussions which are free to attend – [see 'Power Session' below.]
Venus OS – Graphical User Interface (GUI)
Like all our 'GX' communication centre devices the Ekrano GX runs our Venus OS. Coming soon – it will offer a super intuitive new way of viewing system data as GUI. Take a look at the Experience the power preview image shown above.
Multi-Function Display (MFD) Integration
Speaking of user-interfaces – our MFD demonstration will show you how easily Victron products integrate with leading navigation systems to present data straight to the Glass Bridge using HTML5 or NMEA2000.
*Why not attend one of our twenty-minute 'Power Sessions' – live discussions to learn about Victron power products and MFD integration? [See ' Power Session' below.]
Solar and Wind Priority – put green power first
There's been quite a buzz around our recently-launched feature 'Wind and Solar Priority' which allows users to prioritise the use of 'free' green energy – even whilst the vessel is plugged into shore power! It overcomes the frustration of solar panels and wind turbines becoming almost useless in dock because they are overridden by the AC shore connection. Not now!
Once enabled, shore power will only be used if the battery state-of-charge falls below a desired level; if there's been a poor power-harvest for seven consecutive days; or to supply big loads.
Power Session – Live Discussions, Free, Every Day
Come along to our live discussions – available four times per day – and learn about either:
Intergrating Marine Energy Systems –  in which we discuss our communication centre devices and software: Ekrano GX / Venus OS / VictronConnect / VRM / MFD / and our Wind and Solar Priority feature.
Building Marine Energy Systems – in which we discuss Inverters/Chargers and the safe use of Alternators in power hungry systems. All the latest products.
Each information-packed discussion runs for just 20 minutes, and each topic is available once in the morning and once in the afternoon on all show-days.